This article contains affiliate links.
In this post I am going to give some ideas for fairy tale parties. I'll use Red Riding Hood as an example. You can start with a doll or image of a character. I found some very cute Little Red Riding Hood items on the website Modes4U and I built a party around them. Modes4U ships all over the world and accepts many different currencies.
You can see that I used this doll as a guide to make the treat bags for the party. In this case I hand drew a template and traced it onto the bags and colored it in. You could make your image out of colored paper and glue it on if you don't want to color in a bunch of images.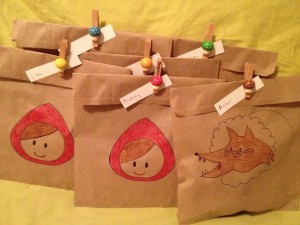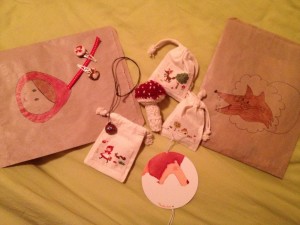 These treat bags are plain paper lunch bags (Australian style). The little paper clips are by Seedling which is a company in New Zealand which makes great craft kits for kids. The drawstring bags are from Paper Mart. I cut out pieces of fabric from Modes4U to make the little bags. I also used some of this fabric wrapped around buttons to make the little hair clips. Modes4U changes their fabric selection quite often so the fabric linked above isn't exactly the same as I bought several years ago, but they have had some type of Red Riding Hood fabric for years now. You can also look through their fairy tail fabric if you want other ideas for party themes.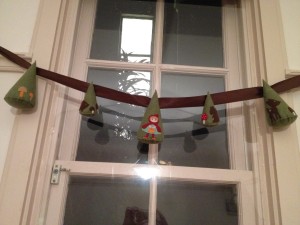 This garland is based off of the Christmas tree pattern in the book Fa La La La Felt.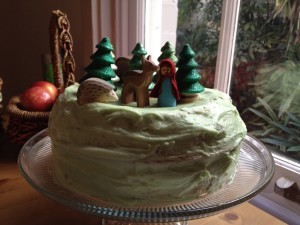 Here is the cake. I painted the peg doll and covered wood trees in green glitter. I got the wood shapes from Casey's Wood Products. The little wooden animals are from Nova Natural Toys & Crafts. They have several other animal and fairy tale wooden figures available.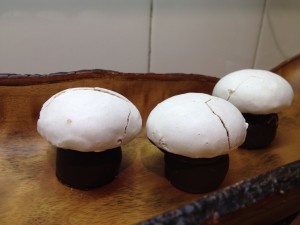 These little mushroom cookies could also be used for a fairy or Alice in Wonderland party. I have seen mushrooms made from meringue, but these are very easy to make and their is no baking involved.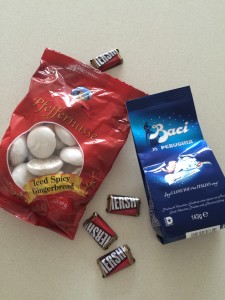 Here is what you need to make the mushrooms.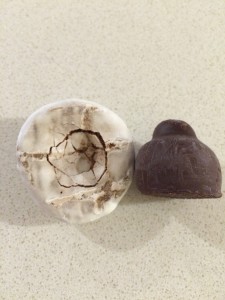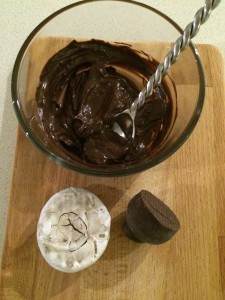 To make the mushrooms, first melt the Hershey's chocolate. The Baci chocolates have a hazelnut at the top. Use that to make a dent in the bottom of Pfeffernuisse cookie. Then dip the top of the Baci chocolate into the melted chocolate and put the cookie on top. The melted chocolate is the glue that holds the mushroom together.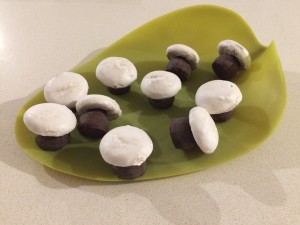 Now you have some mushrooms for your fairy tale party.
For more Red Riding Hood party ideas and other fairy tale party ideas from others, take a look at my Pinterest page.
Save