Back in 2010, I fell in love with the mascots for the Vancouver Olympics. I found that they were created by Meomi, who also created the Octonauts, which at the time were only a book series. You can see more cool projects by Meomi on their website. http://www.meomi.com/portfolio.html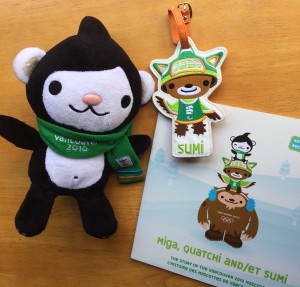 Part of my collection of things from the Vancouver games.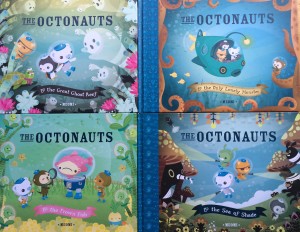 The Octonauts original book series is a little different than the show. The show is awesome because it gives a lot of information about animals. I love when science information is conveyed in a fun, accessible way. The books don't have much in the way of scientific information, but they have really beautiful, fun illustrations and I like that the female characters play more of an active role in the missions. For this party I was inspired by the books and coloring pages that Meomi have up on their website.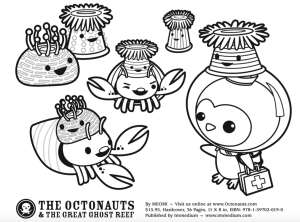 octonauts_anemoneparty

I thought the little Sea Anemones in the coloring picture looked like paper cups and would be cute on a table, so I made these.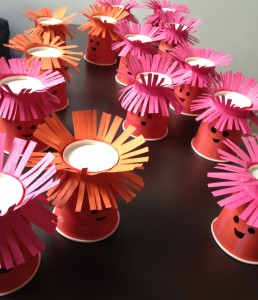 It's a little difficult to see in the picture, but I used paper cups because I wanted to draw the little lines and dots and faces on them like in the picture. I used Elmer's glue to attach the fringe to the cups, but I think it may be better to use a hot glue gun. Elmer's glue warped the seal on the paper cups a bit, but I just used them for decoration so it didn't matter for this party.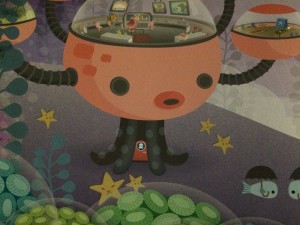 Page from Octonauts book.
Decorations for the party included crocheted Vegimals and sea stars, kelp forest with sea anemones and balloon jelly fish. The kelp forest is just torn pieces of crepe paper tied in bunches on green yarn. Originally I wanted to inflate the long, thin balloons and make octopi, but I couldn't inflate them without a balloon pump so they became jelly fish instead.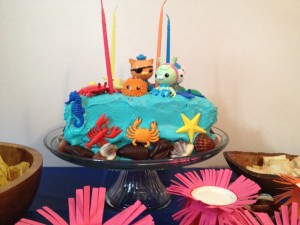 I put chocolate sea shells around the bottom edge of the cake, and just added Octonaut toys and sea animal counting toys to decorate it.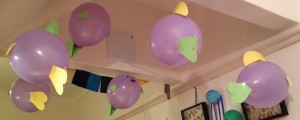 Balloon fish.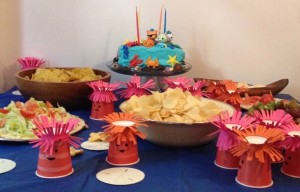 Party table.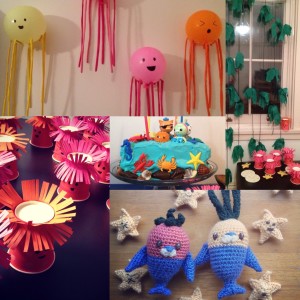 For more Octonauts party ideas take a look at my Octonauts Pinterest board.
Save