This article contains affiliate links.

It's a Small World is one of my favorite rides at Disneyland. I know the song can be too much for some people, but the words are very sweet and I've always liked to see dolls and other folk art from around the world. I also love Mary Blair's illustrations. Around 2011 Disney also started selling LeSportSac bags, baby clothes, and nursery items  with It's a Small World prints. I have a lot of those items pinned on my It's a Small World board if you want to see what they looked like. I found some very cute children of the world fabric at Modes4U and decided to use all of those for the inspiration for this party. They don't sell this fabric anymore because I got it quite a while ago, but they do have matryoshka fabric, Japanese doll fabric,   and Little senoritas fabric. You can make a lot of projects with fabric.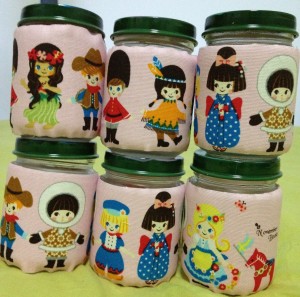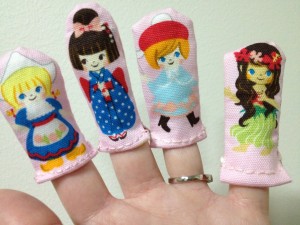 Fabric covered baby food jars can be filled with candy for party favors. You can also make finger puppets from the fabric.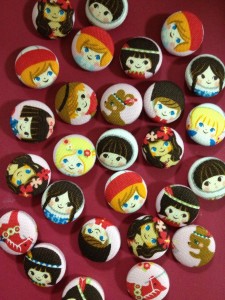 Fabric covered buttons using a kit from Daiso Japan.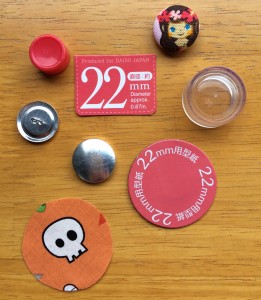 Use the cardboard circle as a guide to make a fabric circle. Make sure to center your artwork carefully.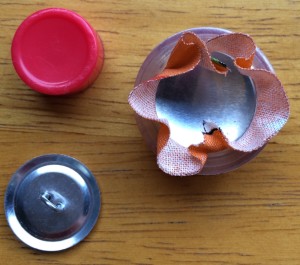 Put the fabric into the clear plastic piece. Add the smooth metal piece with the edges up.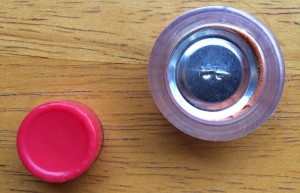 Fold your fabric in and place the other metal piece with the hook up. Use the red piece to push the pieces together. You can use that hook to string them on a necklace or elastic to make a bracelet after you've finished making the button.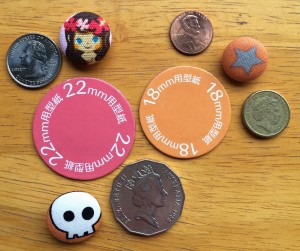 These come in a few sizes. I put the finished buttons next to some American and Australian coins so you can get an idea how large they are.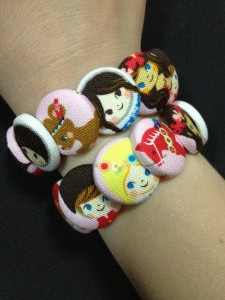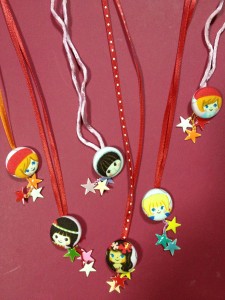 Tiki-style Containers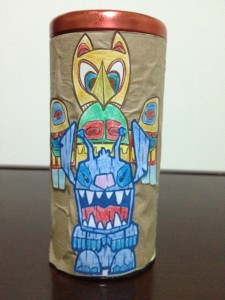 Cover with paper bag pieces, print out coloring artwork, and have kids color them and glue them onto containers.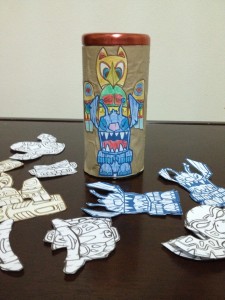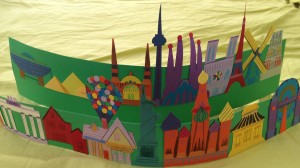 I made a lot of little buildings based on famous tourist attractions. I used city posters by Fernando Volken Togni and artwork from the ride as inspiration for my paper village. The posters are at the end of my Pinterest board. I also hid in Carl and Ellie's house from UP in.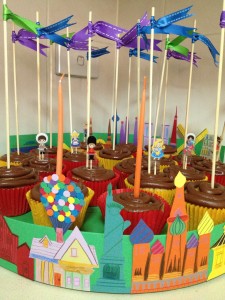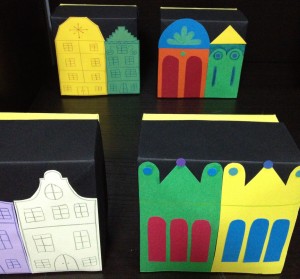 I used them to decorate my cupcake tray which was really a wooded cutting board and I also used them to decorate paper treat boxes. The little people cupcake toppers are sticky bookmarks also from Modes4U.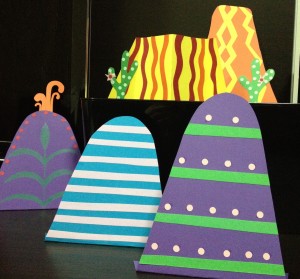 I used the decorations from Disneyland's version of the ride as a guide to make these paper mountain decorations.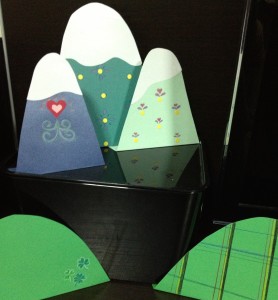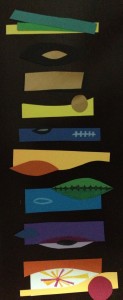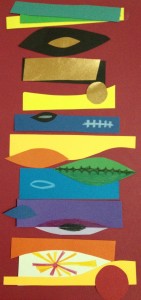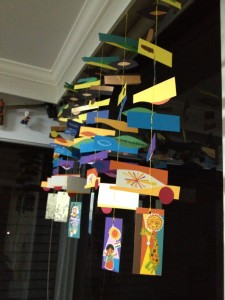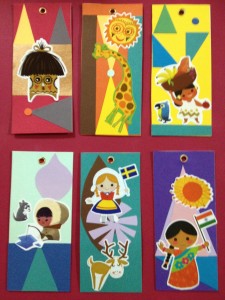 These garlands were inspired by end papers by Mary Blair that is pinned on my Pinterest board. The tags at the bottom have stickers from the Disney It's A Small World Sticker & Activity Book.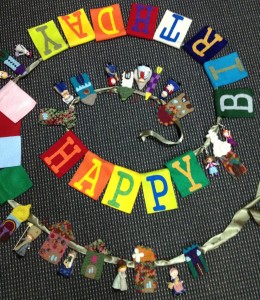 I made the letters for this banner from pieces of felt. I made the letters by enlarging the Courier font in Power Point. In that font all of the letters are the same width so you don't have to worry about your flags being different sizes. You can make letters for each member of your family so you can swap them out each birthday and use the same banner for everyone each year. The little dolls on the birthday garland are vintage, family Christmas tree ornaments. There are also a few charms from LeSportSac bags.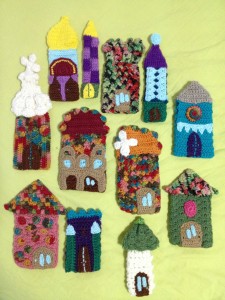 I crocheted the buildings based on pieces of  Gaudi's Casa Batlo in Barcelona and a castle painting by Lisa Congden. I left an opening in these so I can put them on the birthday banner or string them separately as seen bellow.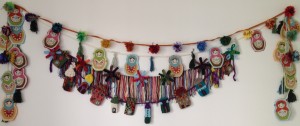 The matryoshka dolls in the garland on the left are cut from fabric I found at Modes4U. I also hung up Japanese paper balloons.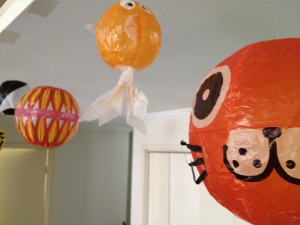 We had food inspired by different countries. For example, chocolate Canada flag cookies and an Australian flag savory pie.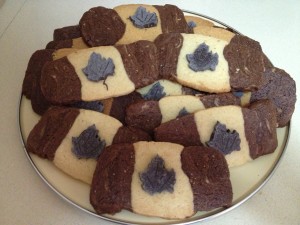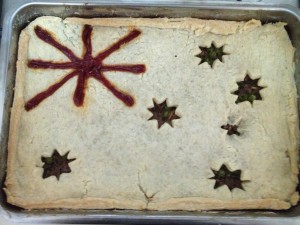 I also crocheted several baby blankets related to this theme over the years.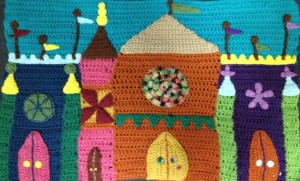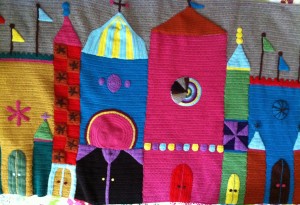 These two blankets were inspired by the same Lisa Congden painting. I used a wool/acrylic blend of yarn from Knit Picks for these. I made these blankets six years ago so the exact type of yarn that I used in not available anymore, but they do have The Mighty Stitch yarn. The thing I like about this wool yarn is that you can put it in the washer and the dryer which is really important if you are making something for a baby. Instructions for crocheting the different shapes I made for this blanket can be found in this post.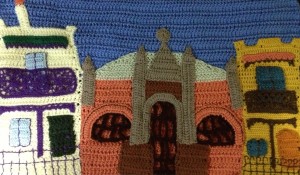 This blanket is in that style, but I used buildings from Australia instead of castles for the inspiration for this.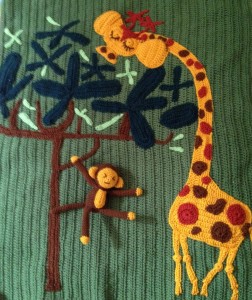 This blanket is based on artwork from the same Disney It's a Small World book mentioned above. The monkey is from a pattern in the book Mr. Funky's Super Crochet Wonderful by Narumi Ogawa.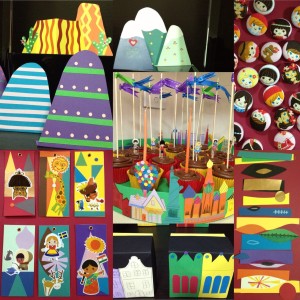 For more It's a Small World party and craft ideas and to take a look at the artwork that inspired these crafts, see my Pinterest board.
Save
Save
Save
Save
Save