Today is the Thursday before Easter, and in Australia that means it is Easter Hat Parade time! The hats are usually colorful and attention grabbing. Last year I made a nest.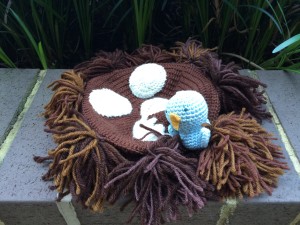 This is a plain hat, with pom poms attached around the edges to make it look like a nest. This is a great way to use up scraps of old yarn. The eggs are just flat pieces that I sewed onto the top. I worked around in a circle to make these, but stitched double crochet on the top and single crochet on the bottom with  half double stitches to transition for several rows to make the egg shape.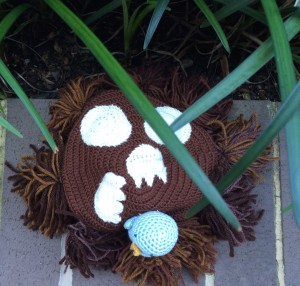 The broken eggs have 4 chain stitches and a sc, dhc, dc then sl to make the point shape. it is similar to how you make the points of a star, just along a line.
This years hat was a Num Nom bunny hat with the little Num I based it on.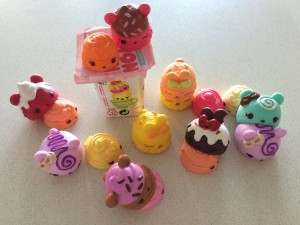 Num Noms are little plastic toys meant to look like ice cream and cupcakes. They come blind boxed in little containers that look like yogurt cartons. The little Nom is a lip gloss and the Num fits on top or can be stacked and smells like fruit or candy.
To make the hat I worked in a circle, but the first stitches were 2 sc, 2hdc, and the rest dc in the circle for row 1. Then I made it like a regular round hat except that for parts of some rows I only crocheted into one loop of the previous rows dc. This is so I could go back and slip stitch into those loops with another color.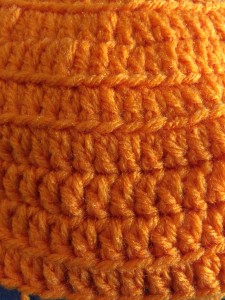 You can see those loops in the second and third row from the top in this picture.
The ears are also worked in a circle (2dc in first stitch, then 1 dc in next three stitches, repeat to end of row). I did this so the ears would stand up without adding anything else to them. I also used the bow to kind of keep them in place so they didn't flop forward. The bow is just an oval shape with yarn wrapped around the center. [work in a circle (top, bottom, and edges of chain) around a chain of the desired size]. The last 3 rows at the bottom of the hat are as follows. I made [3 tr in one stitch and then 1 dc in each of the next 3 stiches] in the third to last row, then the second to last row was [dc in each tr and sc in each dc], the last row [sc into 2 stitches] for the entire row.
I made a bunny for Easter, but you can make a bear hat in a similar way, just make the ears shorter and sew them further apart than the rabbit ears. You could also dress in one solid color and wear a hat like this for a Halloween costume.
There are other cool Easter Parade hats on my Australia Pinterest board.