This post contains affiliate links.
I just saw Zootopia and I loved it. It's a great movie for kids and adults, but I don't want to give anything away so I'll leave it at that.
Woolter and Jesse's Blue Flower Cake
These flowers appear a few times in the movie. The cake is just a regular chocolate cake with frosting and crushed Oreos on top. The flowers are made from blue napkins and green straws.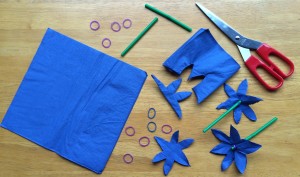 Cut the straw in half
Fold the napkin into fourths and cut out a flower shape. This will make at least 2 flowers. Having the petals with more layers will allow them to be less floppy.
Wrap a small rubber band around the straw.
Cut a small opening in the middle of the flower, put it onto the straw, and wrap a rubber band around the top of the straw.
Then just put the flowers in the cake. They are not wild flowers in the movie, they are grown in rows so that is why I placed them that way on the cake.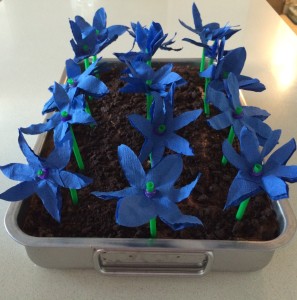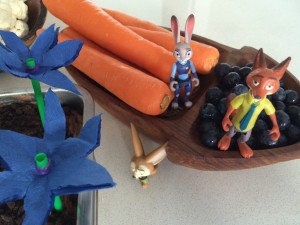 Make sure to have blueberries and carrots, because they feature prominently in the movie as well.
Cauliflower isn't in the movie, but I just think it looks like sheep.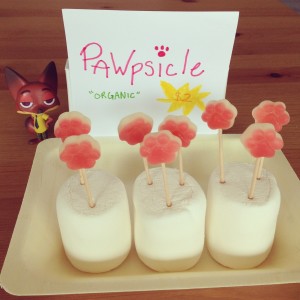 I made these pawpsicles with cat paw gummies from the September 2017 Kawaii Box.
One of the really funny parts of Zootopia is when Nick and Judy go to the DMV which is run by sloths. I made a template for Zootopia driver licenses. I made it a powerpoint file so you can customize them for kids at a party.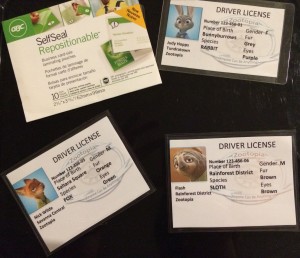 You can have the kids choose their animal (all the animals in Zootopia are mammals; but no primates), place of birth, and residence (Bunnyburrow, Savanna Central, Sahara Square, Tundratown, Little Rodentia, Rainforest District, Outback Island, The Meadowlands, and Nocturnal District). The last three areas weren't in this movie, but were considered for inclusion. You can add the children's picture, gender, and eye and fur (hair) color to their license. You can use business card laminating film (Judy's license) or cut apart a 9 card plastic baseball card holding sheet (Flash and Nick's licenses). You will only be able to use the 6 card slots on the outside of the sheet. Make sure you leave the sealed edge on so there is only an opening on one side for the printed paper to slide into.
Here is the file:

For more Zootopia craft ideas take a look at my Zootopia craft challenge post, and my pawpsicle cupcake post. For more party ideas take a look at my Zootopia board on Pinterest.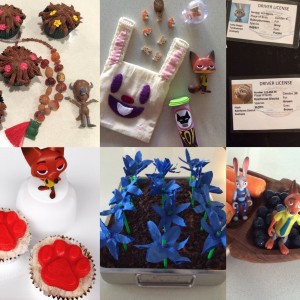 Save
Save