This post contains affiliate links.
Up is one of my favorite movies. I had a really hard time settling on the way I wanted to go with this theme. I've seen a lot of rainbow and cloud themed parties based off of the iconic scene when Carl's house rises from the ground lifted by balloons. I also considered a South American theme, specifically Venezuelan because Paradise Falls (the place Ellie always wanted to visit) is based on Angel falls in Venezuela. The other idea I had was to do a Wilderness Scouts party, which I saw later was what Pixar actually did for the movie premiere party.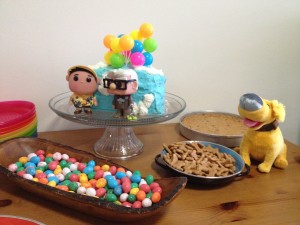 I decided to go with Wilderness Scouts for the most part, but the party decorations referenced the first 2 ideas. It was difficult to find any toys from the movie since I made this party recently, but they sold stuffed Kevin and Doug toys at the Disney store at the time and you can get Carl, Doug or Russel Funko POP Disney Series 5:  Vinyl Figures
.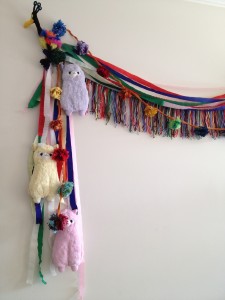 My garland had a bit of a South American fell with llamas, Kevin and bright colors.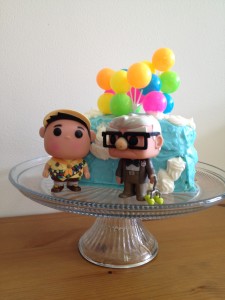 Cake with  Neon Balloon Bouquet Cluster Cake Topper Decorative Picks
.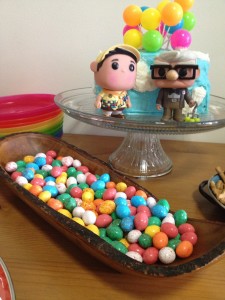 Kevin's eggs. "Wait, Kevin's a girl?"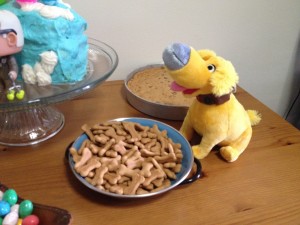 Kevin's dog bones. These are brown sugar cookies that I got at an Asian grocery store.
Up milk shake. I just added a little blue food coloring to this milk shake. The clouds are just scoops of ice cream that I added in between layers of the milk shake to make it look like clouds.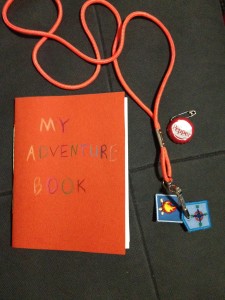 In the movie, Ellie has a little Adventure book. I made these based with method 3 from this instruction guide: http://www.wikihow.com/Bind-a-Book. The kids earned badges for their activities at the party and they could record the activities in their books. I got the badges from the SnappyLogos.com. You can find pictures of Russel, Carl's house and paper badges for the book in this file.  UP coloring
Party Activities
The kids learned the Wilderness Explorer Call and how to use a compass, made an edible fire (http://scoutingweb.com/scoutingweb/subpages/ediblefire.htm), and made a flower cupcake. The cupcake is a chocolate cupcake at the bottom of the glass, then chocolate pudding, and then crushed Oreos. You could also make dirt cake for this. I had to convince some of the kids that the crushed Oreos were not really dirt.
Wilderness Explorer Motto and Call:
A wilderness explorer is a friend to all, be it bird or fish or tiny mole. The Wilderness must be explored caw-caw!
You can meet Russell and become a Wilderness Explorer at WDW in Animal Kingdom and on the Redwood Creek Challenge Trail at California Adventure Park.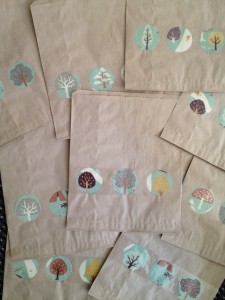 These treat bags are just brown paper bags and I cut out trees from some fabric from  Modes4u.com, and attached them to the bags with a strip of clear packing tape.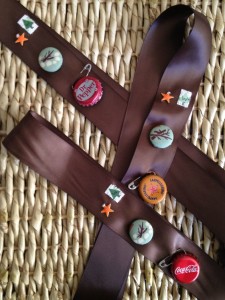 I also used some of this fabric to make buttons and additions on these sashes. I was going for a look similar to Girl Scout sashes that they add badges to. These are made with ribbon that I got from Paper Mart.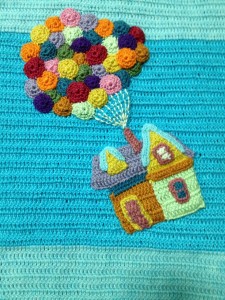 Up crocheted baby blanket.
I used the simple picture of Carl and Ellie's house from the coloring sheet file as a guide to make the house on this blanket.
For more Up party ideas and images of badges take a look at my UP board on Pinterest.
Save
Save