This article contains affiliate links.
Inside Out just won the best animated feature award! Celebrate by having an Inside Out party! There are so many great details in this movie. It is also full of bright colors so it makes a great party theme. One of my favorite parts of the movie is when Joy accidentally knocks over a crate of facts and a crate of opinions on the Train of Thought. She remarks that they look so similar that she can't tell them apart. Bing Bong just scoops them all up and dumps them back in the boxes randomly, and says that people confuse those all the time.  I had a really difficult time finding a picture of these, so below you see a screen grab of them.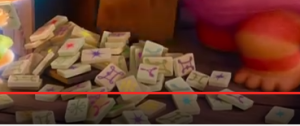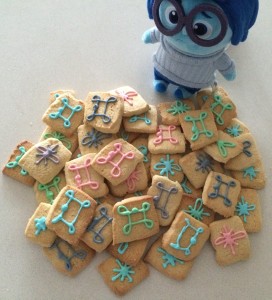 Fact and Opinion Cookies
I decided to make a cookie version of these. I modified a recipe from a Christmas Land O' Lakes recipe magazine from 1999. Land O' Lakes is a brand of butter from a dairy in Minnesota which is appropriate in this case since Riley used to live there.
Cookie Recipe
1 cup (201 grams) sugar
1 cup (227 grams) butter, softened
1 egg
2 tablespoons (30ml) milk
1 teaspoon (5 ml) vanilla
3 cups (360 grams) all-purpose flour
1  1/2 teaspoons (7.4 ml) baking powder
Combine sugar and butter in large mixer bowl. Beat at medium speed, scraping bowl often, until creamy(1 to 2 minutes). Add egg, milk and vanilla; continue beating until well mixed (1 to 2 minutes). Reduce speed to low; add flour and baking powder. Beat until well mixed (1 to 2 minutes). 2. Line 8×4-inch (20×10 cm) loaf pan with wax paper or non stick bake paper and put dough into pan. Use the edges of the paper to cover dough. Refrigerate until firm (2 hours to overnight). 3. Heat oven to 375 degrees F (190 degrees C). Cut dough into approximately 1/4  to 1/2 inch (0.5 to 1 cm) slices and cut that in half to make 2 rectangles. Place 2 inches (5 cm) apart on ungreased cookie sheets. Bake for 8 to 10 minutes or until edges are lightly browned.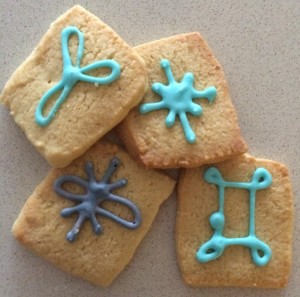 These are the 4 designs I put on the cookies. I used Royal Icing for these because it will harden so you don't destroy the pattern. In Australia royal Icing is sold as a mix, you just need to add water.  In America, you will need to buy meringue powder and follow the instructions include with it to make royal icing. I used Wilton tip #4 when I piped these designs.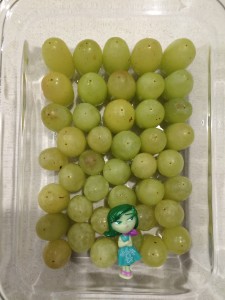 Fruit Memory Balls
You can line up any spherical fruit as memory balls-purple and or green grapes and blueberries would work well.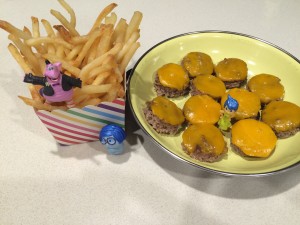 French Fry Forest and Cheeseburger Memory Balls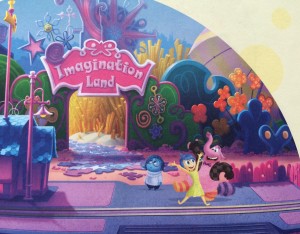 When Joy and Sadness get to Imagination Land, one of the first things they see is French Fry Forest. You can see it here through the gate in this image from the Making Memories activity book.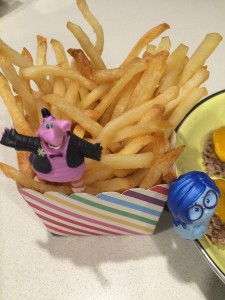 In Imagination Land Bing Bong shows Sadness and Joy the french fry forest.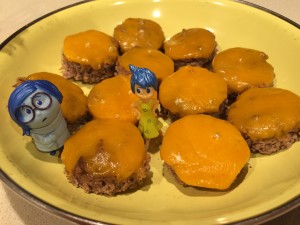 To make the little cheeseburger memory balls, just put all your ground beef in one piece to cook. Cover it completely with slices of cheese when it is almost completely cooked. When it is done use a biscuit cutter to make the burgers into circles. You can make them smaller if you have smaller children at the party.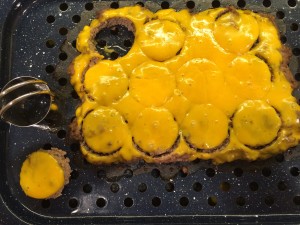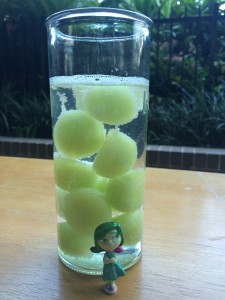 Disgust Melon Ball Punch
Frozen Honeydew Melon Balls
1/2 fill glass with Ginger Ale
1/2 fill glass with tonic water or lemon-lime soda
splash of lime juice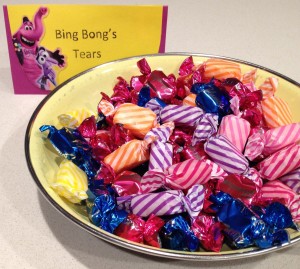 Bing Bong cries candy!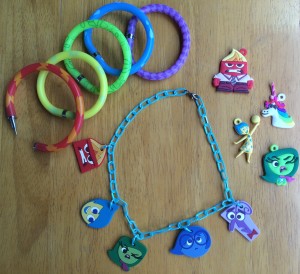 Inside Out Jewelry
At the Disney Store they sold pen bracelets (anyone remember those?!) with charms on them. The charms don't stay on that well so I used them to make a necklace like the old ones from the 80s. There are similar types of charms in the Inside Out chocolate surprise eggs, but those aren't sold in the US. I got the plastic chain comes in many different colors.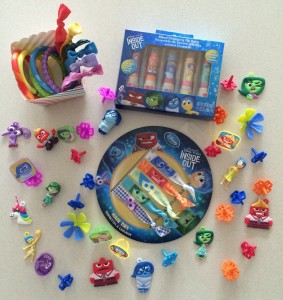 Party Favors
The hair ties and bracelets are from the Disney Store. They are not available anymore, but you can get plain hair lies and bracelets in rainbow colors. If you want to make your own hair ties, you can buy some JLIKA Fold Over Elastic Stretch Foldover FOE Elastics for Hair Ties HeadBands Variety Color Pack 20 Yards
. Then just cut it in pieces, tie a knot at the open end, and bring the cut edges of the elastic near a flame to melt it and keep it from fraying. Make sure the elastic doesn't actually touch the fire! The little charms are from Inside Out Zaini chocolate surprise eggs. The tops look like the gears that move the memory balls around in Headquarters, but they are really toy spinning tops from Kinder Surprise eggs. I found the lip glosses at Toys R' Us in Australia. The little emotion figures are by TOMY and available at toy stores.
Bing Bong wears a flower pin that references the emotion color wheel that the animators based the idea of the core emotions on. Surprise, acceptance, and anticipation were emotions that were left out for the movie, although some researchers think there are as many as 27 emotions. The animators thought that would be too confusing for audiences so they narrowed it down to the 5 you see in the movie.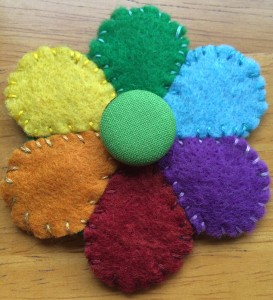 Big Bong Flower Pin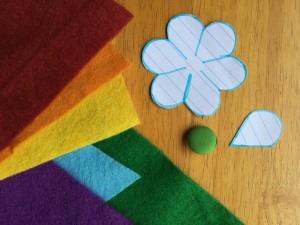 You can put a piece of paper up to your monitor and trace this flower and petal pattern. The center is a fabric covered button (you can see an explanation of how to make these in my It's A Small World Party post) http://lolliesorcandy.com/index.php/2016/03/18/its-a-small-world-party/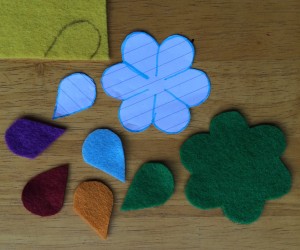 Trace the shapes onto felt with a pen.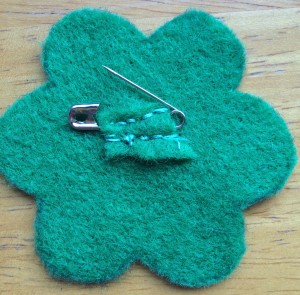 Take a small piece of felt to sew around a safety pin on the back of the main piece of felt.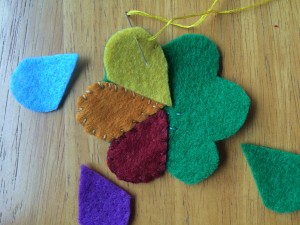 Then sew the individual petals on the flower, then sew the button in the center.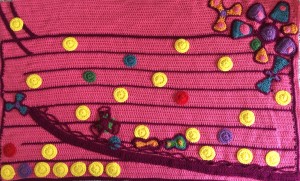 Headquarters Baby Blanket
I used cotton acrylic blend Comfy Worsted Yarn for this blanket. Not only is this yarn soft, it can be washed and put in the dryer which is really important when you make things for babies! You can find instructions on how to make stars and circles in this post.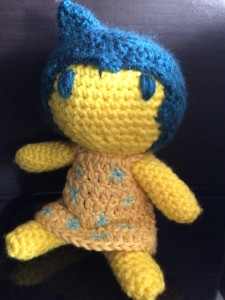 Joy Doll
I used the bunny pattern from "Mr. Funky's Super Crochet Wonderful" as the pattern for Joy's body and then I made her hair separately starting at the point on the top and working in rounds.
For more Inside Out party ideas, take a look at my Pinterest board.
Save
Save
Save
Save