Toy Story has had 3 movies and there is going to be a fourth coming out in June of 2018! This movie is all about toys, so you can use toys as your decorations for the party. Many of the characters are available as plush from the Disney Store. In the first movie Andy plays with his toys in a cardboard Western town. I turned cardboard boxes inside out so there was no writing visible on them and then hand drew building fronts on them based on what was in the movie.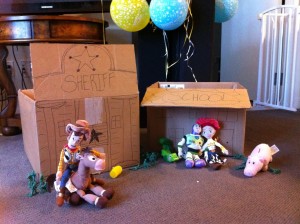 Make sure you hide some green army men around the party. One of the games can be a hunt for the little guys.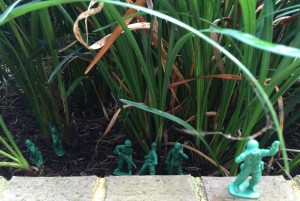 There are also a lot of little plastic figures of the toys available and miniature versions of an etch-a-sketch, barrel of monkeys, and an 8-ball available on Amazon. I used these to decorate the cake. I made this little Pixar ball from a plain yellow bouncy ball and added a red star sticker and blue tape to make it look like the ball that appears in all the Pixar movies.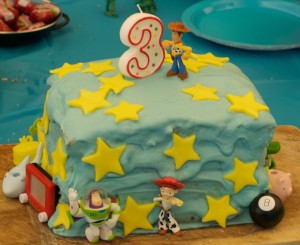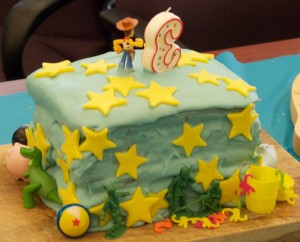 When Andy moves to his new house, his walls are blue with yellow stars. His room still has those walls when he leaves for college in the third movie. You could use fondant to make the stars, but I used yellow Star Bursts. Unwrap them and heat in microwave for about 5 seconds to soften them, then roll them out flat and cut with a cookie cutter.
You can have your own Pixar ball at the party, by making a large ball with tape and a large cut out red star, or you can crochet one. A crocheted ball also makes a good gift for babies.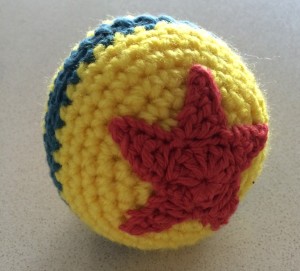 Crocheted Pixar Ball
Make 2 of these for the two halves of the ball.
With yellow and larger hook, ch 4, sl st in first ch from ring
Round 1-Ch 1, 8 sc into ring (8)
Round 2- 2 sc in each stitch (16)
Round 3- *sc in first stitch, 2 sc in next stitch, repeat from * until the end of the round (24)
Round 4 – sc in each stitch (24)
Round 5- *sc in next 2 stitches, 2 sc in stitch, repeat from *until end of round (32)
Round 6-8-sc in each stitch (32)
Round 9- change color to blue, repeat round 6
Make 2 red stars. With a smaller hook and thinner red yarn, ch 4, sl st in first ch from ring.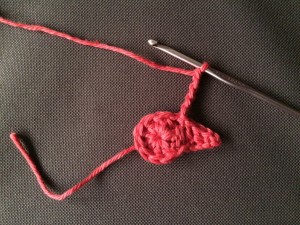 Round 1 – ch 3 for first stitch, then 9 dc into ring, sl st into top of ch 3
Round 2- ch 5, sl st in second chain from hook, sc in next ch, hdc in next ch, dc in next ch, sl st into second stitch from the base of the chain. This will form one point of the star. Repeat 4 more times.
Sew red stars onto the ends of the ball pieces. Then sew the halves together. Leave a small opening and stuff, then finish sewing the ball together.
For more party ideas for Toy Story and other Pixar movies, take a look at my Pixar Crafts Pinterest Board.