This article contains affiliate links.
The Good Dinosaur is out on video now! I think a lot of people skipped this one in the theater, but don't let that dissuade you from seeing it. It is a journey movie similar to finding Nemo. I would say that it is a little less scary than "A Land Before Time". One of the things I really like about it is that the dinosaurs are ranchers and farmers. Personally, I think it didn't do as well as other Pixar movies because most of the movie features  Arlo who is voiced by a young actor, and Spot who doesn't speak. This is very different from most Pixar movies that have one or more comedians with most of the dialogue in the film, which leads to a lot of funny moments for adults. The only other Pixar movie not like that is WALL-E, but that movie has some themes that are interesting to adults. So I would say this movie may not appeal as much to adults without children as other Pixar movies, but it is a good kids movie with a similar feel to "Lilo and Stitch". It has a lot of emotion and funny things for kids, but doesn't really have a unique theme that adults would be surprised by.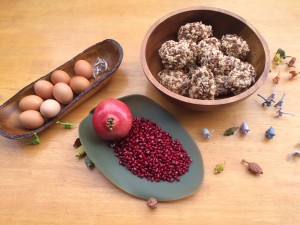 Party Food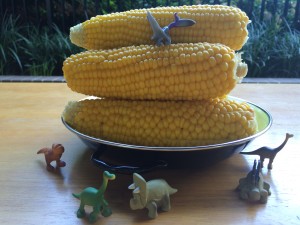 Arlo's family eats corn that they grow on their farm.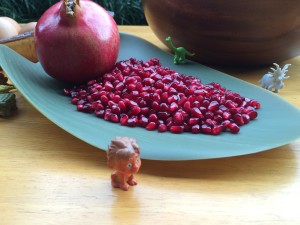 When Arlo and Spot are traveling, Arlo finds some red berries and other fruit to eat. The little berries reminded me of pomegranate seeds.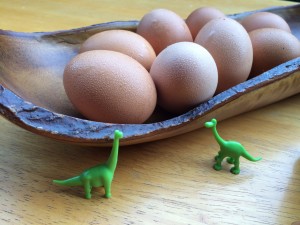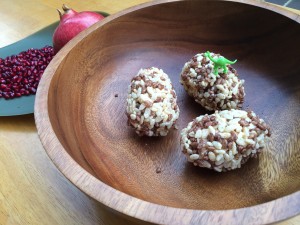 In one of the first scenes in the movie, Arlo and his brother and sister hatch from eggs that look a lot like brown chicken eggs. I hard boiled some eggs and also made some Rice Krispie treat eggs. For the Rice Krispie eggs I used a mix of Cocoa Krispies (aka Coco Pops in Aussie) and regular Rice Krispies (aka Rice Bubbles in Aussie). * Note to Aussies- do not use Aussie marshmallows, they never really stiffen up the way US ones do when they cool down. You can get US marshmallows at Costco sometimes or else use the marshmallows from Israel in the international foods section of Coles.*  I added a little less cereal to the melted marshmallows and set some aside in a bowl. Once the cereal was added to the melted marshmallows I scooped about a hand full out with a spoon and put it in the bowl of cereal. I coated my hands with butter so I could form this into an egg shape. The cereal on the outside will keep the eggs from sticking to each other.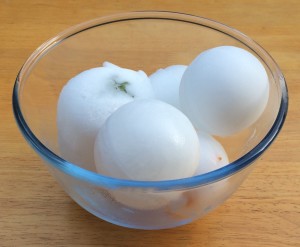 Hatching Dinosaur Eggs
To make these "eggs", mix 1/4 cup baking soda (bicarb) into 2 cups of water. Use a sphere ice cube maker and only fill the bottom an let freeze. Then add the little dinosaur toy and fill the rest of the ice mold up with baking soda water. I use a ketchup bottle to add the water to the top of the mold. Make sure you only fill it about 90% full because water expands when it freezes.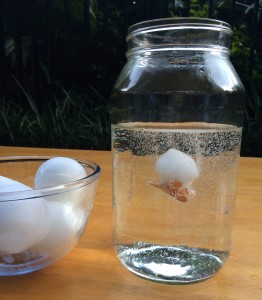 I put the eggs in a jar that had 1 part vinegar with 2 parts warm water. The egg will fizz a bit and melt quite quickly to reveal the plastic figure hidden inside.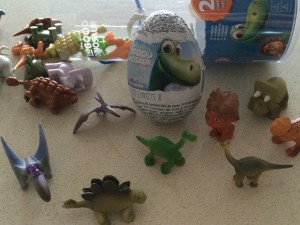 You can use the dinosaurs from this tube of toys (available at Target and Toys R US in Australia) or the ones that come in chocolate surprise eggs that seem to be in most grocery stores in Australia still. You can also use these for party favors or cupcake toppers.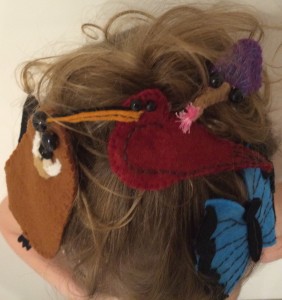 Animal Hair Clips
In one of the funny parts of this movie, Arlo meets a dinosaur that likes to collect lots of pets. He has them all sitting in his many horns. He has birds, lizards, butterflies, and mammals and he also wants Spot!  He has funny names for some of them.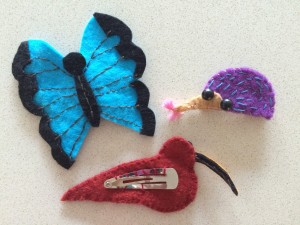 I made these out of felt and based them on a character study for the dinosaur and pictures in the book "A Berry For Arlo".  I cut out 2 pieces of felt for all but the butterfly and sewed the two sides together so they would keep their shape a little better. The eyes are little buttons that I found at sewing stores. The little hedgehog has a tiny pom pom nose that I made from embroidery floss and sewed on as I sewed the two pieces of felt together. Fold the felt over so when you cut the butterfly wing out you will have one piece for the whole butterfly. I stitched the wing veins on the felt and cut out the edge pieces using the main wing pattern as a guide. Once you're done making the animal you can sew a hair clip to the back.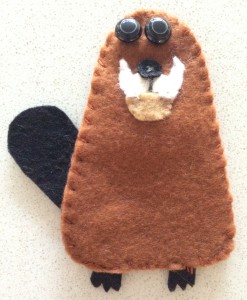 This is Dream Crusher. He protects you from having unrealistic goals.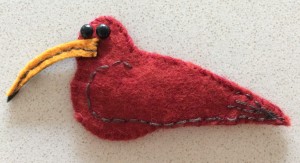 This is Debbie. She really wants Spot to join the collection of animals. "You're better than this Debbie!"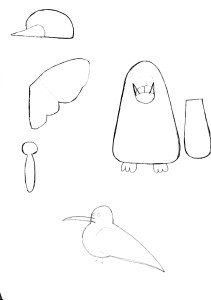 Animal Clip Pattern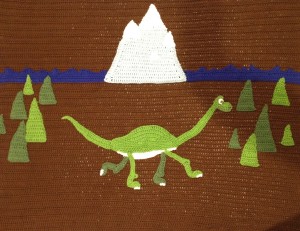 Crocheted Baby Blanket
I used cotton acrylic blend Comfy Worsted Yarn for both the doll and the blanket. Not only is this yarn soft, it can be washed and put in the dryer which is really important when you make things for babies! You can find instructions on how to make stars and circles in this post.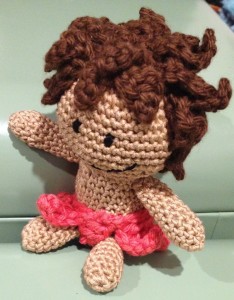 Spot Doll
I used the Bunny in a dress pattern, minus the ears and dress from the pattern book "Mr. Funky's Super Crochet Wonderful" for Spot's body. To make his hair and pants I made a chain and crocheted points along the length of it.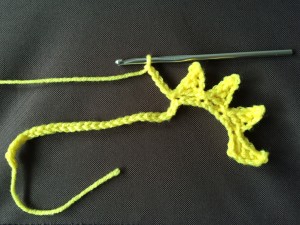 To make the points, ch 5, sl st in second ch from hook, sc in next st, hdc in next st, dc in last st, join to chain with sl st in 3rd st from the end of the ch. Repeat this for the entire length of the chain. I wrapped a red version of this around Spot's waist and I spiraled a brown version of this around Spot's head starting at the top of his head and sewed it down.
Felt Play Set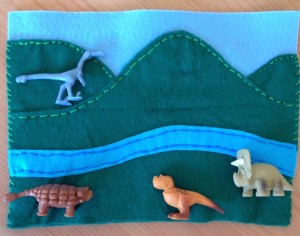 I made this little play set for the dinosaurs that come in a tube. I cut the piece of felt so it would fit rolled up into the tube and the dinosaurs could be in the middle.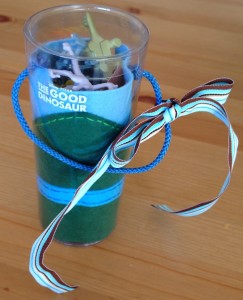 For other Good Dinosaur party ideas and ideas for other Pixar movie parties take a look at my Pixar Crafts board on Pinterest.
Save
Save
Save