Traditional Silver Charm Bracelet
Modern Charm bracelets started to become more popular when Queen Victoria of England (ruled 1837-1901) started wearing them. Queen Victoria set many trends including celebrating Christmas with decorated evergreen trees which spread throughout Europe and to the United States. If you are ever find yourself in London you can go to the V&A museum which is named after Victoria and her husband Albert. It is very appropriate that this museum of art and design is named after a Queen that had such a large cultural influence.  Queen Victoria's love of charm bracelets coincided with the Industrial Revolution. This allowed charms to be mass produced and affordable for many more people, and their popularity dramatically increased.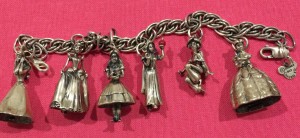 Mechanical Charms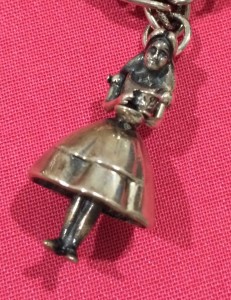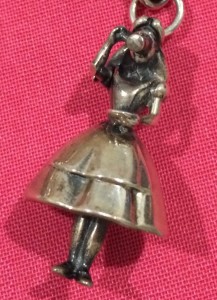 Mechanical charms have moving parts and were popular in the Victorian era. These are charms from the Disney Store in the mid 1990s. All of these except for the Snow White charm have moving parts. Belle is an actual bell. The Alice charm is the coolest one. She actually drinks her tea!
The first charm bracelet based on a Disney animated feature was a bracelet made by Cartier, Inc. of Snow White and the Seven Dwarfs. Walt had it made for his wife, Lilly and she wore it to the movie premiere. Walt Disney also had a gold charm bracelet made in the 1960s for his wife with a charm representing all of his Oscars. You can see both of these at the Walt Disney Family Museum in San Francisco.

Disney Store Charms from Kidada (2011-2012)
The Disney Store recently had the charms shown above that are a non-precious metal plated with gold.
In the 1950s-early 2000s, you could find traditional sterling silver charms at most tourist locations in the US and at jewelry stores, but they seem to be much rarer now.  I was able to get 2 charms (Dumbo at Disneyland and Bucky Badger in Madison, WI) in the late 1990s that were exactly the same as the charms my mother got in the late 1950s in the same location. It doesn't seem like charms kept the same style over those 40 years, however. I think in the 1960a and 1970s the charms got much bigger. You can see examples of this from Elizabeth Taylor and other celebrities bracelets from the 60s.
If you want to start your own charm bracelet, you can buy the chain at a jewelry store or FireMountainGems.com. Fire Mountain Gems changes their prices weekly based on precious metal prices and they offer discounts as the number of items you buy increases. You can also make the bracelet from embroidery floss like the one above or just a string of beads as shown below.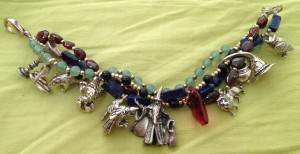 Harry Potter Charm Bracelet
If you are looking for a good source for silver charms, I would recommend BlueMud.com. They have a large selection of charms at very reasonable prices. I find it increasingly difficult to find these types of silver charms at tourist locations and department stores. All of the charms on the Harry Potter bracelet are from Blue Mud, but I got them several years ago.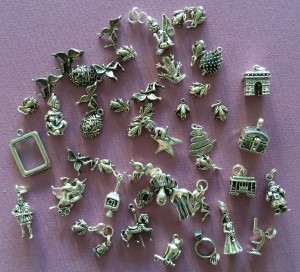 Sterling Silver Charms from Blue Mud
While the first modern charm bracelets were made of metal and other precious and semi precious materials, in about the 1920s charms started being made of plastic and were sold to children. They often came with gum or candy and so they are referred to as "gumball" charms. They, like their grown up metal counterparts, were very popular in the 1950s and 1960s. The most recent serge in popularity of plastic charms occurred in the 1980s in the form of plastic necklaces. These charms had plastic clips with a little metal bell and a usually flat plastic charm. Mattel sells some Monster High charms that are very close to the 1980s style charms. I think they are discontinued now, but you can still find some on Amazon. You can see the necklace that the young lady wears on the package looks almost identical to the charm necklaces from the 1980s.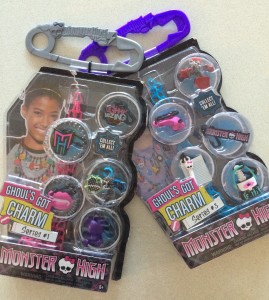 Mattel Monster High Charms
Vintage plastic charms and necklaces are sold on Ebay, but you can make your own version of the 1980s necklace. Fire Mountain Gems sells many different colors of plastic link necklaces. I would recommend putting your own metal clasp on them because the plastic link they give you will probably not stay closed if you add weight to the necklace with charms. They also sell little metal bells and other small charms.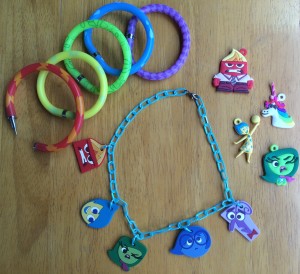 Inside Out Charm Necklace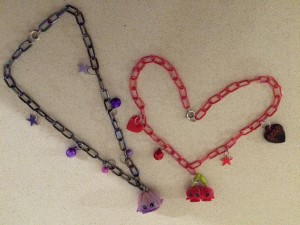 Shopkin Necklace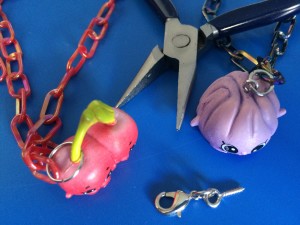 You can also turn small toys into charms if they are made of a soft plastic. You just need an screw eye pin/bail. Or if the toy already has a loop you can just add a jump ring. There are a few brands of kids charms like CHARM IT! which are metal and CharmU which I think are plastic.  The charmU charms started being sold in mid-June of 2016. They are 3D and have little play sets much like the Charmkins shown below.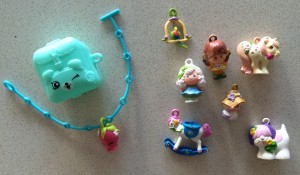 The fifth season of Shopkins actually includes some that are charms. These remind me so much of Charmkins from 1983, which are pictured here on the right. Although Charmkins had different types of adapters with hooks to add onto ribbon necklaces and little plastic key chains.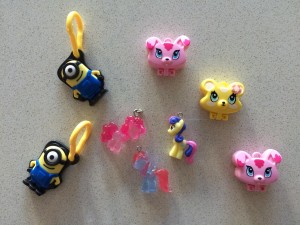 Much like the old gumball charms, you can also get charms in Kinder Surprise eggs everywhere except America. Make sure you don't bring the eggs into the States because you actually get a fine if you bring them in. This is because America has an old food safety law that states that you can not have a non-food item contained in food. The My Little Pony charms in this picture are Squishy Pops that I cut the suction cup off of and added a screw bail to just like the Shopkins.
You can also buy charms that are meant for cell phones or bags. Tokidoki  and Sanrio sell many different Kawaii style charms. The Tokidoki charms pictured here are from the "Frenzies" line. I also got many included with makeup from Sephora x Tokidoki collaboration from 2010-2012.
European Style Bracelets
The most dramatic change to traditional charm bracelets has been gaining popularity recently. The charm bracelets that Queen Victoria wore were fairly similar to those even from the 1960s. In 1889 Tiffany and Co. produced their first charm bracelet; their signature linked bracelet with a heart charm, which is still sold today. As a side note, you may wonder why Tiffany's charms and bracelets, especially those made of sterling silver, are so expensive. They were very popular in the late 1990s and had girls in their late teens and early 20s flocking into stores to buy bracelets. Even though Tiffany and Co. profits soared at this time, they were concerned their high end luxury brand image would be diluted by all of these "aspirational" customers filling the stores. In 2002 they started dramatically increasing their prices of silver jewelry to discourage younger buyers. By 2004 they had raised prices enough to end the popularity of their silver bracelets, but since then their profits and stock prices have not reached the levels they were at in the late 1990s.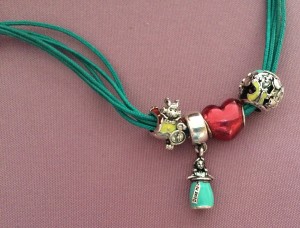 Pandora Charms
This abrupt severing of demand of affordable luxury jewelry sought after at Tiffany's may have opened the door for customers to start seeking out brands like Pandora.  European charm bracelets first produced by Trollbeads in 1976. These bracelets feature a snake chain bracelet that you slide bead like charms onto. Pandora charms were first sold at regular jewelry stores and helped these stores remain profitable in economic downturns. Recently, Pandora has opened many concept stores and seems to be attempting to get the feel of Tiffany and Co. stores without relying on very high end expensive jewelry the way Tiffany does.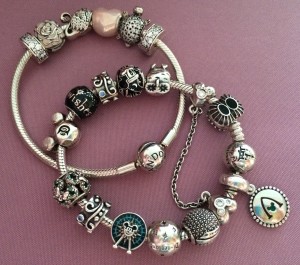 Pandora charms are more expensive than traditional charms, but they are more practical in my opinion. I find that traditional charm bracelets often get in the way at work, especially if your work involves taking care of children. Pandora does offer "dangle" charms that are very similar to traditional ones if you prefer that style. Another benefit of this style of bracelet is that charms can be moved on the bracelet and you don't have to make a trip to a jewelry store to have them securely attached. Traditional bracelets need to have the charms soldered on by a jeweler so you didn't loose them.  You can see that the bracelet on the right has a safety chain. It is a lot less likely that you will loose your bracelet when you have one. I find that the clasp is more robust than the lobster or spring ring clasps on older style bracelets, but it is still nice to have the safety chain if you are concerned. In the fall of 2015, Disney started a collaboration with Pandora. You can see several examples on the bracelets above. These Disney charms have been very popular. When they were first made available online, they sold their projected 6 month supply completely out in a few hours. Since then Pandora has opened concept stores inside the Magic Kingdom and the Disney Springs shopping center at Walt Disney World and in Disneyland. There are not many non-Disney branded stores in the parks. The only others are Starbucks, Sunglasses Hut, the Rainforest Cafe in Animal Kingdom, and Mitsukoshi Department Store in the Japanese pavilion in EPCOT.
Pandora has promotions for free bracelets or charms when you purchase a set amount offers a couple of times per year. They only have sales on charms that are about to be retired, but those are also infrequent. You can get great deals are on charms that are retired from some outlet malls and online at Rue La La. This site has limited time (3-10 days per sale) offers on many different brands. Rue La La often has a Black Friday sale and usually has a sale around the time that Pandora has their seasonal releases of new charms. Pandora's seasonal releases of new charms occur in mid-January (Valentines Day), mid- March (Spring), Early April (Mother's Day), Late May/Early June (Summer), Late July (Pre-Autumn), late August (Autumn), and late October (Winter).
If you want to know more about Pandora, read reviews, and get sneak peaks of upcoming charms check out the blog Mora Pandora. She has a lot of really great pictures on that site.
If you'd like to see additional pictures of charms and bracelets including those I mentioned in this post, but don't have pictures of; take a look at my charm bracelet Pinterest board.
Save
Save
Save
Save
Save
Save
Save
Save
Save
Save
Save
Save
Save
Save
Save