I finally got to see Finding Dory! It was similar to Finding Nemo, so if you liked that movie I think you will like this one. There are a lot of flash backs of Dory remembering her parents and I liked to see how they were with Dory as a little fish. She always had her short term memory loss and the way they parented was quite different to how Elsa's parents did in Frozen.  It's a bit of a departure because often in cartoons we see even well meaning parents make mistakes and we see how the kids deal with the consequences of these.  I made one of my favorite scenes in cake form,  but I don't want to explain it in case people haven't seen the movie yet.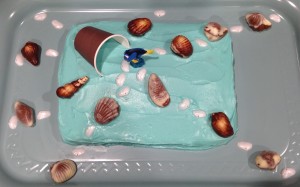 This was a very simple cake to decorate. I used Guylian shell shaped chocolates and some plastic shell beads (make sure you take those off the cake before you cut it so no one eats one!) to make the trails of shells.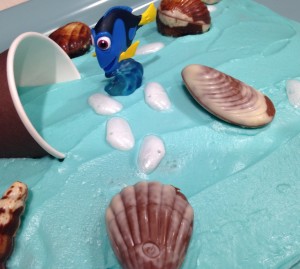 I cut a little paper cup in half for the bottom of a pipe and added a Dory toy and that was all.
Dory is carried around in all kinds of beverage containers in this movie, a coffee pot, a sippy cup, a plastic drink cup; basically everything but a fish bowl!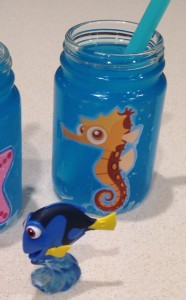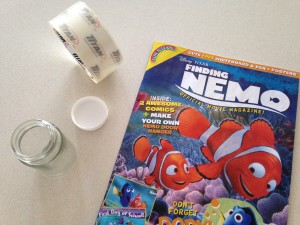 You can use stickers or pictures from a magazine to make fish in a cup for a party.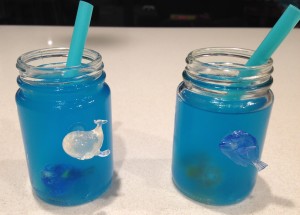 Find Dory in the glass.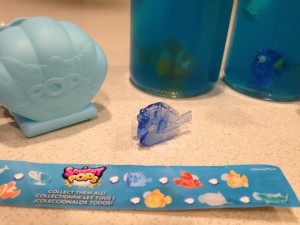 These are the squishy pops Finding Dory. They have little suction cups on the bottom or the side of the toy. I stuck some at the bottom of these glasses and the clear ones on the side. If you do this, make sure you have the kids drink only with a straw so they don't put these in their mouth. Or you can just stick the clear ones on the outside.
For more Nemo and Dory crafts take a look at my Pixar Crafts board on Pinterest.