This article contains affiliate links.
Frozen Fever is a short about Anna's birthday that takes place after the events of Frozen. It is a really cute little short and I'm going to have 2 posts about a party based on this. The first will be about some decorations and activities for the party and the second one next week will be about food.
The theme of Anna's party is sunflowers. She has them on her dress and in her hair. I made these flower decorations to look like the flower and ribbons that Anna wears in her hair for her birthday.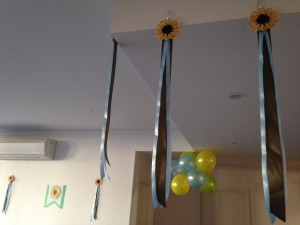 Don't forget the balloons! Anna has some at her birthday as well. Through the center of hers she has a row of sunflowers which you could make by adding sunflower stickers to your balloons.

I bought these EuroQuest Imports Deco Sunflower Parchment Leaves, Package of 20
. You can put them on the wall or the tablecloth or on food plates because they are food safe.

Anna also has some sunflower flags up around her party.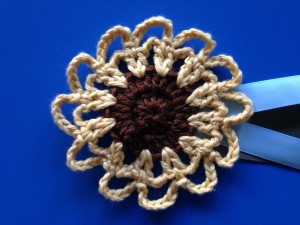 Crocheted Sunflower Instructions
ch 4 with brown and sl st into first chain to form a loop
rnd 1: ch 3, 12 dc into ring, sl st into top of ch to end row
rnd 2: ch 3, 2 dc into each dc, sl st into top of ch to end row
rnd 3: switch to yellow. ch 6, work 2 dc into the space between the 3rd and 4th dc, ch 3 repeat, until end of rnd, 1 dc next to the base of the chain
rnd 4: ch 8, sc in the space between the 2 dc stitches, repeat to end of row
Sew ribbon to the back of the flower. I go the ribbon for these decorations from PapaerMart.com. They have really reasonable prices on ribbon, but you do buy it in large quantities.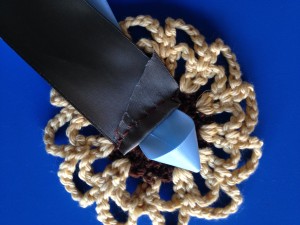 Birthday Banner

Olaf can't read…or spell! Olaf tries to fix Anna's birthday banner, but he mixes up all the letters. You can replace Anna with your child's name and make an anagram for it.
Activities
Follow the Red String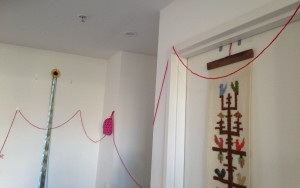 Elsa hides all her presents for Anna around the kingdom and has her follow a red string to find them all. You can do that with your child's presents as well.
Beaded Bracelets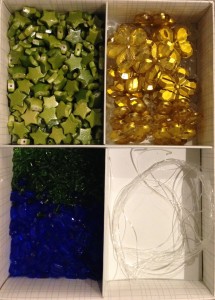 You can have the kids make beaded bracelets to match the colors in Anna's birthday outfit.
Anna or Elsa Hair Styles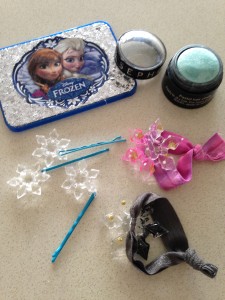 The how to for the barrettes is in my Frozen Crafts post. The larger snowflakes have a little bit of glitter on them and have fairly large holes so you can put them on hair ties. I used fold over elastic  (JLIKA Fold Over Elastic Stretch Foldover FOE Elastics for Hair Ties HeadBands Variety Color Pack 20 Yards
) to make the hair tie. It is significantly less expensive to buy the elastic yourself in a large piece than to buy the pre-made hair ties at the store. Once you've cut the pieces and tied them together you want to bring the cut edges of the elastic near to (but not touching!) a candle flame to melt the edge a little bit so it doesn't unravel. That is all there is to it.
Make Play-Doh Snowgies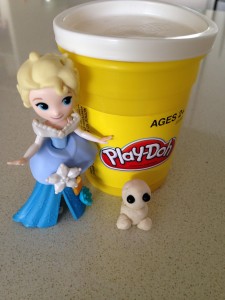 The little eyes on these guys are black beads. I thought that would be better than having black and white Play-Doh, because in my experience if you give kids more than one color of Play-Doh, you'll just end up with a pile of brown or grey dough.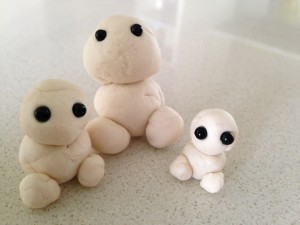 You can make these in many sizes, but I think the smaller ones are closer to having the correct eye size. You can make more that way also. I'll see if these little guys get into any trouble at the party.

For more Frozen and Frozen Fever Party ideas take a look at my Frozen Crafts post and my Frozen Pinterest board.
Save