This article contains affiliate links.
This is my second Frozen Fever  party post. The first one was all about decorations and games. In this post I have food pictures.  Anna loves sandwiches!
Make Your Own Sandwich Station
Elsa has a cold for Anna's birthday. Every time she sneezes she makes a few snowgies. You can make your own cheese snowgie.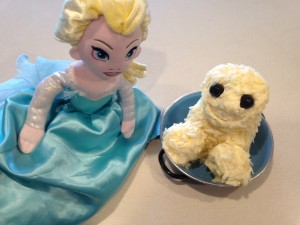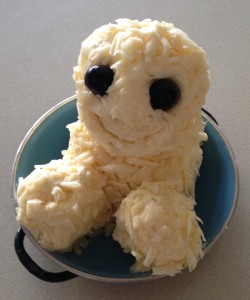 Recipe
2 packs of Philadelphia cream cheese
1/2 an onion grated
dash of salt
about 2 cups of shredded white cheese*
*Basically all cheese in Australia is white, including the cheddar cheese at Costco which is what I used.
Let the cream cheese soften and then mix in the onion and salt, and then add the shredded cheese. You could also add pepper and garlic, I just don't eat garlic so I didn't add it. Form the mixture into two large and two small balls. You need to roll these in more shredded cheese. Put a straw in the center of the snowgie's head and  push it down to the bottom to keep him from falling over. Make sure you cut the straw just smaller than the height of your snowgie and then cover it over with some cheese.  Use 2 black olives for eyes. I used a chop stick to draw the outline of his mouth and then I pushed the cheese in that was inside the lines. I served him with bagel chips, carrots, and celery.
In this short Elsa's dress is blue with pink flowers and Anna's dress is yellow, green, and blue. You could use  either for color inspiration.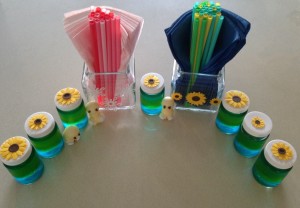 Happy, bright sunflowers are nice for a summer party. These Martha Stewart Stickers, Sunflower
can be stuck to all kinds of things.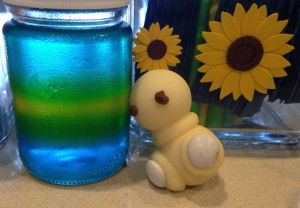 Layered Jell-o and White Chocolate Snowgie.
The middle layer of this Jell-o is yellow, but it looks green as well because it is next to blue layers. The snowgie is made from Lindt white chocolate balls and white M&M stuck together with frosting.
You can suggest sunflowers with your party food.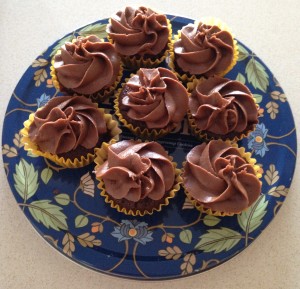 Chocolate cupcakes with yellow papers.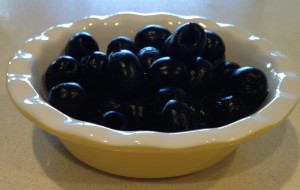 Black Olives in Yellow bowl.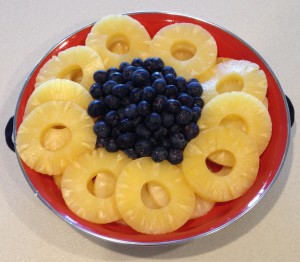 Pineapple with blueberries in the center.
Cake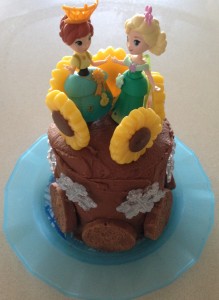 This doesn't look much like the cake in the cartoon, but I got a specific request for chocolate. Elsa and Anna love chocolate so you can't go wrong there. I decorated this cake with sunflower lollipops from Oriental Trading Company and Snowflake Cupcake Rings – Set of 24
. I used a Disney Frozen Princesses Ice Tray
  to make chocolates with Anna and Elsa's face on them for the bottom edge of the cake.  The dolls are Little Kingdom dolls from the Frozen Fever set.

White Chocolate Ice Palace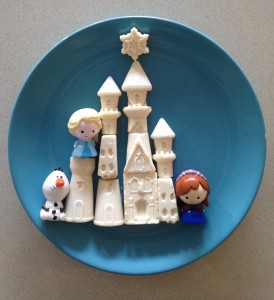 I made this with a castle ice cube mold ( Creative Cool Palace/Castle Ice Molds DIY Ice Tray 5.15.90.7″ Random Color
) and one of the snowflakes from a Disney Frozen Olaf Ice Cube Tray
.  The little toys are from the tops of lip glosses from the Disney Store. They come off the tops quite easily so they can be used a finger puppets when you are done with the lip gloss.
Snowflake Ice Cream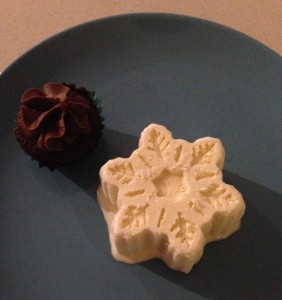 I made this by allowing ice cream to get a little soft and then putting it into a snow flake silicone mold. Put it back in the freezer for a few hours before removing it from the mold. Make sure you use ice cream that is pretty difficult to scoop when it first comes out of the freezer so you make sure it comes out of the mold alright. I used another brand of ice cream that was pretty soft right out of the freezer and it didn't come out of the silicone mold very well. It is nice to have this because you can quickly and easily give out the ice cream at the party. I really like using this mold for ice cubes also. These are quite large and they are very easy to get ice cubes out, unlike some of the smaller ice cube molds with thicker silicone.

For more Frozen party ideas take a look at other post from this party, my Frozen craft post, and my Pinterest board.
Save
Save