This post contains affiliate links.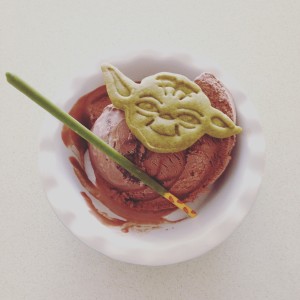 Here is another idea for a Star Wars ice cream sundae. You can also take a look at my BB-8 sundae.  There are a few things you need for this that you may not have in your cupboard.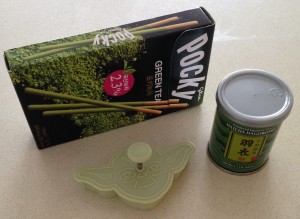 You will need a Yoda cookie cutter. Sometimes these are available at Williams Sonoma. They also usually have a version of this and a lot of other cool Star Wars kitchen products at a website called Think Geek. I found these green tea Pocky at an Asian grocery store. The container has green tea powder called matcha in it, which I also got at an Asian grocery store. That gives Yoda his nice green color that I think is close to how his skin looks in the movie and you don't have to mess around with food coloring.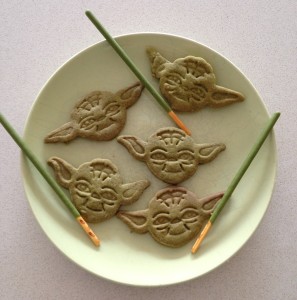 The green tea Yoda Cookies recipe is from Martha Stewart.
Sticking with the green tea theme, I made a green milkshake in honor of The Last Jedi. I made this with matcha powder, vanilla ice cream, and milk. I also realized that you can use a straw to stand in for a light saber for your Forces of Destiny doll if it doesn't come with one.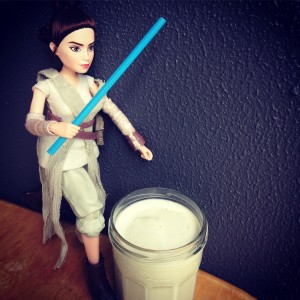 Today I'm also going to review the craft book "Star Wars Crochet" by Lucy Collin. This book has some basic instructions at the beginning and directions for 12 projects.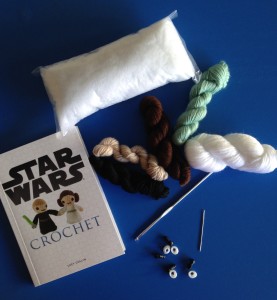 I got his set from Sam's Club and you can see that along with the book you also get material to make Yoda and a storm trooper. You can see that the finished projects are not all the same size. Jabba is much bigger than the others, just like in the movie.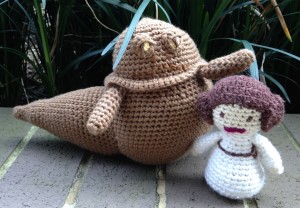 I found the directions were easy to follow. I did make a few alterations though. I didn't use plastic eyes. Even though they are safety eyes that lock in place inside the project, I prefer to sew the faces on. This way you can feel comfortable giving these toys to small children and it also makes it less expensive.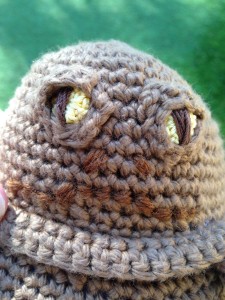 Jabba's eyes look more like cat's eyes in the movie, so I just crocheted a circle and then stitched thread over it to look like the elongated pupils that cats have.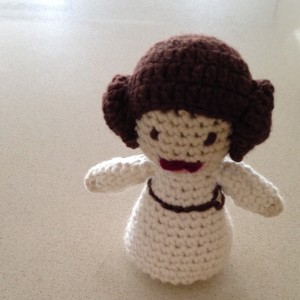 I just did a very simple stitch for Leia's eye's, mouth, and belt.
I slightly altered the body of these patterns as well. For Jabba I made the bottom piece of him in reverse order starting from the bottom and crocheted the skin flap portion of him on the head part. Basically I just needed to do the stitch count in reverse order. I did this because I find that increasing stitches usually look better on a finished project than decreasing stitches. I also used only one color for his head. In the directions he is mostly green and has a tan face, but he seemed to mostly be a tan color in the movie. It is also much easier to make this way, just follow the stitch count and ignore the part about switching colors.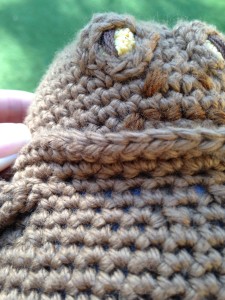 I did the pattern for Leia as directed, except I didn't switch colors for the belt, I just continued on in white and then stitched a belt on. The other thing I did differently was to make a circle for her base and then sew that around the bottom of the doll. This way she can stand up on her own.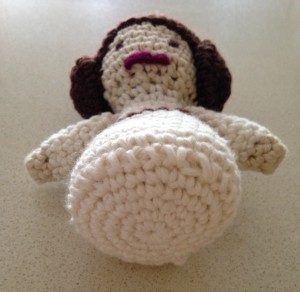 Overall I think this is a very good book and you don't need to alter the patterns at all, but it is pretty simple to alter Leia so she can stand if you want. You can also alter these patterns slightly to give your characters outfits from other Star Wars movies. I'm going to try to do that in the future. I'll post any I make on my Instagram account.

For more Star Wars craft and party ideas take a look at my Star Wars Pinterest board.