This article contains affiliate links.
The Nightmare Before Christmas is my favorite Halloween movie so I've been having a lot of fun putting this party together. This first post for this party will be all  about the decorations and party favors. I'll talk about the food and the party games in next weeks post. In addition to the movie you can also use the NBC version of the Haunted Mansion at Disneyland for inspiration for your decorations. There are a lot of bright colors incorporated into that design especially in the ride loading area. I love that ride and it seems like a lot of people use that as a guide for their parties, but I decided to let a few images from the movie guide me. Halloween town has a muted color scheme with bright pops of orange.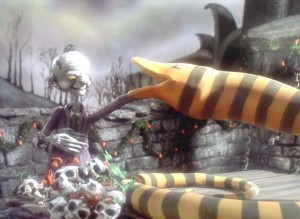 You can see the garland in the background of this image.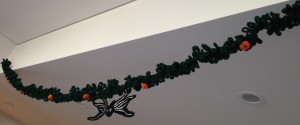 Here is my interpretation. I crocheted this garland because I wanted to have something that I could wash easily at the end of the holiday season. I just made a very long chain and then formed loops from shorter chains that I joined back to the original one. I went back and forth a few times for this. The orange you see are little pumpkins that I crocheted from orange doily thread. You could easily use a store bought garland and orange Christmas lights though.  I also made the striped snake in the image above to hold the treat bags in. Later in the movie that snake attempts to eat a whole Christmas tree! Mine isn't large enough to swallow a tree though. I crocheted the snake as well. I started with the tail and gradually increased the stitches in each round until I got the width I wanted and then continued crocheting until the snake was as long as I wanted.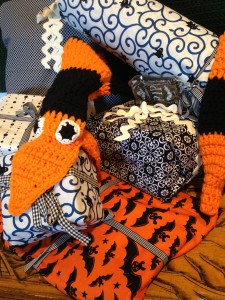 I made the two pieces for his head separate triangles and then sewed them on. You can learn how to crochet different shapes here.
Snake Pieces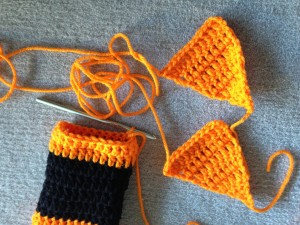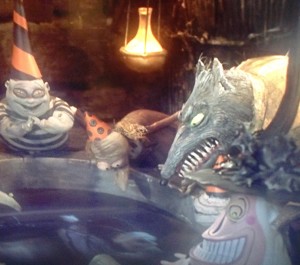 On Christmas the characters are seen wearing these birthday party like hats, which seemed perfect to make for a NBC birthday party. I just used store bought hats and covered them with orange and black construction paper because I was having a hard time finding plain orange and black hats. This also allowed me to just color on the patterns. I also had some circle stickers to make the polka-dots. Then I used yarn to make pom poms for the top of the hat. You can make pom poms by wrapping yarn around your fingers, tying a string around the bundle, and then cutting the strings on the opposite side of the bundle. Make the string that ties the pom pom long enough to insert through the top of the hat. You can tape it on the inside of the hat.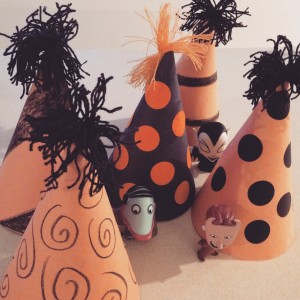 Black and Orange Party Hats
  The original licensed party supplies from the year NBC came out were all black and white. There were cute party hats based off the mayor's face, which you can see in the image from the movie above, is cone shaped.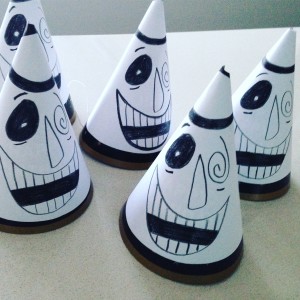 Halloween Town Mayor Party Hats
You can download the pattern for this on the Disney Family website so you can print them out for hats. I didn't want to use up all my printer ink doing this however, so I just printed off one copy and then traced the face on. I only made one of the faces so I adjusted where the face was before I traced it.
I also made some witch party hats by just adding a black brim to the bottom of these store bought party hats.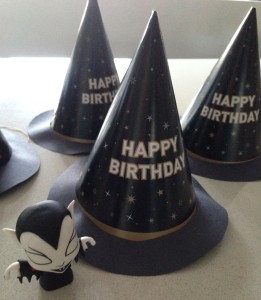 Christmas Tree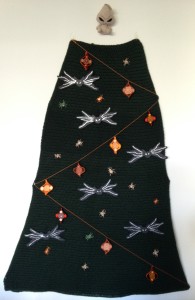 I crocheted this tree to hang on the wall. It saves space and is easy to clean. I decorated my tree with felt ornaments, plastic bugs covered in glitter, and bats based on Jack Skellington's tie. The Oogie Boogie doll is a Mopeez that I got on Amazon.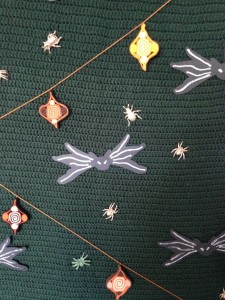 Jack hangs his Christmas lights onto a spiderweb. I also crocheted this. I made four very long chains and halfway through the 2nd-4th, I attached them to the center of the existing chains. Then I crocheted around from the center and connected in each chain. I increased the stitch number between each chain connection so that this swirled outward as I went around the web.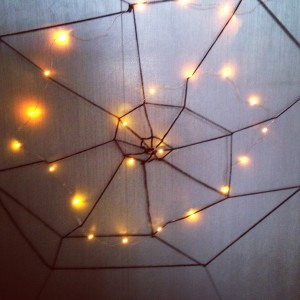 In the NBC Haunted Mansion ride the Christmas presents have a lot of bright colors, but I noticed in the movie that they are mostly wrapped in black and white and there are a few orange ones. I decided to use fabric for this because there really isn't any Halloween wrapping paper (that is especially true for Australia because Halloween isn't celebrated as widely as it is in America).  At best you would probably find solid colors, but in the movie the wrapping paper had patterns on it. I got all this fabric from Modes4U. Modes for you has free international shipping if you spend over $68US. They also have other cute things if you don't want to get to that spend with just fabric. They have Halloween fabric, but you can also get black and white fabric which would probably be easier to use for other projects. I didn't cut most of it and I pinned it together with safety pins when wrapping the presents. This way I can use the fabric for other projects after the gifts are opened.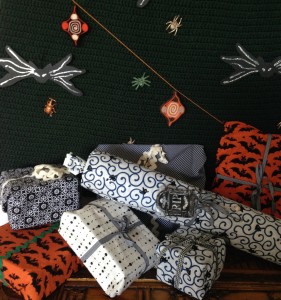 Treat Bags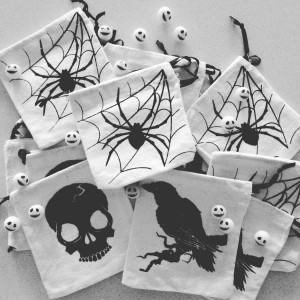 I got these bags and beads that look a lot like Jack Skellington at OrientalTradingCompany.com.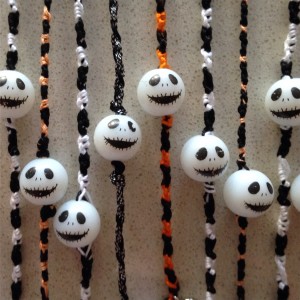 I used the beads to make bracelets for the treat bags. These are glass beads, but they are solid so they are pretty tough. They could break or chip if they are slammed around enough, so keep that in mind if you are thinking about giving them to young children.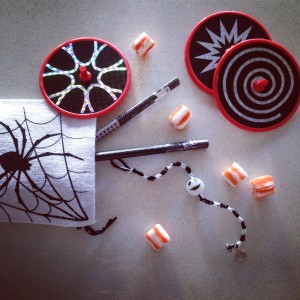 When I was looking for things to put in the treat bags, I found these US Toy Hypnotic Lazer Tops Assorted Patterns Toy (1 Dozen)
. I thought they looked very Tim Burton-ish so I thought they would be good for the treat bags. I also included some black pencils that I turned into Halloween pencils by adding washi tape to cover the branding on them and adding Halloween stickers that I got from Modes4U.
Next week I'll post pictures of the food and activities from this party. For more Nightmare Before Christmas party ideas take a look at my Pinterest board.
Save
Save