This article contains affiliate links.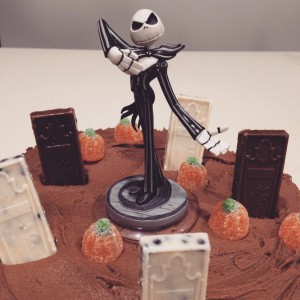 It's October, and the Halloween spirit is getting into full swing! Last week I had a post about decorations for this party, and today I have the second post about the food and games for this party.
Food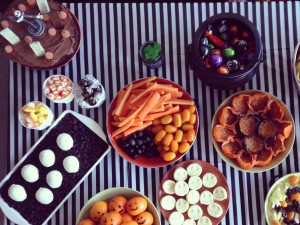 I decided to have orange and black food for this party. I used orange tomatoes for salsa and taco dip. I would have used blue tortilla chips, but I couldn't find any in Australia. I also made sweet potato pie, and put out black olives, cut carrots, and orange cherry tomatoes.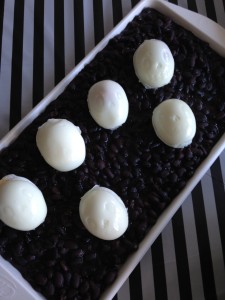 The faces don't stay visible forever on these eggs that I made with Fred & Friends EGG-A-MATIC Skull Egg Mold
, but I made these a day before and then put the cold eggs back in the mold for a little bit to remake the face. I put them on a bed of black beans.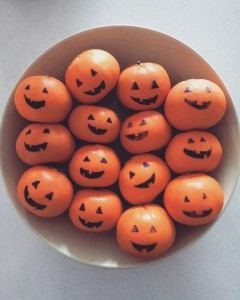 You can easily turn little Madarin oranges into pumpkins by drawing faces on them with a Sharpie.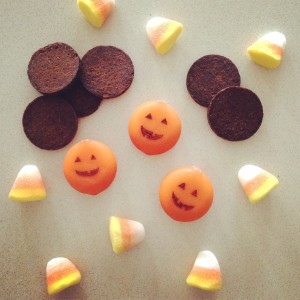 You can also turn cheddar Babybels into pumpkins by drawing faces on them with a Sharpie. The cheddar ones have orange wax around them instead of the red that is used for the original flavor. I paired those with pumpernickle bread. The gummy candy corns are from Williams Sonoma. It is really difficult to find Halloween candy in Australia in early October, but I also found some at Costco.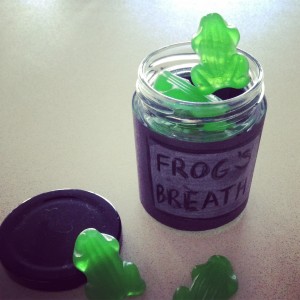 I used green gummy frogs and an old jar to make Sally's Frog's Breath.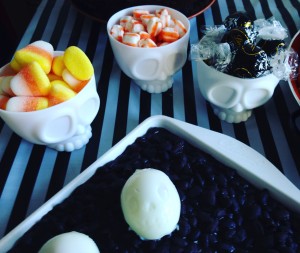 I decided to use these Fred & Friends NOMSKULLS Baking Cups, Set of 4
for candy containers.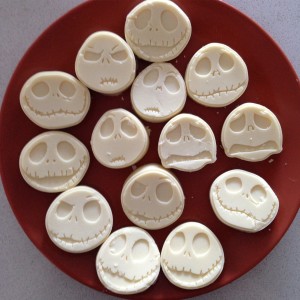 I used a Disney Jack Skellington Faces Ice Cube Tray
to make these Jack Skellington chocolates.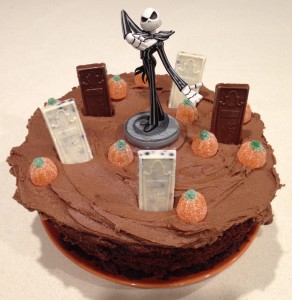 This was a very simple cake to make. I used the Disney Infinity Jack character for the centerpiece. Make sure you just wipe the toy clean when you are done, don't submerse him in water otherwise you may not be able to use him for the game again. The pumpkin gumdrops are from Williams Sonoma and the chocolate tombstones are Hershey bars that I got from Costco.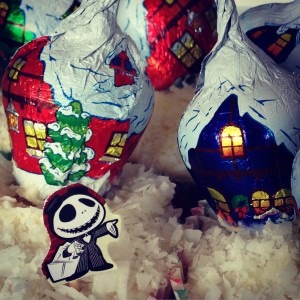 If you want to add a little Christmas to your party, you can also have Christmas themed cupcakes.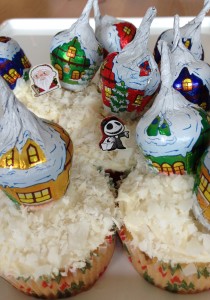 I found these little wrapped chocolates that looked like the little elves houses in Christmastown. I chopped up unsweetened, dried coconut flakes to look like snow. The little cutouts of Jack and Santa are from the Funko Mystery Mini packaging that I just attached to toothpicks.
Activities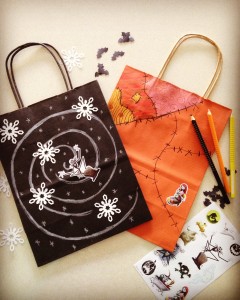 The first things the kids did when they got to the party was decorate their own trick or Treat bags. I got these Halulu 25 Pcs 8×4.75×10.5″ Kraft Black Paper Handle Shopping Gift Merchandise Carry Retail Bags
and the  Sandylion Nightmare Before Christmas Dimensional Stickers, Glow in The Dark
  to make the bags with. If you are in the US, I would also recommend getting bags and boxes from Paper Mart. Paper Mart does not ship to Australia though. The snowflakes and bats were made with Martha Stewart paper punches.
After the kids finished making their bags, we did a series of games. When the child competed the game they got a little prize. This got all the kids of all ages to do that activities even the young ones. In the past I have found that it is sometimes difficult to get all or even most of the kids to do the activities/games so I think I'll do this for all future parties.  I had the kids throw ping pong balls in plastic cups of water and also a ring toss game. I just colored black rings onto poster board and then used a hot glue gun to glue store bought party hats onto the paper. I used glow sticks to make the rings. One was a little larger so that the little kids could win on the last throw if they were having trouble.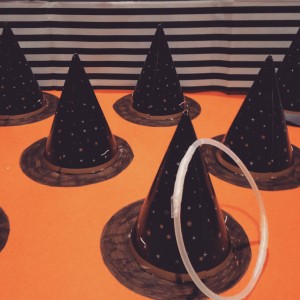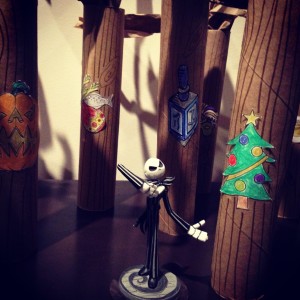 When Jack Skellington goes into the forest he finds a bunch of trees with symbols on them that are doors to the other holiday worlds. He goes through the evergreen tree to visit Christmas town. I made these out of paper towel rolls and paper bags that I cut into strips and crumpled up to make the branches.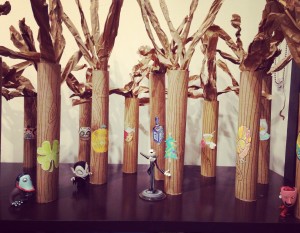 In the movie there are only trees from the holidays that are the most widely celebrated in the US, but I thought it would be a good educational opportunity to include other holidays celebrated in the world. You can have the kids each make a tree and talk about any of the holidays that they celebrate. The other holidays I included are Dia los Meurtos, Diwali, Hanukkah, Hinamatsuri, Lunar New Year, Rosh Hashanah, Mardi Gras/Carnival, Nowruz, Passover, Sham el-Nessim, and Tanabata along with the holiday trees in the movie which are Valentine's Day, St. Patrick's Day, Halloween, Thanksgiving, and Christmas. I just looked for coloring pages for each holiday to decide on the art for each tree. There are so many other holidays you could pick and you can ask the kids at the party what holidays they celebrate.

For more Nightmare Before Christmas party ideas take a look at my Pinterest board.
Save
Save