This article contains affiliate links.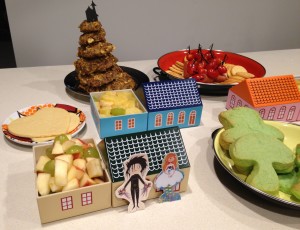 It's getting even closer to Halloween and I'm going to try to do Halloween themed posts up until then. Today I have a dinner inspired by one of my favorite spooky movies, "Edward Scissorhands". It isn't actually ever Halloween in this movie, but part of it takes place during Christmas so we have another instance of Tim Burton mashing Christmas and Halloween together like in "The Nightmare Before Christmas".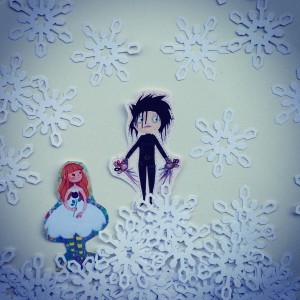 There are some Funko figures of Edward, but other than that there isn't much for merchandise available for this movie. I made some little paper dolls from artwork I found through Pinterest. I actually used 2 different artist's work for Edward and Kim. I thought the difference in style highlighted that they were from completely different worlds.   Edward is part of a paper doll set by Rozzenn Buthuon. Kim is from a poster by Lorena Alvarez. I just put the images in powerpoint and resized them so they were at the same scale and then printed them out and attached them to some card stock.
There are cookies at the start of the movie, but most of the other food appears at the garden party for Edward. I saw there was an appetizer plate and I made a similar one.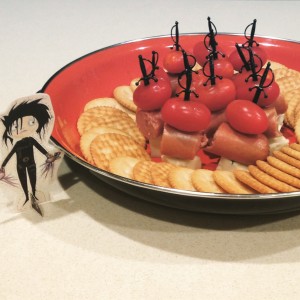 Appetizer Plate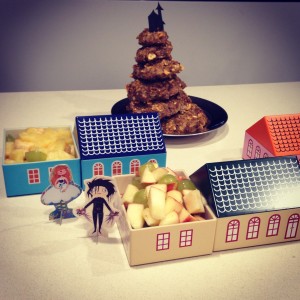 Dinner Food
There were also a lot of salads at the garden party so that is why I had those in the house bento boxes. I got the bentos from modes4U.com. They are sale right now for about 50% off, so if you'd like to buy them take a look sooner rather than later. Modes4U has free international shipping if you spend over $68US and they have lots of other cute things to get you over that $68 spend. I decided to go with meatloaf to make the mountain that his castle is on. I just made the meatloaf into increasingly smaller patties so I could stack them up to make the mountain. I put a straw into the center so my mountain didn't fall over. Then I made a little castle and stuck it on a toothpick so it could go on top of the mountain.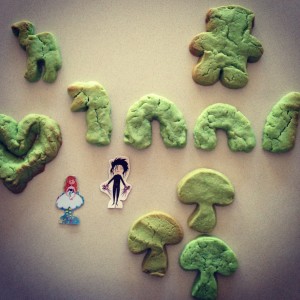 Topiary Cookies
I also made some cookies that looked like the topiary Edward made. Instead of rolling the dough out, I formed it by hand like for the sea serpent or I flattened it out a bit by hand and then used a cookie cutter to make a very thick cookie. I was going to try to stand them up, but I probably would have needed to stick them into cake. I used green food coloring paste instead of icing them. I added the green paste at the end, but if I did it over I would add it before the flour so it mixed in easier.
Cookie Recipe
4 cups flour
1 tsp baking powder
1/2 tsp baking soda
1/2 tsp salt
1 cup butter
1 1/2 cups sugar
1 egg
1/2 cup sour cream
1 tsp vanilla
1 tsp almond extract
If you want to roll this dough out, refrigerate it for around an hour first. If you want to just form shapes out of it or make thick cookies from cookie cutters, you can do that immediately. I used to make big stars from this recipe without rolling anything out. Bake at about 375 F. Baking times will vary with the thickness of the cookies.
For more Halloween party ideas take a look at my Halloween Pinterest board and my Nightmare Before Christmas party.
Save