This article contains an affiliate link.
Monsters Inc just had its 15th anniversary! I can't believe it has been that long since the movie came out. I have some crafts in this post inspired by the movie. The first is a Mike Wazowski Sundae. I used green tea ice cream for this. You could also use mint ice cream, but it usually has chocolate chips in it and I think green tea is closer to Mike's color green.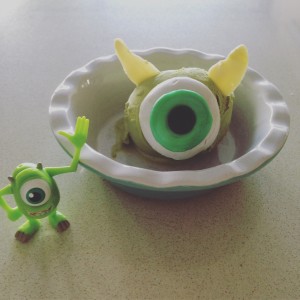 Mike's horns are white chocolate that I melted and just made into a horn shape with a spoon. His eye is a Heidis brand pfeffernusse cookie. I made the iris with green frosting and stuck an M&M in the center for the pupil.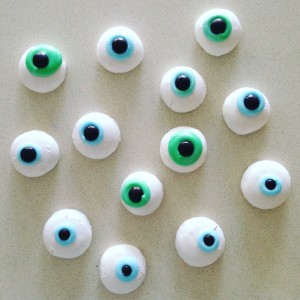 More Eyes!
I also made a door blanket. This was fairly simple so I don't have a pattern for it, I'll just give you a basic idea of how I made it. You can follow this link for instruction on how to make basic shapes.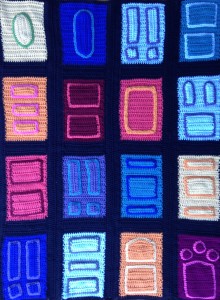 First I made 4 strips of solid color stripes. You can see here that I could have made these longer and made this a scarf instead. This is a baby blanket, but you could add more doors to make it wider and longer for an older child or adult.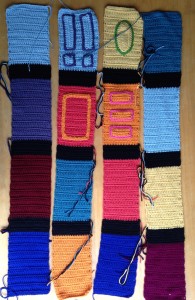 After I made the strips, I made little pieces that would be the details for the doors. I crocheted around the edge of each piece with a different color and then sewed the pieces on.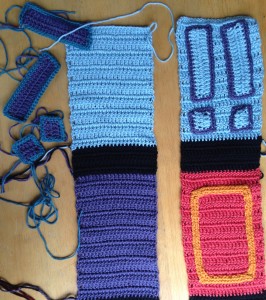 After I had all the details on the doors, I crocheted a strip of black along the side of each strip of doors and on on each side facing the outside of the blanket. Then I crocheted the four strips together with a row of single crochet along the long edges. After this I added a row of black along the top and bottom of the blanket to finish off. This blanket was fairly simple to make, but it was a little time consuming to put all the details on the doors. I made this for a baby boy so I didn't make Boo's door, but you could also do that. Her door was white with purple flowers on it.
The last Monsters Inc craft is this amigurumi Mike Wazowski.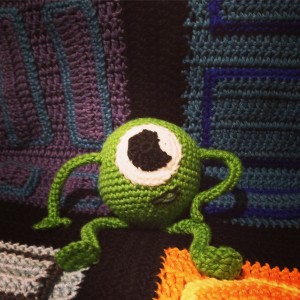 Pattern
I used cotton acrylic blend Comfy Worsted Yarn for both the doll and the blanket. Not only is this yarn soft, it can be washed and put in the dryer which is really important when you make things for babies! I'm just going to use shorthand here by telling you how many stitches are in each rnd or row. Mike's body is worked in rounds like you would do for a hat. v means increase by making 2 stitches into one stitch and x is one stitch in the stitch
Body- Make 2 with green, all stitches are sc
rnd 1: (8), rnd 2: (16) v, rnd 3: (16), rnd 4: (24) vx repeat, rnd 5: (24), rnd 6: (32) xxv repeat, rnd 7: (32), rnd 8: (40) vxxx repeat, rnd 9-13: (40)  Sew the two pieces together leaving a gap, stuff, finish sewing together
Eye
With white make a circle- rnd 1: (8), rnd 2: (16) v, rnd 3: (24) vx, rnd 4: (24) all stitches are sc
With black or dark green, ch 4 and sl st to close, work 11 dc into circle, but do NOT connect to join the first and last st. This will leave a wedge shape open, sew this onto the white part of the eye. Then sew the eye onto Mike's body. Stitch on a mouth below the eye.
Arms -Make 2
 chain 19, row 1: sc to end of ch, ch 4 and sc back to main work, sl into original ch, ch 3, 2dc in same st, ch and sl st back into chain (this forms the hand), row 2: sc to end of row. Sew the two rows of stitches along the long side of the work, but don't sew the hand. Then sew the arm onto the body.
Legs -Make 2
ch 16, row 1: sc to end of ch, sl into original ch, ch 3, 3dc in same st, work another row on top of the dc, but add 1dc by increasing, when this row is done sc along the edge to get back to row 1 of the main work (this forms the foot), row 2-3: sc to end of row. Sew the two rows of stitches along the long side of the work, but don't sew the foot. Then sew the leg onto the body.
For more Monsters Inc craft and party ideas, take a look at my Pixar Crafts Pinterest board.
Save