Kubo and the Two Strings is out on DVD now! If you haven't seen it yet, I highly recommend it. It's a really interesting movie. It has some similarities to The Tale of Princess Kaguya (2013), but it is an adventure/action story. In addition, Kubo deals with memories and how they relate to your personality. One of my favorite scenes in the movie is the story that Monkey tells. Leaves, sticks and flowers are used to tell the story.
I recreated this with sticks, fabric leaves, and a crocheted doll. I used two 12 packs of Deluxe Fabric Autumn Leaves (12cm and 8.9 cm)  from Beistle that I got on Amazon. I used these star patterns to cut the leaves into star shapes.  stars_kubo I broke sticks into 5 approximately equal pieces and then I formed them into star shapes. I used loom bands to hold the sticks together at each star point.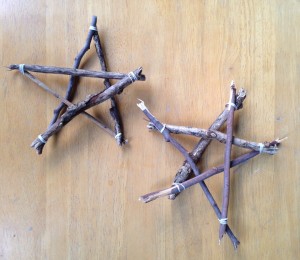 Here is a close up image of the doll. Giving a pattern for this is tricky because it depends on the size of the wood peg, yarn weight, and your crocheting tension. So what I've done is to take pictures of each step so you can see what shape pieces you need and how to assemble it. In the movie this doll is made from a flower and folded like paper, so you could make her from paper. I wanted something a little more sturdy though. For general instructions to make crocheted shapes, refer to this post.
Finished Doll
Instructions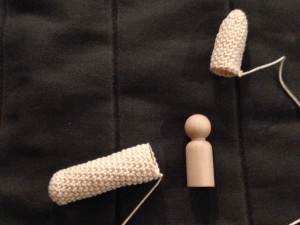 Make the body and head to fit around the wooden peg.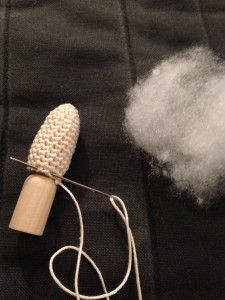 Stuff both pieces with enough room to still fit the peg in and sew them around the narrow part of the peg.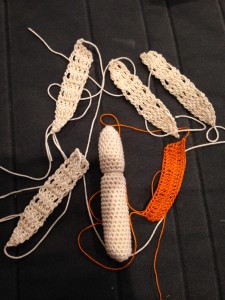 Make an orange rectangle that will be the top part of the dolls dress. You'll wrap this around to make a v-neck in the front and sew it on. The arms and legs are very long and thin, so I just made thin rectangles with points at the end and then folded them in half and sewed them together.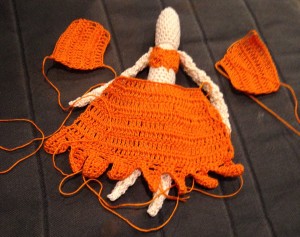 For the dress I made a skirt and two loose sleeve pieces.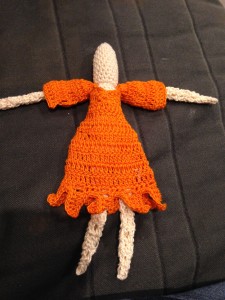 Here is the dress sewn onto the body.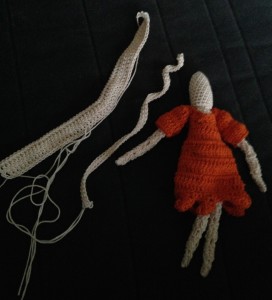 Make two more rectangles for the hair. The dolls bangs could be a little shorter than the main bit of hair, but I made mine the same length.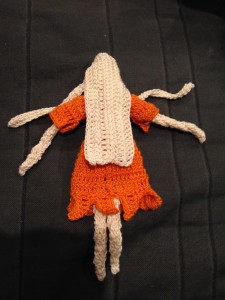 Fold the thicker piece in half, sew it together down one side, and then sew onto the dolls head. Next sew the bangs onto the front of the doll's head.
Kubo has two strings in this movie, but I won't say what they are made of in case you haven't seen the movie. If you are having a party, this could be an activity for the kids. The white one is elastic and the black one is made of embroidery floss twisted together.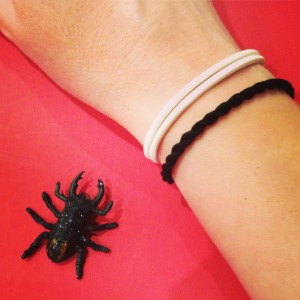 A black beetle features prominently in this movie. I just covered a multi-colored plastic toy in black glitter.

To make the black bracelet, separate your floss into two bunches and twist both in the same direction. Once they are tightly wound twist them together the opposite way and they will wind in a pattern just like in the movie. Make sure you tie a knot at the end to keep them from unraveling.
There wasn't a lot of food features in this movie except for rice and fish. However, I have a severe fish allergy, so I couldn't make any for this post. I would definitely recommend it for a party, though. There are also paper lanterns that float on the water in this movie. Most of the lanterns are like the ones shown here, but Kubo also makes an origami balloon for his. Depending on the age of the party guests, you can make different types of origami animals or shapes.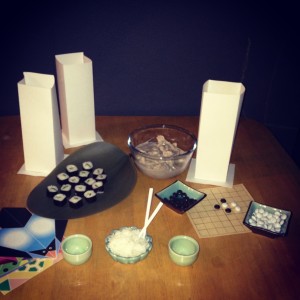 I had sushi, rice, and  curry for this dinner but some kind of sea food/fish soup would be better. For dessert I have M&Ms which can also be used to play Go. On the print out for the star patterns there is also a Go grid. I printed this out on off-white construction paper so it looked more like a wooden go board. These M&Ms are coconut. They only have dark brown, white and green ones in those bags so they work well for the go stones.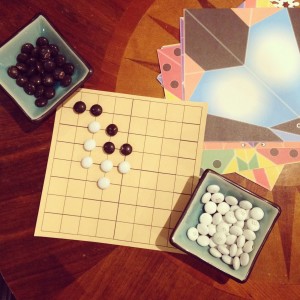 Go Game with M&Ms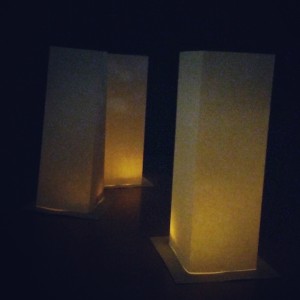 Here is what the lanterns look like in the dark. I made these by folding construction paper into 4 equal parts and then taping them to a separate square of construction paper.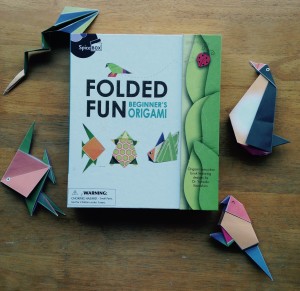 This origami kit by Spice Box has lots of paper and an instruction book that teaches you haw to make animals and a few other things like a star box. All of the papers have the fold lines printed on them so it makes it much easier to do. After kids practice with the paper with the fold lines they should be able to make the same animals with plain paper.
For more craft ideas from Laika Studio's movies, take a look at my Pinterest board.