This article contains affiliate links.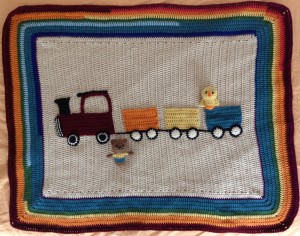 I needed to make a baby blanket quickly this week. So quickly that I didn't have time to buy yarn. I used up most of what I had left of my cotton/acrylic blend Comfy Worsted Yarn, which is why it has so many different colors around the edge. I really like that this yarn has so many bright colors. This is a very simple blanket to make, it's almost all simple rectangles and circles.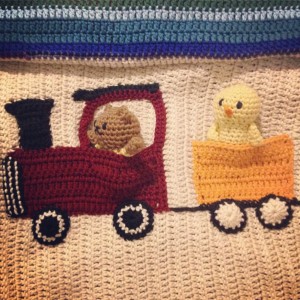 The fun part about this blanket is that you can have little dolls fit into the train. Just don't sew the upper edges of each cart and the engine.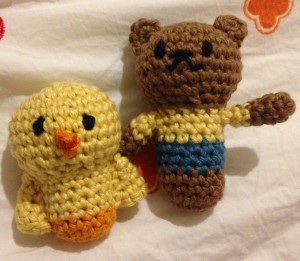 Here is a close up of the little dolls. The general pattern is bellow. You can also make ears similar to the pattern for the arms to make a bunny.
Head:
ch 4, sl st to form ring
rnd 1: 7sc
rnd 2: 14 sc
rnd 3: 21 sc
rnd 4: 24 sc
rnd 5-8: 26 sc
rnd 9: 21 sc
rnd 10: 14 sc
Body:
Make 11 rows for the bear and only 8 for the bird -switch colors so first rows are for feet and for the bear switch colors for the shirt ad pants
ch 4, sl st to form ring
rnd 1: 7sc
rnd 2-11: 14 sc
Arms
ch 4, sl st to form ring
rnd 1-6: 6 sc
Wings:
Make 2 triangles with sc st and then fold in half and sew to body
Bear ears:
Ch 2 , work 6 sc into the first ch
For more crocheting project ideas take a look at my Pinterest board
Save
Save
Save
Save
Save