Rainbow Brite was my favorite doll when I was a little girl. Coming in a close second was Strawberry Shortcake. I loved that all the dolls had bright colors and I loved the cartoon show even though it only had a few episodes. I wanted all the dolls, and I got quite a few of them. Here is my childhood collection.
First Generation Dolls
There have been a few attempts to reintroduce Rainbow Brite over the years. I didn't like the generation 2 ones that they made in the 90s because they had different kids with names that did not represent rainbow colors and outfits that you might see any kid on the street wearing. In 2003 they made generation 3 dolls that were very close to the originals. The Rainbow Brite anniversary doll was almost exactly the same, she just didn't have bangs. They remade three color kids that look pretty close to the originals, but these had bendy legs and arms and are slightly bigger. The sprites that came with the 12 inch dolls in this set were much larger than the originals and similar to the sprites that were sold by themselves in the 80s. Unfortunately, they did not make Buddy Blue which was the only color kid that I don't have. They also made a smaller scale fashion doll set which also look close to the original dolls. The cool thing about these is that the sprites all light up. Although they all light up red. Mine still light up after all this time which is kind of amazing.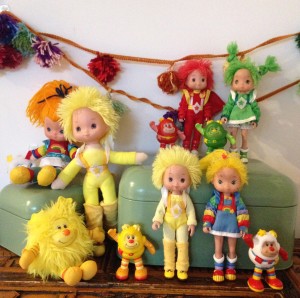 Third Generation Dolls
I'm not in love with the design of the 4th generation of dolls. That run only had 3 dolls and they changed Moonglow a lot. They had the problem that the newest version of Strawberry Shortcake has also. The doll designs are basically identical, just with different colors. If you're looking at a coloring book and you have a lot of difficulty deciding which character is which I think it is a problem. You can see examples of all the dolls from past generations on RainbowBrite.net.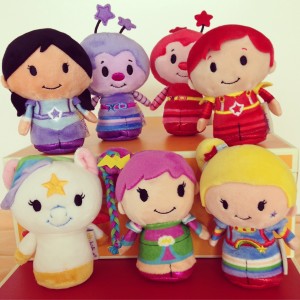 Fifth Generation Dolls
That brings us to generation 5 which you can buy right now at Hallmark Stores in the US. I haven't seen any Rainbow Brite stuff in Australia in the stores that sell Itty Bittys unfortunately, so I had to get my family in the US to mail them to me in Australia. These are my favorite of all the remake attempts. I already have a soft spot for Itty Bittys, and I really like that they based these dolls on the character designs from the 80s. They also sell the large versions of 2 dolls that are very similar to the original dolls.  Indigo is my favorite character, and I was so excited to see she was one of the few color kids they made. They also sell a set with Buddy Blue and Patty O' Green which I still need to get. I missed out on Shy Violet who was only sold for a fairly short window of time last year. Although, the really cool thing is that they made Stormy. Stormy had a prototype doll made in the 80s, but that was it. I absolutely had to get the Stormy doll when I saw her. Now I really hope they make Moonglow and the rest of the color kids. I loved Moonglow so much when I was a kid, but that doll was only sold in Germany. I think it would be really cool to have the full set of dolls in the same style. I just saw that La La Orange will be an online exclusive available in December. There are also some books and cards available at Hallmark.
If you want to have a Rainbow Brite party you can definitely buy toys from Hallmark for decorations, but as far as party supplies and party favors go you won't really be able to buy them unless you can find some of the ones left over from the 80s on ebay. I made some Pom Pom sprites that are quite inexpensive to make that you could use as party favors.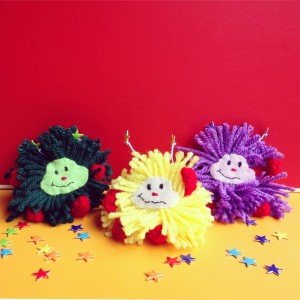 If you have any yarn left over from other projects, this is a good way to use it up. You'll also need some felt for the faces, red and black thread, florist wire, and some star beads. You could use any star beads, but I like these from Fire Mountain Gems.  These come in a big mixed pack that has other colors like maroon and peach also. I bought these quite a while ago just because they look like star sprinkles to me.  This is the first Rainbow Brite related craft that I've used them for though.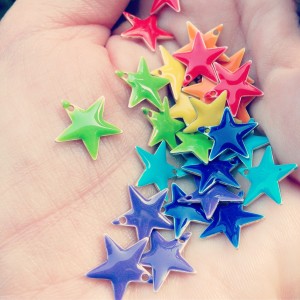 Star Beads from FireMountainGems.com (part number H20-1129AS)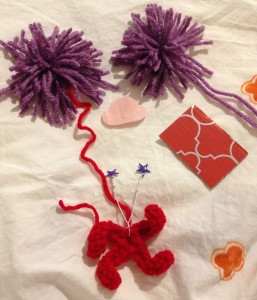 To make these sprites, first I crocheted red yarn to make the arms and legs.
Ch 4, join with sl st to form a loop. *Ch 8, sc in second st from hook to the end of the row, sl st to join to the loop, repeat from * 3 times. Work ends in and cut off.
Twist the floral wire around the arms and legs and the star beads at the end of the wire. Next you need to make 2 pom poms for each sprite. To make a pom pom you can use a piece of cardboard. Cut a piece of string and lay it across the board. Then wrap yarn around the cardboard perpendicular to the first string. Keep wrapping the yarn around it several times. Then tie the first piece of string around the bundle and pull the whole thing off the cardboard. Cut the bundle of yarn opposite to the side that you tied the string.  Now fluff it out and you have your pom pom. Next, tie the pom poms onto the body, one in front and one in back of the red arms and legs. I sewed the detail of the face on the piece of felt and then sewed it to the front pom pom. I used the face on the sprites that came with the first generation of dolls as a guide because they had flat faces with the details printed on so it was fairly easy to replicate that. You could probably glue the felt onto the pom pom with a hot glue gun instead to make it a bit faster to make the sprites.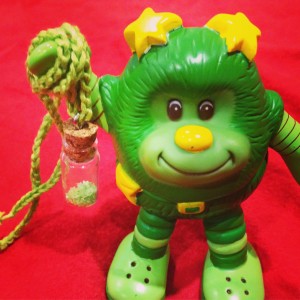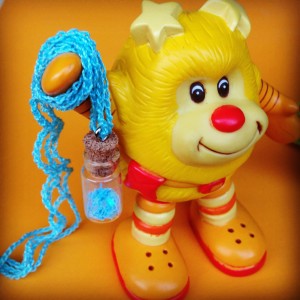 The last thing I have here are some star sprinkle necklaces. You can see the details about how to make them here.
I've been looking all over for Rainbow Brite crafts, but I haven't found that many. Take a look at my Pinterest board if you'd like to see the other ideas I've found.
Save
Save
Save
Save
Save
Save