The Academy Awards are on February 26, and you can vote for your favorite animated feature with your taste buds! I've got a dessert for each of the nominees. You can make one from your favorite movie, or make them all if you are having a party. Here are the nominees!
Kubo and the Two Strings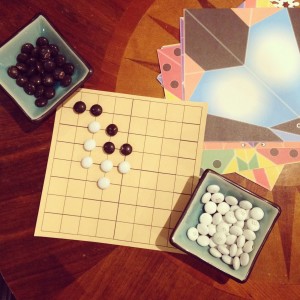 A Go game board makes an appearance in this movie. I used the brown and white M&Ms from a bag of coconut M&Ms as the game pieces. You can eat them after you play the game! For more Kubo ideas and the file to print the game board you can take a look at this post.
Moana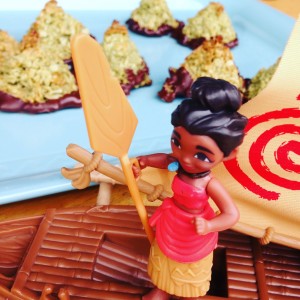 These green tea macaroons are meant to look like the goddess Te Fiti when she is resting as an island. You can find the link to the recipe here. For more Moana party ideas take a look at my Pinterest board and this post.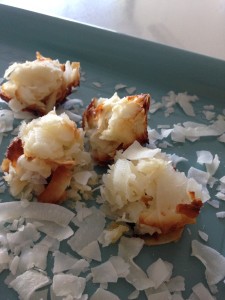 My Life as a Zucchini
Unfortunately, I have not seen this movie yet. It will be released in America on February 24th, 2017. I'm not sure if it will be released in Australia, but they did show it at the Melbourne film festival. This movie is about a little boy who is sent to live at an orphanage. I had to base this dessert on the trailer. There is one scene that the children in the orphanage have a snowball fight indoors so I decided to make macaroon snow balls. I'm not sure how important that scene is to the movie, but it was all I could come up with from the trailer.
Here is the recipe I used:
Stir 2 1/2 cups of chopped, unsweetened coconut flakes, pinch of salt, 1/2 cup sugar, 3 egg whites, tsp of vanilla extract together, form into snow balls on baking sheet, and bake at 325 degrees F for about 12 minutes.
The Red Turtle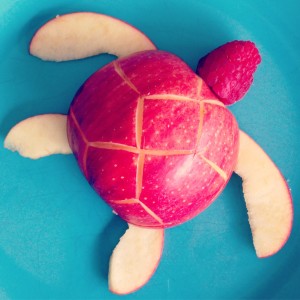 I made this turtle by cutting the design into half of an apple. The front fins are each a slice of apple and the back fins are one of those cut in half. I cut the designs just under the apple skin in two cuts right next to each other. I used a toothpick to lift up the piece of skin between the two cuts.  I think part of a strawberry would work for the head instead of a raspberry if they are out of season. I just thought the raspberry was a nice size and sat in position well.
Zootopia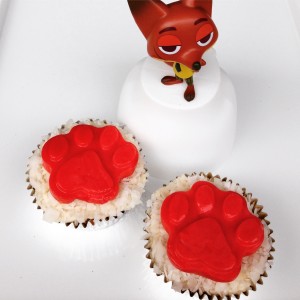 Make some pawpsicle cupcakes! I cut up flaked coconut and put them on these cupcakes. I used Martha Stewart's coconut cupcake recipe for these, but you could make any recipe, you just need to add coconut on top so it looks like snow. I used a silicone paw print mold that I got from Amazon to make the paws. I used cherry Starburst candies for the paws. I just unwrapped and then heated 3 per paw in the microwave for about 10 seconds. Next I put them into the mold and pressed them down so the entire bottom of the mold was covered, then I put them into the refrigerator until they were hard. Then I could remove them from the mold when they were still cold and put them on the top of the cupcakes. For all those Aussie fans of Cherry Ripe bars, if you made the cupcake chocolate you could achieve a similar taste with these. For more Zootopia party ideas take a look at my Pinterest board and this post.
Which movie do you think will win? We'll see on February 26th!
Save
Save
Save
Save
Save