We're getting closer to season 7 of Game of Thrones! This season will start on July 16th. The last few have started in late March or April, so we have to wait even longer this year. Good news, you have more time to plan a premiere party!
*Before I go on here, I just want to mention that this show is not for kids. Most of the things on this blog are based on shows that are aimed at kids, so I just want to make sure I make it clear that Game of Thrones is definitely, definitely not.*
There is a whole blog about and cookbook for the food in the Game of Thrones books. I found a lot of amazing food ideas on Pinterest so you should take a look at my GoT board for those.
One thing I haven't seen yet is Wildfire. It's definitely not something you drink in the show, but it is fun to make something that looks like it to drink for your party. In the show it is a bright green color that almost seems to glow. I mixed yellow pineapple soda with blue Gatorade to get this color, but you could use lime cordial or Midori liquor instead.  If you add tonic water with quinine in it, it will glow in black light. I added a glow stick instead to this drink to make it glow.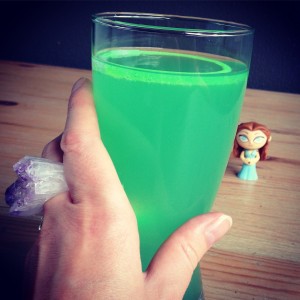 Watch out Margaery!
In the season 6 finale, I broke out of the story when I saw Cersei's stone ring. I just thought it was amazing. The ring she was wearing is the Gemfire ring from Hespera Designs. Most of the different rings on that site are $175. That was pretty expensive for me so I decided I couldn't get it, even though I absolutely loved it. Then I found it on FireMountainGems for $31.36. Did I buy it? Yes, I did. I think at the time they only had amethyst ones, but now they have red agate ones that are very similar to Cersei's.  The only thing is that they are only size 8. You can choose your size at Hespera. I think all of the rings are made of different varieties of quartz. The one pictured below is amethyst, but there are also a few types of agate.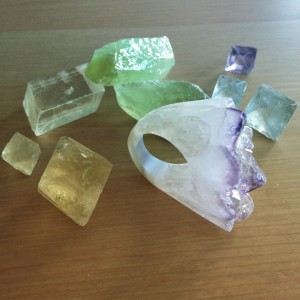 Quartz Ring
Sansa wears a crystal necklace to the purple wedding. If you've seen the show, you'll remember it, if not I don't want to say anything else about it.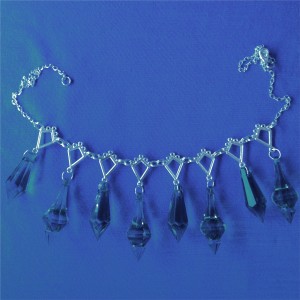 Sansa's Necklace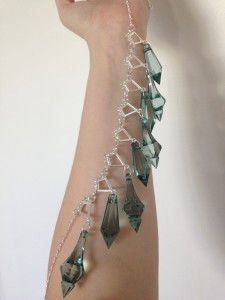 I got the pieces of this necklace from FireMountainGems.com. I used chain and split rings to make the main part of this necklace. I used split rings to link the metal "kite" drops together. I found these acrylic drops  for the crystals. I attached them with jump rings. You can see the color more accurately in the second photo. In the show the color of the crystals is more of a periwinkle or violet color. Fire Mountain Gems often changes their stock of acrylic beads. I also found another type of blue acrylic crystal. You can also find more options made of other materials.
Arya finally got a new outfit in season 6. I really like her outfit with the skirt. There is a tassel part to it, that I think is attached to the blouse. You could add that to the bottom of a blouse, but I thought that it might be difficult to wash it, so you could just make that part separately. Arya is also wearing a belt with a bag on it (a little bigger than the one in the picture). That is my favorite way to carry things when I'm wearing a skirt. It is the same concept as a "fanny pack", but the ones I've seen lately are a little more stylish than the ones from the 90s. I got this one at Anthropologie about 5 years ago.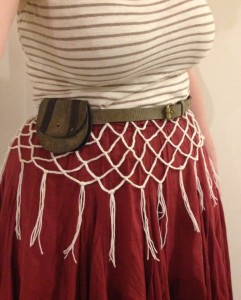 I crocheted this tassel belt. It looks like the one in the show is macrame, though. I used "fingering weight" yarn for this. To make this version, just chain until you have enough to go around your waist and enough to tie it as well. Once it is long enough, sc for the length of the tie string and then start the chain pattern. Ch 20 and sc into the 10th chain, repeat until it is long enough to go around your waist. You can connect this in a circle. Once you get to the end of the round chain 20 and sc into the loop from the previous row.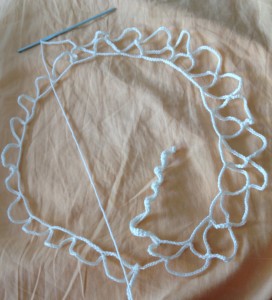 Continue this way for 5 rounds. Add a tassel to each loop in the last row. Just in case you haven't added fringe to things before, I have pictures below. Just cut the strings to be twice the length that you want the tassel. Fold them in half and put the folded end through the work.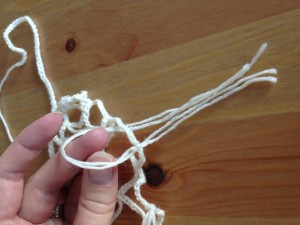 Put the ends through the loop and pull.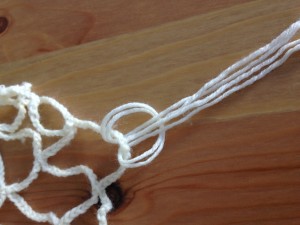 Then you're all finished! Have fun watching the next season!
Save
Save
Save
Save
Save
Save
Save