Happy Mardi Gras everyone! Mardi Gras in the US is celebrated very enthusiastically in New Orleans. Between January 6th (The Epiphany/last day of the twelve days of Christmas) and the last day (Fat Tuesday) before Lent, people eat King Cakes. These cakes are usually a type of sweet bread that sometimes have cinnamon or fruit filling. They have purple, yellow, and green sugar or frosting on them. They also have a small trinket inside them which is often a little baby. Whoever gets the baby has to buy the next cake or have the next party. Some bakeries also include a crown for the person who finds the baby to wear. I did a slightly different take on the cake this year by making it a cheesecake. If you make a normal King Cake, you hide the little plastic baby underneath it after the cake has cooled. You can't really do that with a cheesecake, so you need to put the trinket in before you bake it. You need to use a porcelain object though, because a plastic one might melt.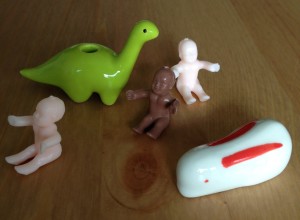 Here are some examples of things you could put in your King Cake. I used the porcelain rabbit for mine.
I always make the regular Philadelphia cream cheese recipe. This recipe can be scaled up as much as you want, but I've found that 2x of this fits in a standard pie plate.
1 8oz box of cream cheese
1 egg
1/4 cup sugar
1/4 tsp vanilla extract
Usually Americans use graham crackers for the crust, but there are no graham crackers in Aussie. I used some honey flavored teddy bear cookies. Those are similar, but aren't really the same. You can also use Oreo cookies which are sold widely in Australia. If you use graham crackers or similar cookies, crush them up, and add them to a little bit of melted butter. Then just press the crumbs down into a pie plate to form a crust.
I separated the batter into three groups and colored one green and another purple. Then I plopped them down onto the crust and swirled them a little bit with a knife.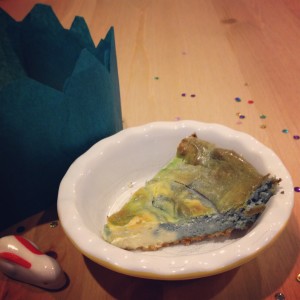 You can see the color variation here.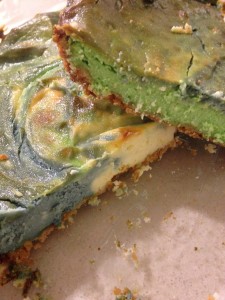 Bakeries also make King Cakes for Easter, St. Patrick's Day, and Valentine's Day, with sugar colors to match those holidays.
In Sydney there is a Mardi Gras parade on a weekend close to "Fat Tuesday", but it is the city's pride parade. So you could make a King Cake to celebrate, but separate the batter into more groups so you make all the colors of the rainbow.
Happy Mardi Gras everyone!
Save
Save