This article contains affiliate links.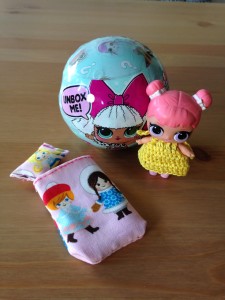 LOL surprise dolls are new from MGA entertainment. MGA is the same company that makes Lalaloopsy dolls and Num Noms. The dolls are blind bagged and wrapped in a series of layers with different accessories. Each of them color changes, cries, wees, or spits. I think most of the designs have two variations that look the same, but do different things. The one in the picture cries. I was giving one of these as a gift and I wanted to make a few things for the doll. One was a little sleeping bag and pillow.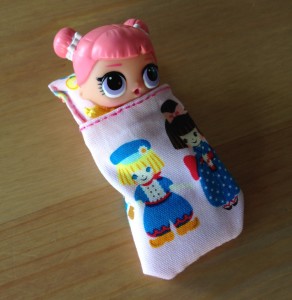 I got this fabric a while ago, but there is a lot of cute fabric available from Modes4U. They have free international shipping when you spend over $68US and they have lots of other cute things like stickers and bento boxes that make good presents for kids.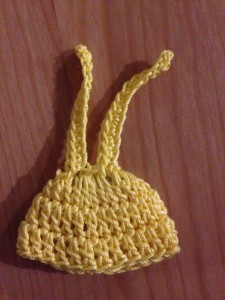 I also crocheted this dress that ties in the back, as you can see below.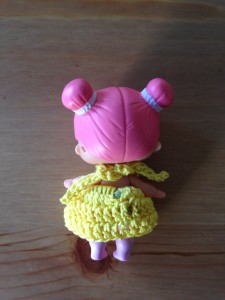 I'm going to use pictures to show you how I did this, but you will have to use a different amount of stitches depending on how thick the thread is that you use for this. This crochet thread is from Daiso. I actually just got this recently, but I first bought it at Daiso about 6 years ago and I might have purchased the last of it because I haven't seen it restocked at any of the Daisos that I have been to.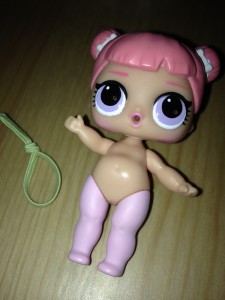 You need to get a piece of elastic and tie it so that it is smaller than the doll's belly. It will sit above her belly when it is finished.
Next crochet into the loop formed by the elastic. Make it big enough so it will flare out a bit when it is on the doll.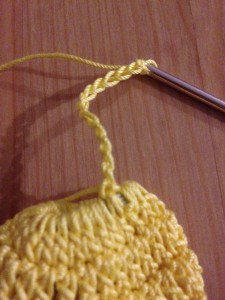 Once the dress is as long as you want it, finish the row. Rejoin into the elastic loop and chain stitch until it is long enough for you to tie. Then sc in that row. Join to the elastic again and repeat. Work in the ends and now you have a little dress for your doll!
For more crocheting project ideas, take a look at my Pinterest board.
Save
Save
Save