This article contains affiliate links.
Australia and America have a lot in common culturally because historically immigrants from England made up a large portion of the people who moved to both countries. Not everything is the same though! Australians don't celebrate all the same holidays as Americans. Halloween is starting to be celebrated more widely, but holidays like St. Patrick's Day and Valentine's day really aren't celebrated.  However, Australia has some traditions that are very common for kids birthday parties and schools.
At birthday parties and fundraising events, Aussies love to have sausage sizzles. The sausages aren't breakfast sausages like you would think of in America, they are closer to brats and usually they have grilled onions on top. Birthday parties often feature fairy bread and lamington. Fairy bread is very simple to make, you just butter bread and add 100s of 1000s (sprinkles). I like to make my fairy bread with softened cream cheese though.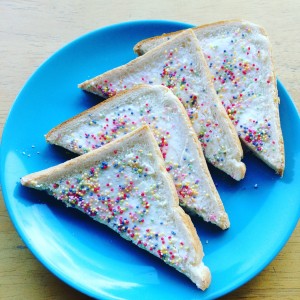 Fairy Bread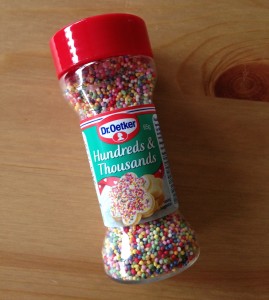 Aussie Hundreds and Thousands = American Sprinkles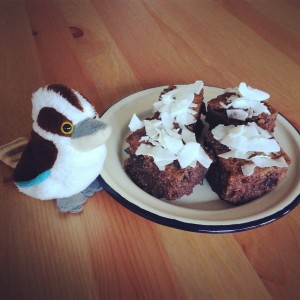 Cherry Ripe Lamingtons
Lamington is vanilla sponge cake that is dipped in chocolate icing (I used 1/2 cup powdered sugar, 1 Tablespoon of cocoa powder, and 1/4 cup of milk.) then sprinkled with coconut.  I just topped mine with coconut flakes, but most people sprinkle shredded coconut on them. I added cut frozen cherries to my batter because I wanted them to be similar to Australia's  oldest and one of it's most popular candy bars, Cherry Ripe. Cherry Ripe bars are chopped coconut and cherries dipped in chocolate. I love all those ingredients, but Cherry Ripe are a little too sweet for me. This lamington version is less sweet especially since I used unsweetened coconut flakes.
At birthday parties children often play pass the parcel. To play this game one gift is wrapped and then another is put on top and you wrap the whole thing again. You keep going until you've wrapped many presents. Often parents will try to have one present for every guest and may use different wrapping paper for if there are boys and girls at the party so that kids get the type of present they want. You play music and pass the gift until the music stops. It's kind of like reverse hot potato because when the music stops and you have the gift, you get to open one layer of it.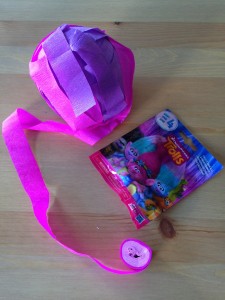 Pass the Parcel Party Game
You could wrap the gifts like a surprise ball, but you would probably need to tape each section with bright tape so the kids know when to stop unwrapping each turn.
Primary Schools have Easter hat parades on the last day of school before Autumn break. The kids make paper ones in their classes like the one below.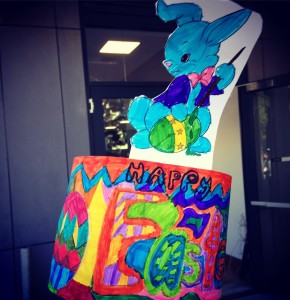 Kids can also make one at home to take to school. Lots of kids put foil wrapped chocolate eggs on their hats. Between the heat that is sometimes still present on parade day and and the kids eating some, I'm not sure how many of those eggs make it to the parade in the afternoon. I was trying to figure out when this tradition started. Aussies that are 37-40 years old did not have Easter parades at school, but people in their early 30s did. So it may have started around 25 years ago. I've noticed that the parents who participated in hat parades when they were in school are very enthusiastic about the parade and love to help their kids make elaborate hats!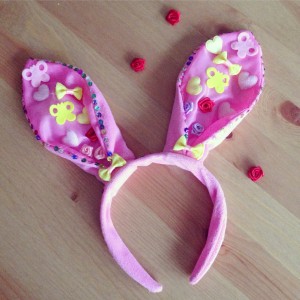 Homemade Hat for Easter Hat Parade 
Chicken eggs in Australia are shades of brown. They are actually easier to dye red like Greek people do for Easter, but you can't really dye them the pastel colors that you do in the US. As a result of this they don't sell any of those inexpensive Easter egg dyeing kits in Australia. This year I decided to decorate eggs with washi tape. It's easy to peel off the egg when you are ready to eat it. I've also turned some eggs into little brown bunnies with paper ears.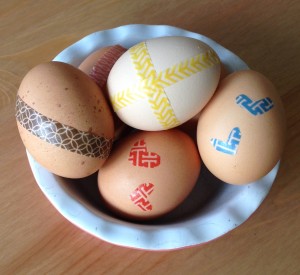 Washi Tape Decorated Eggs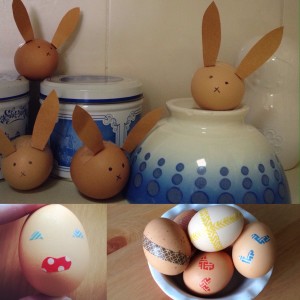 For more Australian fun, take a look at the tea Collection website. Each season they choose a different country to base their clothing designs on. They are my favorite brand for children's clothing and I am so excited that they chose Australia this season!  You can go to their blog to see where they visited in Australia and they have some Australian activities to print out.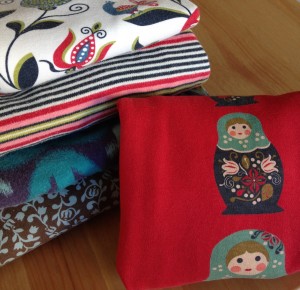 Tea Collection clothes from various past seasons.
The prints from this season's collections are based off of flora and fauna in Australia and also the work of Warlukurlangu artists. This is an indigenous Australian artist group that supports the Yuendumu community in central Australia. I think my favorite t-shirts are the sea dragon (one of my favorite animals) and bilby shirts. Bilibies are similar to rabbits, and while they do sell chocolate rabbits in Australia, the also sell chocolate bilbies. You can see a chocolate tin here with bilbies on it.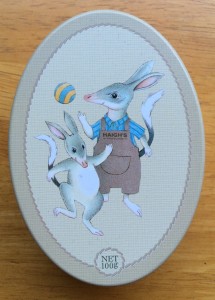 For more Australia craft ideas, take a look at my Pinterest board!
Save
Save
Save
Save
Save
Save
Save
Save