This article contains affiliate links.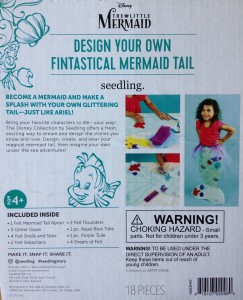 For a while now I've been hoping that Disney would start making craft kits that related to their animated movies. I was so excited when I saw that Seedling started making Disney themed kits. Seedling is a company based in New Zealand, but they have a US site as well. Seedling is my favorite brand of craft kits. They often have wooden pieces in them and I've always found them to be very high quality. I decided to try the Seedling Disney's The Little Mermaid Design Your Own Fintastical Mermaid Tail Activity Kit
. I like this one because not only is it a great craft project, you can also use it as a Halloween costume when you are done.
It comes with a tail that has a ribbon attached to it, 4 sheets of felt, 3 glitter paint tubes, 2 fabric pieces, and felt pieces that are shaped like shells, Flounder, Sebastian, and  starfish. It is worn like an apron, so your child will need to wear it over clothes. I think you are supposed to cut up the felt into the scale shapes and sew them onto the tail or maybe cut out more shell shapes to sew on. I decided to make Ariel's top from one of them, but my little mermaid wanted all the colors to be shell tops, so I ended up making all 4 sheets into those.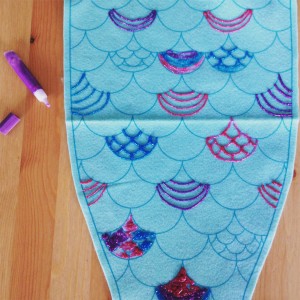 Here is the tail with the glitter glue from the kit. They are easy to draw on details with. You can see here that I followed the printed pattern on some of the scales.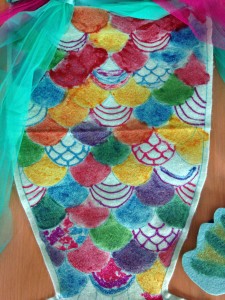 We used some more glitter paint that we had on hand to add more color to the tail. It was easier for my little mermaid to paint these on than to use the glitter tubes.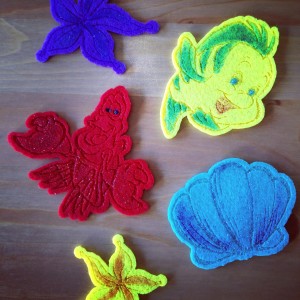 We also added a little bit of glitter paint to the felt pieces that came with the kit.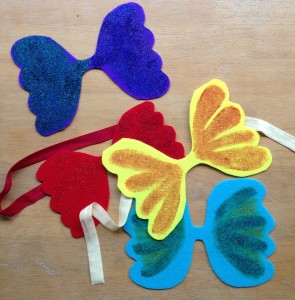 I cut the shell shapes out from the pieces of felt. Then we added some glitter paint and I sewed on some JLIKA Fold Over Elastic Stretch Foldover FOE Elastics for Hair Ties HeadBands Variety Color Pack 20 Yards
so they could be tied on.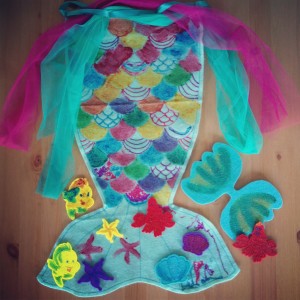 Here is the finished project. You can just wrap the fabric around the top ribbon. It has three sections that you can wrap the fabric around. The little felt shapes can be sewn onto the tail, or kids can just play with them. That may be why they included 2 Flounders and 2 Sebatians with the kit.  I think this is a great kit! The materials are high quality, and it's something that your child can use once it is made instead of something that just sits on the shelf. If you use some of the felt to make Ariel's shell top, you'll have a whole Halloween costume. The tail is fairly long. Most 5-year-olds will have the tail go all the way to the ground, but older kids can wear it very easily because the ribbon tie is very long.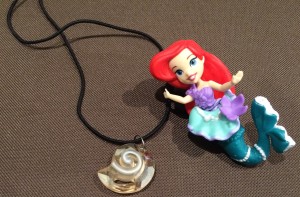 You can take a look at my Disney Crafts Pinterest board for more Disney craft and party ideas and my Disney jewelry post to see instructions for Ursula's shell necklace.
Save
Save