This article contains affiliate links.
It's almost the end of the school year in America! Teachers are really important in kids lives and can have a lasting influence on them. They are most likely the person your child spends the most time with who is not a family member. I hope everyone values the wonderful work they do! Most parents want to give their kids teachers a thank you gift at the end of the year, or a Christmas gift at the end of the first semester. In Australia those two things come together because the school year ends right before Christmas, so this post is a little early for them, but it's easier to get these done early.
When I give someone a gift I really want to try to find something that they will like, even though it is the thought that counts. I looked up what teachers would like and I found an article where some teachers anonymously gave feedback about teacher gifts. Some teachers don't like bath products because they may not care for the scent you choose and some teachers don't really want home made food either. I feel like non-perishable, store bought food items could be okay though. My mom used to always give our teachers coffee mugs filled with candy.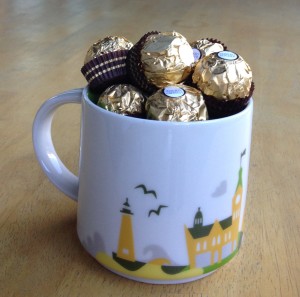 The suggestion I saw was jewelry. I was kind of surprised by that, but I went ahead and tried that advice in years past and it worked out pretty well. If you make your own jewelry this is a pretty reasonable option for gifts. Just try to look at what type of jewelry the teacher wears or what colors they often wear to get a sense of what they would like. If you don't see them wearing much jewelry, try to make something fairly simple.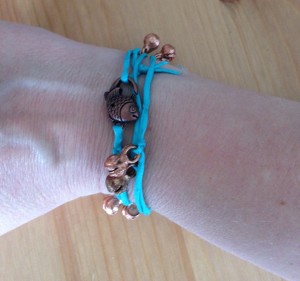 This wrap bracelet made with silk string, a fish clasp, and copper bells. The bells aren't available in copper anymore, but you can get silver plated ones. You can also get a silver plated fish clasp.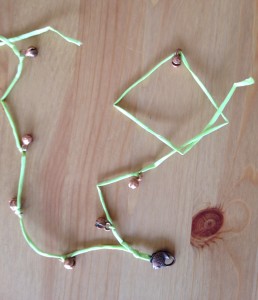 To make this bracelet, you just tie the bells on at regular intervals after stringing the cord through the clasp. Then tie the ends together when you are done. They can tie that part shorter and cut off the ends to adjust the size.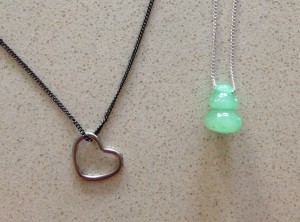 This is just a stainless steel heart on a chain. I saw something very similar to this on Tiffany's website and this one is a very small fraction of the price. This took about 3 seconds to make and your child can make it. You can let them pick out the pendent so they feel more involved. The other necklace is made with a stone. Stones often have very small holes so you just want to make sure you consider that when looking for these. I needed to take part of the clasp off to get the stone onto this chain and then put it back on, but this one was also very quick to make. You can put the jewelry on a piece of cardboard and then wrap it in a clear bag so it looks nice and doesn't get tangled up. The cardboard I used for the jewelry is from an old shoes box that I cut up. I liked the design on it and I thought it would be good for holding jewelry.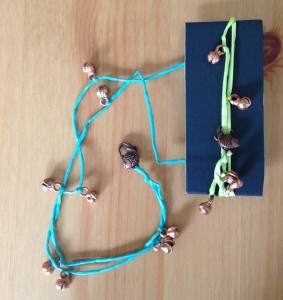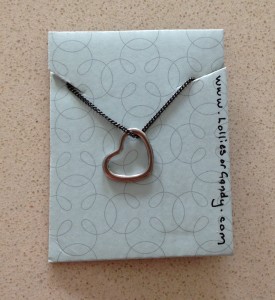 What if your child's teacher is a man? I think here you'll really have to think about the teacher's personality. He may like to get food, or he may like a bracelet if he wears them. I have made market bags for men in the past and actually their male and female coworkers were envious of this gift, so that is another option for teachers of either gender.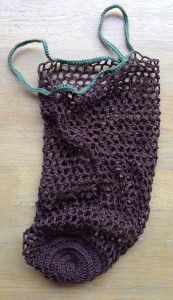 This bag folds up into itself when you are not using it, as pictured below.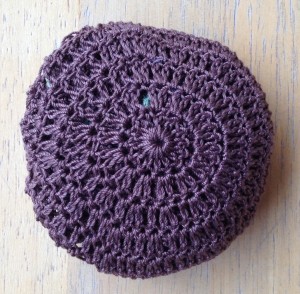 You can find instructions on how to make this here.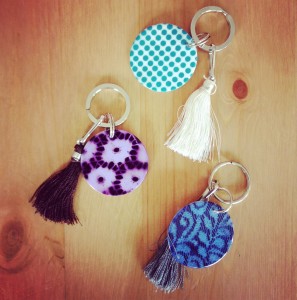 Instead of jewelry, I also made these key chains from jewelry components. The tassels are from the ends of strings of gemstone beads. I always think they are too pretty to just toss out. The plastic disks are really jewelry pendents that I attached to a key ring with jump rings.  These exact disks are sold out, but these are similar.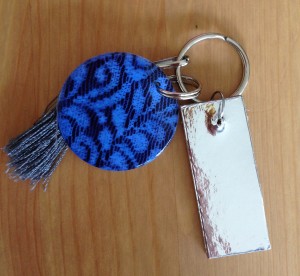 The silver tag on the key chain is a piece of cake board.
Even if you aren't able to give your child's teacher a gift, please remember to thank them at the end of year!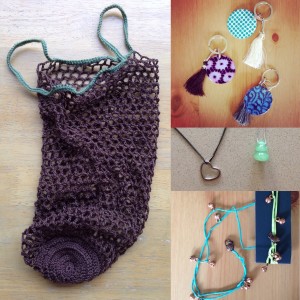 Save
Save
Save
Save