This article contains affiliate links.
Recently I've started using some tins to make a project inspired by nichos that I saw when I visited Mexico. I like their bright colors and the miniatures inside them. Normally these are made from old tuna fish cans I think. You could use Altoids tins, but they have their hinge on the longer side of the tin. I have a bunch of these little containers that have the hinge on the narrow side so they can easily hang in portrait not landscape.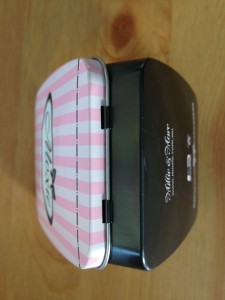 You can see the hinge here on the back of the container, just bend it open and take the lid off. Be gentle, because you can use those tabs to hang up your box later.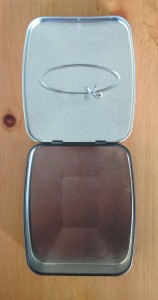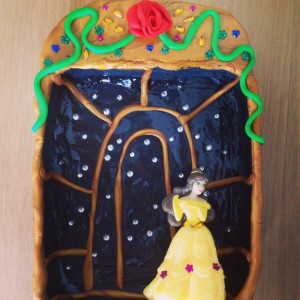 I've made two boxes so far. I rolled some black Sculpy clay out very thin to coat the bottom of the box. To keep the top decoration up (and not flopping down)  I rested it on another metal container while it was baking. At this point, you should bake the clay. Do not add any plastic elements or coating before you bake it. After it was cool, I coated the back and top with clear nail polish to stick the little gems on. The gems are supposed to be for your nails. They are from a kit that I got in one of my Kawaii Boxes. The little Belle figurine in from a Kinder Surprise egg. I added a few gems on her with nail polish also.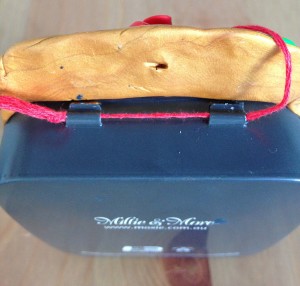 Once everything is done, you can run a string through the hinges and bend the metal back down to hold the string in place.
Here is The Litter Mermaid box that I made. I made this with basically the same techniques, except that the back is coated with rice paper that I glued down with regular Elmer's glue. I added this after I baked the tin and the little pieces I made to go on the outside and the top. The shell is a real one that I coated in glitter. Once I make a bunch of these I'm going to hang them all up together. I want to try to use other types of media for the decoration of these like paper or fabric. We'll see how that works out. If you are looking for little toys to put in these, unfortunately Kinder Surprise eggs are not sold in the US. I think they are sold in almost every other country, though. At Disneyland and Disney World they sell little bling bags that contain a few assorted Disney characters that would be perfect for these. The little mascots that hang from Sanrio pens would also be a good size.
For more Disney craft ideas, take a look at my Pinterest board.
Save