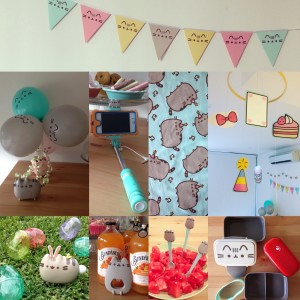 This quarter's Pusheen Box was really fun because it had all kinds of supplies to have a party! There were a couple of items from the winter 2016 box, like the wrapping paper and fairy lights, that could also be used for a party. This season's box included items to decorate for a party like this banner and balloons.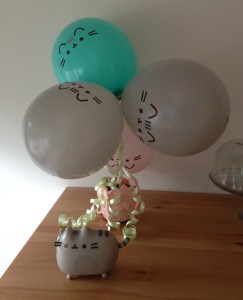 It also had practical items like this blue tooth speaker, a bottle opener, and a selfie stick that you could use at a party. The selfie stick was the one item I could really do without from the last 2 boxes. I was going to sell it, but my little Pusheen fans really wanted to play with it. It seems like it works fairly well and they are having fun with it, I just don't like selfie sticks in general.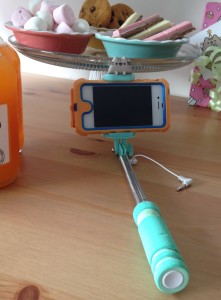 I made an additional decoration from the photo booth props as well.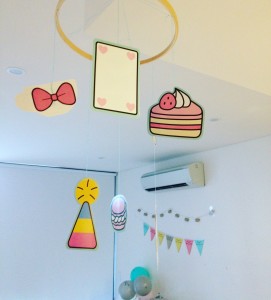 I used pictures of Pusheen that were on the packaging of items from the Winter 2016 and Spring 2017 boxes on this mobile on the reverse side of the photo props.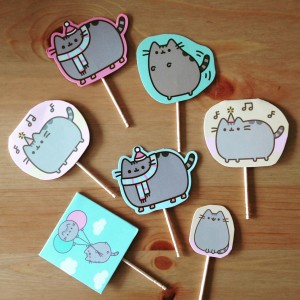 All the little pictures on the packaging are so cute! I attached these smaller ones to toothpicks to use as cupcake toppers.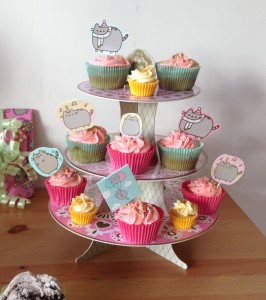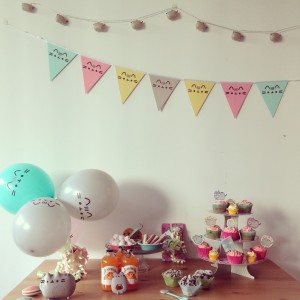 Here is a picture of the little party I set up with items from the box.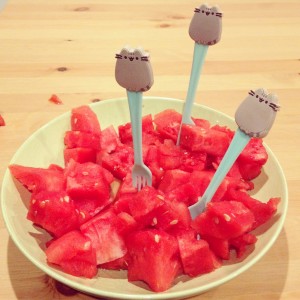 You could use these at a party a serving spoons, because there is only one set of these. I think they are cute and the toppers on them are really nice.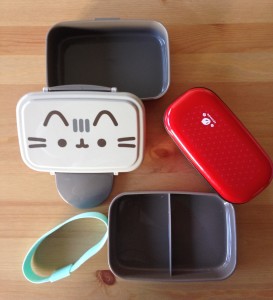 There was a bento box in this quarter's box! I was really excited about that. It doesn't have anything to do with a party, but I love bento boxes. The cool thing about this one is that it is very large. I put it next to one I got from Daiso, which seems to be about the volume of most bento boxes I have seen so you can see the size difference. The Pusheen one is huge in comparison.  It may be because it is meant to hold foods that Americans tend to take for lunch like sandwiches and cut fruit/vegetables instead of rice and Japanese food.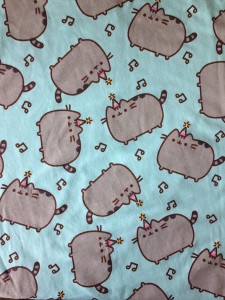 Here is a close up of the pattern on the shirt in the box. You can wear it to your Pusheen party! The only thing about this shirt that I didn't like was that it seems to be a men's shirt with men's sizing. I got a small and it wasn't cut very flatteringly and it was quite large. If you ordered a size that you hoped would be over sized it would probably make a good night shirt. Hopefully, if they put a shirt in the box again they'll let you choose women's or men's cut.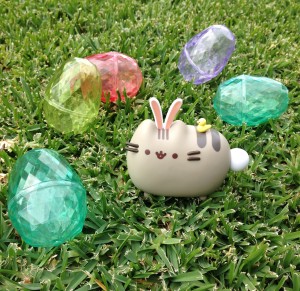 The last item in the box didn't fit the party theme, but it is really cute! I'll take it out next Easter.

Overall, I thought this box was great, but they should try to send out holiday items before the holiday if they are going to include them in the box.
Save
Save
Save
Save