This post contains affiliate links.
I made a Moana blanket and amigurumi. The blanket is fairly simple to make. You can refer to this post on how to make basic shapes. I increased on only one side of the work to make the sail shape. Make sure the sail is made from hdc or sc in the center so it is easier to sew the spiral pattern on. I find it difficult to sew nice patterns on dc stitches.  The same goes for the manta ray. I used just sc and added a stitch on alternating sides each row and then switched to hdc and adding on both sides of the rows. Then I stitched the patterns on it.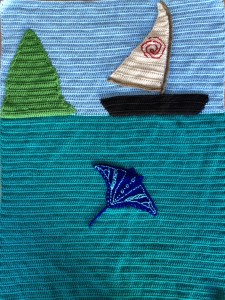 Here is what the whole blanket looks like. I used Brava Worsted yarn to make this blanket.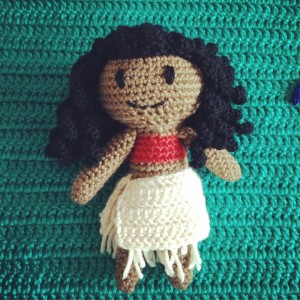 I also made Moana. I altered the rabbit pattern from Mr Funky's Super Crochet Wonderful to make Moana.
Her arms and legs have 5 sc in the first round and then 9 in the next 13 rounds. I altered the color pattern on her head and her body as shown below.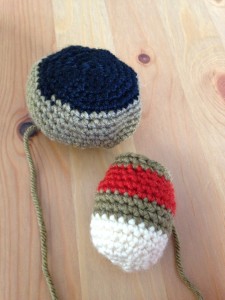 Then for her hair, I worked around the last black row on the head. I made 28 ch stiches and then sc in each stitch until I got back to the main work and reconnected to it. I repeated this until I got to the area that I wanted her face to be. When I make my first sc row it curls quite a bit because I only leave 1 loop of the chain out and I crochet with very high tension. If your crocheting does not curl up as much, you can do 2 sc in some of the stitches as you go so that the hair will curl more.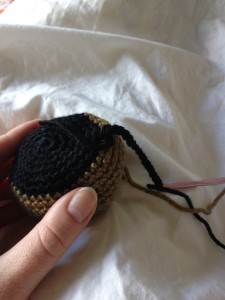 When I got to the area that I wanted her face to be in, I continued in a similar way, except that I made 40 ch stitches for each curl.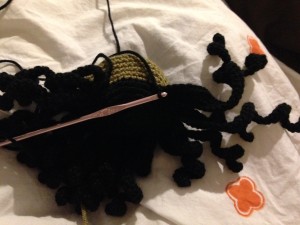 Once you are done with this, you can fold the longer pieces over out of the way of her face, and sew them into place. Then sew the face on.
Moana's skirt has two layers. I made the fringe layer by first attaching it above the white row on her body and then tying one piece of string from the bundle to one string from the other bundle. This is for a baby, so I don't want her to pull these strings out.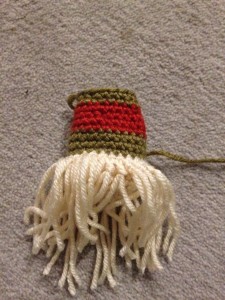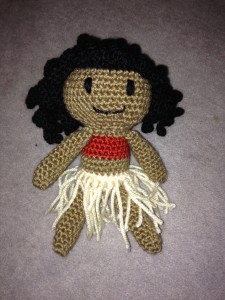 Here is what the doll looks like sewn together. The last step is to make a rectangle shaped skirt and sew it around her waist.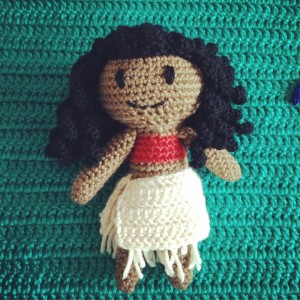 Here she is finished. She can fit into the boat on the blanket, because I didn't sew it all the way across the top.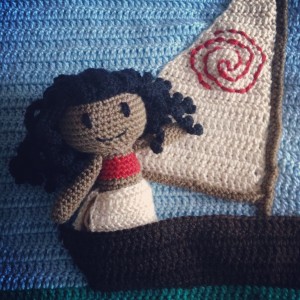 For more Moana craft ideas, you can take a look at this post and my Pinterest board.
Save
Save
Save