Holy potluck, Batman! When I was a kid, I was so excited when the old Batman TV show from the 60s came on. It was on a channel that we could only get sometimes by getting the antenna in just the right position, so I never really got to see the conclusion to the stories at "the same bat time, the same bat channel". I did my best to get the antenna right, because I loved the show and it's awesome theme song.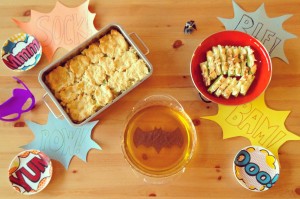 In honor of the TV show, I decided to make a dinner themed to Batman. I used the 60s as an inspiration. I wasn't alive then, so I needed to look up what type of food was popular at that time. One thing I learned is that putting lots of stuff in Jell-O was really, really popular. In my family we had a recipe with strawberry Jell-O, walnuts, halved grapes, and celery. I was going to put some pineapple in this Jell-O(make sure you used canned though, if you add pineapple to Jell-O because it won't set with fresh), but I thought it would take away from the bat symbol.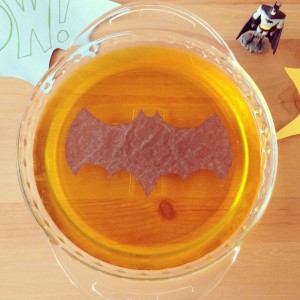 I was a little stumped about how to get the bat in the Jell-O. In the end I decided to cut the bat shape from a cupcake wrapper. It stuck nicely to the top of the Jell-O and after a few minutes it flatted the creases of the paper out for the most part. The wrappers I used are pictured below. I cut a free-hand bat symbol as a pattern. This bat is the shape of the symbol in the TV show, but if you look online you can find all the different bat shaped symbols that have been used over time in case you are planning a Batman party based on another Batman comic, movie, or TV show.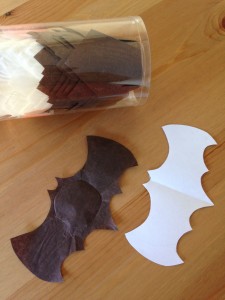 I notice Waldorf salad in lists of popular 1960s foods. Normally this salad is made with walnuts, mayo, apple pieces, chopped celery, lemon juice and grapes or raisins. Then you put it on a few leaves of iceberg lettuce. When I was looking through things I saw some celery sticks with cream cheese and pimentos. I decide to make Waldorf celery by filling celery stalks with cream cheese and then adding apple pieces and walnuts. You could also add raisins or grapes.
For a main dish I saw beef wellington, fondue, and chicken a la king as options. I decided on chicken pot pie so I made a variation of that.  The main difference is that I made it in a casserole dish. I made some chicken stock from the chicken I was cooking to put in the dish. You can see what I added below.  I poured a bit of the chicken stock onto the top of it and mixed everything together.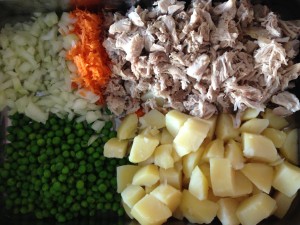 I made little flat disks out of pie crust and put it on the top of the ingredients.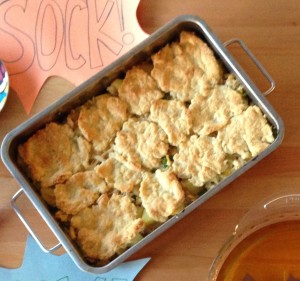 I got these plates from CB2 about 7 years ago. They don't sell these anymore, but they worked really well for this type of party.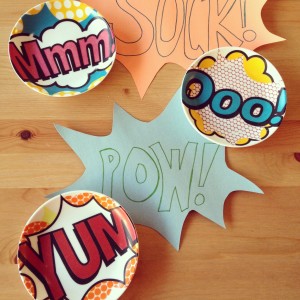 I also cut out a few stars for "punching" words. In the show they actually used to put those on the screen when the dynamic duo was fighting the bad guys.
For more superhero party and craft ideas, take a look at my Pinterest board.
Save