This post contains affiliate links.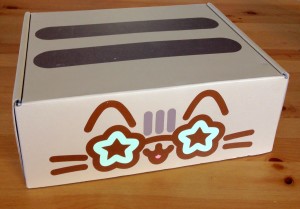 The summer Pusheen Box is here! I really like that the artwork on the boxes has been themed lately. I think the first few all looked the same, but the three I've gotten all had unique designs on them. I think the quality of the cardboard in the box is also higher as time goes on. I save all my boxes for storing things so I like that they are a nice quality box.  Enough about the box, what was inside of it?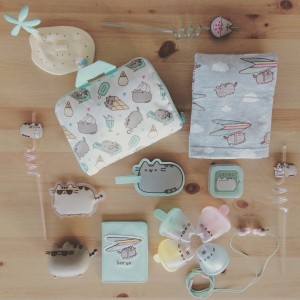 The theme of this box looks like it is travel, plus ice pop makers and crazy straws. This box had lots of cute items! It was pretty different than last summer's box. I saw what was in that one and I like this one better.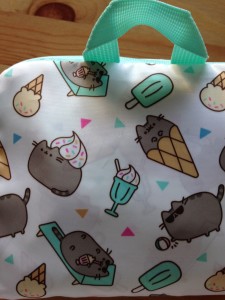 This little bag with the adorable ice cream cone print, folds out to become a backpack. It is a pretty good size. I don't think it would hold up to carry text books, but it is great for lighter items.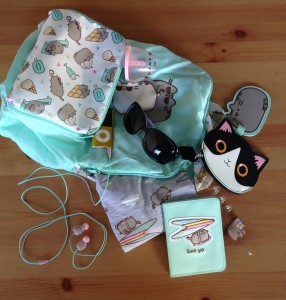 Here it is unfolded and ready to be packed up for a vacation! The little cat coin purse that does not have Pusheen on it came from last month's Kawaii Box. You can see the backpack is fairly large. The pouch becomes the front pocket of the bag.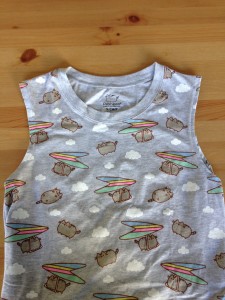 This month's wearable is a sleeveless T-shirt. I like this, but I find the sizing on these to be quite large. They definitely aren't junior sizes, but I think they may not even be women's sizes. I think they are male or unisex sizes. I'm going to have to take mine in a bit because the sleeve openings are way too large for me.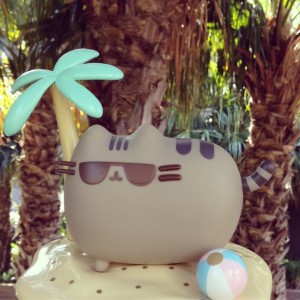 Every box so far has had a vinyl figure in it. I think the only other one that came with a stand was the one from the spring 2016 box. Pusheen does come off the stand for this figure. I really like the little palm tree on this. The Pusheen figure by itself is a little smaller than the ones from the last two boxes.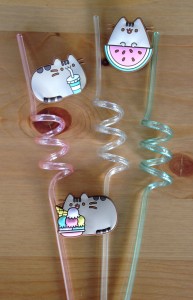 I love these cute little straws. The little Pusheen figures will slide off the straw, so you can use them for something else if the straws break.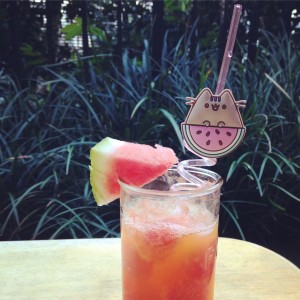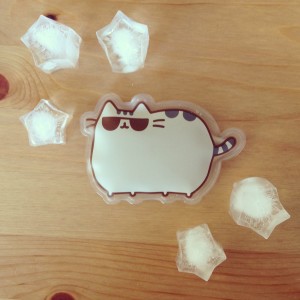 This little Pusheen ice pack could keep your bento from last month's box cool, or help keep an injury cool. This can be put in the freezer or refrigerator.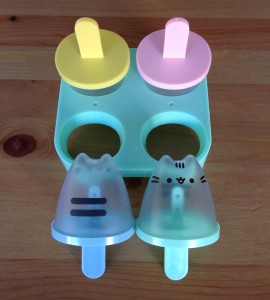 Keeping with the cool theme, are these popsicle makers. I think these are so cute! I put cookies and cream ice cream in mine so they look grey like Pusheen. When you take the cover off they don't have a face anymore, but I used mini M&Ms and sprinkles to make Pusheen's face.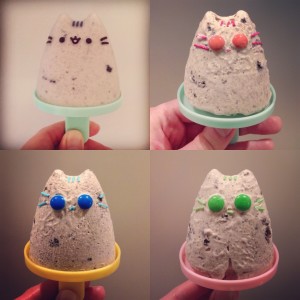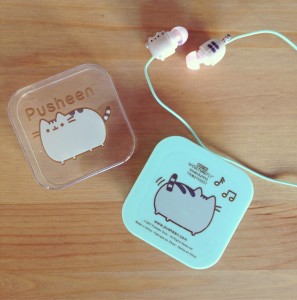 I really like that there are a lot of practical things in this month's box! I find these earbuds to be a little big for my ears, but I can still use them. I love that the little box they come in is really cute also, with a design on the front and the back.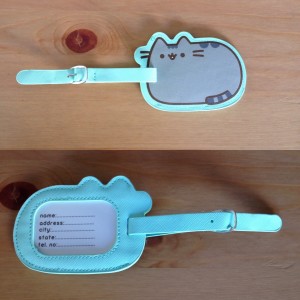 I needed a new luggage tag, so I'm really happy this was included! The strap looks pretty sturdy.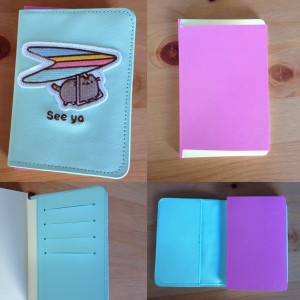 I usually keep all of my family's passports together when we travel, so I don't just keep one in a case. The new-ish passports are a pretty tight fit in this case, so you can't get more than one in there. I decided to use this as a book cover/wallet for the next time I travel. I usually like to keep a journal of my trips so I can go back and remember them better. I used a  Moleskine notebook, but I needed to trim a little off of the back cover so it would slide into the case.
I really loved this month's box! What was your favorite thing in the box?
Save
Save