This post contains affiliate links.
This party was part of a joint Superhero – Pokemon party. I'm going to do this post in two parts, with this post being mostly about the superhero stuff. First, the food.
Food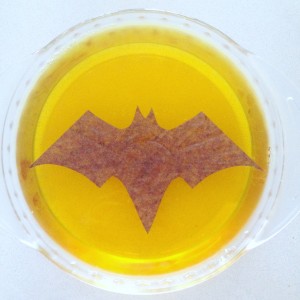 I've made this jelly (Jell-o) before for a Batman party, but this time I made Bat girl's symbol. This is meant to look like the bat symbol that gets projected into the sky when Gotham City is in trouble. I cut the bat out of a brown cupcake wrapper and then put it on top of the jelly after it had set.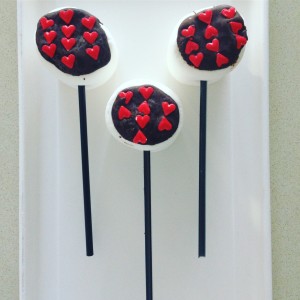 I made Harley Quinn's hammers by dipping a very large marshmallow in dark chocolate. I used a straw as the handle of the hammer. I put little red candy hearts on them to make them look more like Harley's hammer. I think the DC Superhero Girls version of this is just a red hammer with a blue handle, but I couldn't find any red melting candies at my grocery store, so I made this one to look more like her hammer in other cartoon versions.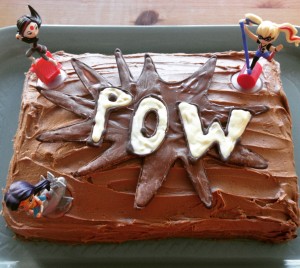 The birthday girl loves chocolate, so I needed to make an all chocolate cake. The girls on top are part of the new line of toys from Mattel.

I made the POW decoration out of melted chocolate. I learned a similar technique called color flow that you do with frosting, but this worked alright with chocolate. I just had to make sure the chocolate outline of everything had cooled down enough to harden before I added the chocolate to fill it in. I also made sure the new chocolate wasn't too warm when I added it.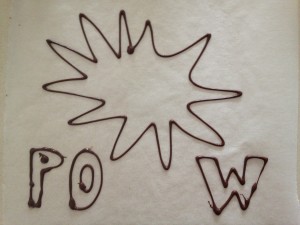 I used baking paper that had a slippery side to it to put this down on so I could easily peel it off when it cooled down. What I liked about this method was that I could make it the weekend before the party and just put it in a container until I was ready with the cake. I put dark chocolate into a frosting bag with the writing tip and drew the outline of the letters and the background star. Then I filled the background in with milk chocolate and the letters in with white chocolate.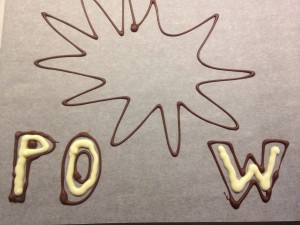 I couldn't find any DC Superhero Girls party supplies at my local party store, so I had to improvise. For the party bags I just printed out coloring sheet images of the superheros and put them on brown paper bags. That way the kids could color them in at home.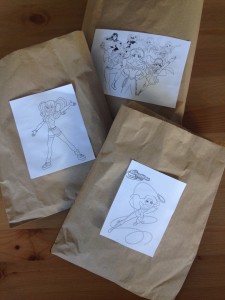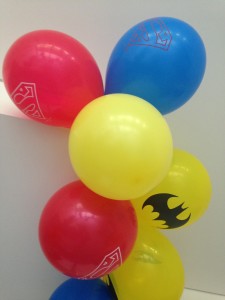 I used balloons with Superman and Batman's symbols on them because they are very similar to Super girl and Bat girl's symbols.
Activities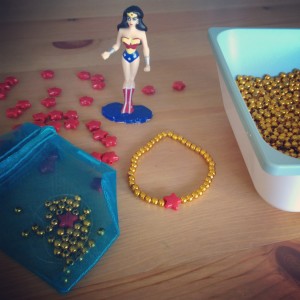 These bracelets are meant to look like Wonder Woman's Tiara with gold beads and red stars. I put the beads with string into a little blue pouch and put them in the treat bags, but you could have kids do this at the party.
Party Game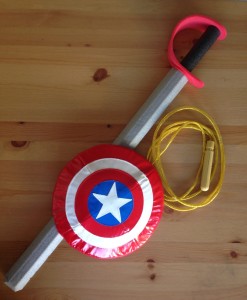 For this game I put the kids in teams. I was trying to have 4 teams, but we ended up having 5. I had all the tasks on the sheet below cut out and glued to index cards. I had each team draw a card and do their task to get points. Some of these have a Pokemon theme because this party was a mix of the two. Here is a file with all the tasks on it. GameCards
One of the tasks was to match superheros to their villains, and this file has the four different groups that I used for this task. HeroVillian The kids did really well with this. You can make even more of these, but I tried to use villains that have been common in cartoons and superhero movies.
Some of the other tasks the kids did were lasso tricks with Wonder Woman's Lasso of Truth, knocking stacked cups down with Captain America's Shield, carrying rings with Katana's sword, and doing acrobatic tricks like Harley Quinn. I also had the kids make super hero signals/weapons out of play doh.
I would recommend having at least one kid that is at least 10 or an adult to help each group. The teams were all doing this at the same time, so it was a bit chaotic, but the kids didn't have to wait around this way.
Some of these tasks involve Marvel superheros, but I used things we already had at home for the activities. There are lots of other super hero game ideas on Pinterest that you could incorporate into this party game. You can keep your tasks all in one comic universe if you want. This party had a mix of 5 to 10-year-olds, and was pretty close to half girls and half boys and almost all the kids enjoyed and were able to do all the tasks.
Sa
Save
Save
Save
Save