This post contains affiliate links.
I'm working my way through making some food from each of the 13 books in A Series of Unfortunate Events. Some of the food is pretty self explanatory, but for the things that aren't I'm going to write up the recipes and context from the book. You can find a list of the Various Frightful Dishes in one of my previous posts. The food from this post is from book 7, The Vile Village and book 10, The Slippery Slope.
The Vile Village Dinner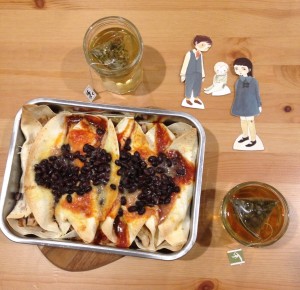 The Baudelaires meet a man named Hector in this village and his specialty is Mexican foods. He makes them chicken enchiladas on their first night in the village.
Enchiladas
1 1/2 cups of chicken broth
1/4 cup tomato paste
1 1/2 tsp cumin
salt
cooked chicken
shredded cheese
black beans
tortillas
I made the sauce from the chicken stock, tomato paste, cumin, and salt. You could also add chili powder or cayenne  pepper to the sauce. If I made this again, I would add rice to the tortillas also. You just put some sauce and chicken, beans, cheese (and rice if you want) into the tortillas and then pour more sauce over the top and bake in the oven.
Messages from the Quagmire Triplets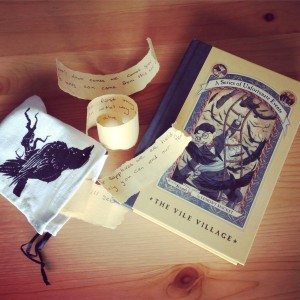 If you are planning to have a party based on this book, you could use a crow theme and have the party guests go on a hunt based on clues like the Baudelaires do in the Village of Fowl Devotees. The kids find these messages rolled up next to the Nevermore tree.
Slippery Slope Breakfast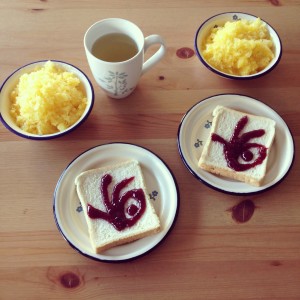 Sunny is forced to make breakfast for Count Olaf and his acting troupe with very few supplies. I made the VFD symbol on the toast by putting jam into a ketchup bottle. I cut the tip off of the bottle so the hole was a bit bigger. Orange granita is in the bowls. I made this by putting orange juice in a container in the freezer. Around once and hour I stirred the orange juice so it froze in little flakes instead of a solid chunk. You could add a bit of sugar to it if you want it sweeter, but it was fine with just the juice.
Verbal Fridge Dialog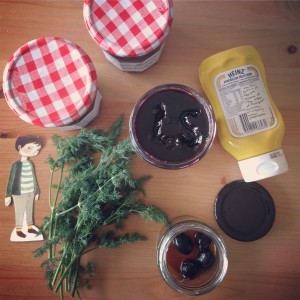 You can find the explanation for this on page 238 of The Slippery Slope. Klaus uses the verbal fridge dialog to find out where and when the next meeting of the VFD is. The very fresh dill signals that there is a message. You also need three jars of jam (the message recipient's initials are in the darkest jar), olives (the number corresponds to the day of the week of the meeting), and a spicy condiment. You can see on the mustard that there is a message in the ingredient list.
For more A Series of Unfortunate Events ideas, take a look at my list of foods from the books and my Pinterest board.
Save
Save
Save
Save