This post contains affiliate links.
The last book of A Series of Unfortunate Events has quite a lot of food in it. Even though the kids are stranded on an island there's a lot of food mentioned in the last book in A Series of Unfortunate Events, The End. At first all the kids can find to eat on the submarine is white beans. They have to eat them by themselves, but they remember a cold salad their parents used to make with white beans.
White Bean Salad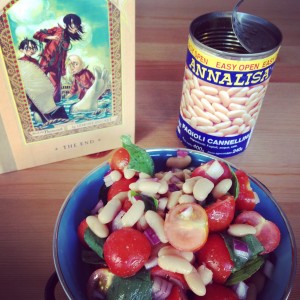 I added about half of an onion to this salad. That isn't mentioned in the book, so you could leave it out if you want to.
1 can white beans
~20 cherry tomatoes cut in half
~20 fresh basil leaves
2 Tbsp olive oil
3 Tbsp lime juice
1/8 tsp
dash of salt
When the kids get to the island, they find a place with really strict rules. In fact, they are supposed to wear all white and they have the same things for breakfast, lunch, and dinner everyday. For lunch they are supposed to eat only onion soup. I made this soup with beef stock and beef. You could make this with lamb if you wanted to make this closer to what could have been made on the island, because there were sheep on the island. I also added mushrooms to the soup, like the french onion soup I normally make. Mushrooms are involved in major plot points in this series. The recipe I based this off of did not have beef in it, but it did have sliced almonds, so you could also make it that way. I included coconuts in this picture, because everybody on the island only drinks fermented coconut milk.
Onion Soup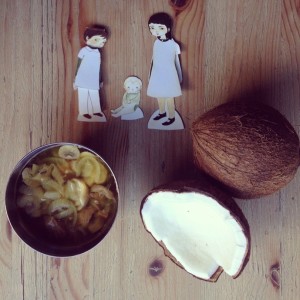 Apple Pie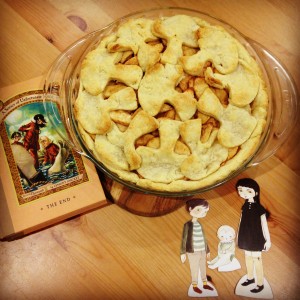 There are very special, sour apples that grow on the island. Sunny makes an apple pie out of them. The mushrooms have something to do with the mushrooms I mentioned earlier, that's why I used a mushroom cookie cutter on the crust for the top of the pie. The details for how I made the apple pie can be found in one of my previous posts.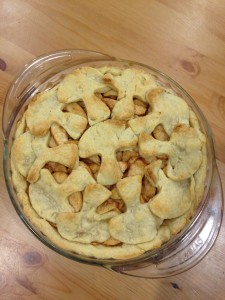 If you still want to read more about the Baudelaires, you can read the Beatrice letters. In that book, root beer floats are mentioned a lot.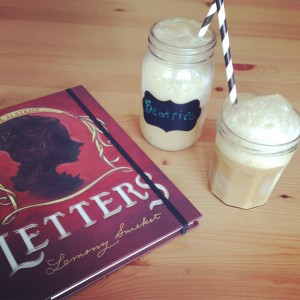 For more A Series of Events ideas take a look at my Pinterest board and my list of the Various Frightful Dishes that appear in A Series of Events.
Save

Save
Save
Save
Save