This post contains affiliate links.
The Austere Academy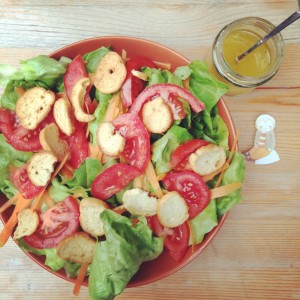 Salad with Honey Mustard Dressing
Poor Sunny is so tired from working that she falls asleep in this salad! It seems like the food isn't too bad at Prufrock Prep, though. This salad has sliced tomatoes, croutons (I used bagel chips instead), and honey mustard dressing. I added carrots because I thought it needed something else.
Honey Mustard Dressing:
You can make as little or as much of this as you want. I used a tablespoon for the measurements for this.
1 part honey
1part mustard
2 parts vinegar
5 parts oil
a dash of salt and pepper
Vice Principal Nero demands that the kids buy him a large bag of candy so he can eat it in front of them if they break any of his rules.
The Hostile Hospital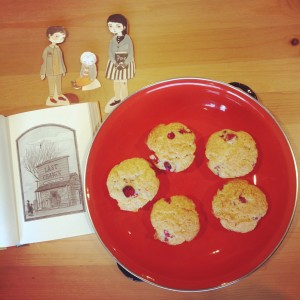 Cranberry Muffins from the Last Chance General Store
I always use the recipe on Ocean Spray cranberries to make cranberry bread every Thanksgiving. If cranberries are out of season, or you are not in a country that has piles of fresh cranberries available, you can use frozen ones. This is the recipe I use. I don't really like to use dried cranberries with this recipe because they are sweetened. It throws off the taste and the moisture of the bread a bit. I substituted butter for the shortening, but the bread is good either way. Usually the bread doesn't last very long in my house, but if you are not going to eat it all in one day, I'd store it in the refrigerator.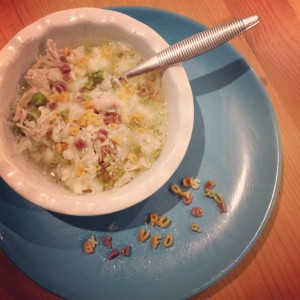 Alphabet Soup
In The Hostile Hospital, Violet gets taken by Count Olaf. Klaus and Sunny have to try to find her. She is somewhere in the hospital's patient list under a fake name. They know that he uses anagrams like he did when he wrote the play, The Marvelous Marriage, in The Bad Beginning.  Klaus dumps out a can of alphabet noodle soup to help them unscramble the letters. You could have kids unscramble anagrams as a party game. I would recommend using the dry noodles though! It's hard to find them in soup and they are a bit messy. As a side note, I had such a difficult time finding alphabet noodles in Australia! That held this post up quite a bit. These noodles are from Bellamy. Just google them to see if any local stores carry them. They were out of stock at the first place I looked, but I did find them at a neighborhood market.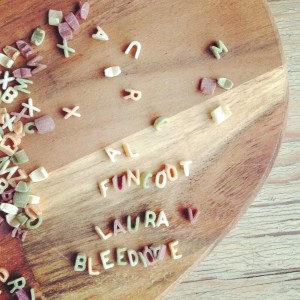 Alphabet Noodle Anagrams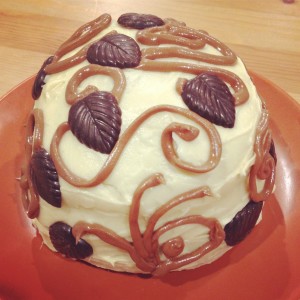 Cinnamon Cake with Cream Cheese Frosting
The kids think about a cinnamon cake with their dad's famous cream cheese frosting in this book. For this cream cheese frosting I used about 4 oz of cream cheese, a dash of salt, about 1/4 of a stick of butter, about 1/8 cup of brown sugar, and  enough powdered sugar to get the consistency right.
cake
1 stick of butter
1 3/4 cup all-purpose flour
2 tsp baking powder
1 small apple or 2/3 of a large apple, peeled and grated
1 egg
1/4 cup white sugar
1/2 cup brown sugar
1/2 tsp salt
1 tsp cinnamon
1/2 cup milk
1 tsp vanilla extract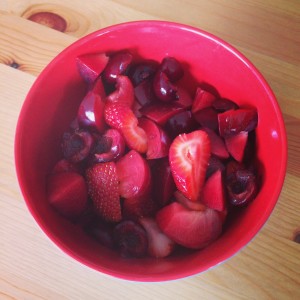 Fruit Salad
The kids need to eat fruit off of their boss's desk when they work in this hospital. The fruit bowl usually has plums in it. I saw this red salad idea and thought this would be nice although people usually don't keep berries in fruit bowls. The lady that made this recipe said to put anything red in it, just not raspberries.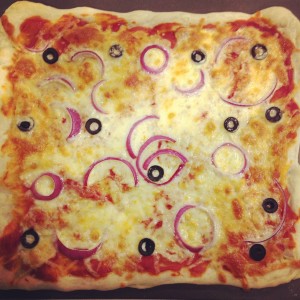 In the hospital, the henchpeople decide that whoever grabs the kids gets to pick what they are having for dinner. The hook handed man is in the mood for pizza. One of the powdered face women wants Chinese food. Esme wants to go to Cafe Salmonella.
The Penultimate Peril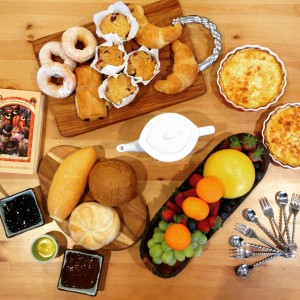 VFD Brunch
At the start of The Penultimate Peril, the Baudelaires have brunch with Kit Snicket. Lemony mentions pastries, including chocolate eclairs and one covered in powdered sugar; 3 loaves of bread in different shapes, one being whole wheat with jam, butter, and melted chocolate; 2 quiche; a pyramid of fruit including a grapefruit; lox; tea, coffee, and juice; and silverware spread out like a fan. Kit has a powdered sugar covered pastry, Klaus has a chocolate eclair, Sunny has a grapefruit, and Violet has lox on the whole wheat bread. What would you have eaten?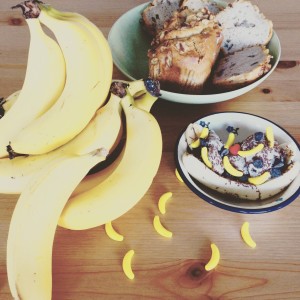 All You Can Eat Banana Buffet
Many of the characters from the previous books show up at the hotel in this book. Mr. Ramora from The Austere Academy is one of those people. He loves bananas and he was promised an all you can eat banana buffet by Count Olaf if he went to the hotel.
For more A Series of Unfortunate Events ideas, take a look at my list of Various Frightful Dishes and my ASoUE Pinterest board.
Save
Save
Save
Save
Save
Save
Save
Save
Save
Save
Save
Save
Save