This post contains affiliate links.
I am so excited for Pixar's latest film! It is premiering in Mexico today. The reviews sound really positive so far. This story is about Dia de los Muertos (the day of the dead). This is a Mexican holiday celebrated on November 1st, and it is a time for family members to remember those that have passed away. I made a headband to wear when I go to see the movie.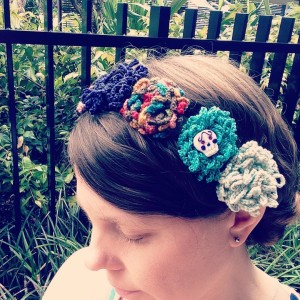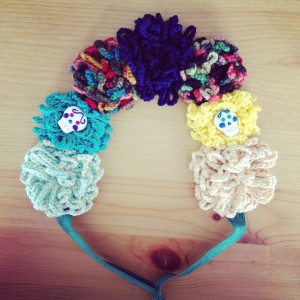 I crocheted these flowers with cotton and wool yarn. The turquoise, yellow, and dark blue yarn is from Daiso. The  other Comfy Fingering Yarn and Hawthorne Fingering Multi Yarn is from Knit Picks.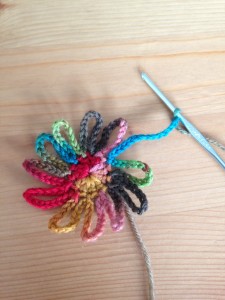 To make the flowers, ch 4and sl st to form a loop, then (rnd1) dc into the circle, (rnd 2) ch 15, sl st into dc, repeat until the end of the rnd. Continue in this fashion, working towards the center of the flower.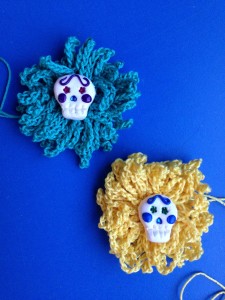 I made the little skulls with FIMO Polymer Clay. Before I baked them, I put a hole through them so I could attach them to the flowers. The little gems on them are nail gems. I tried baking the beads with the gems on, but they melted a bit, and they didn't stay on. Instead, I painted the tops of the beads after they were baked with clear nail polish and put the gems on while the polish was still wet. I sewed the flowers on to DIY PARK 5 Yard 5/8″ Soild Color Fold Over Elastic Spandex Satin Band Lace Baby Headband Sewing Trim(Forest Green)
to make the headband.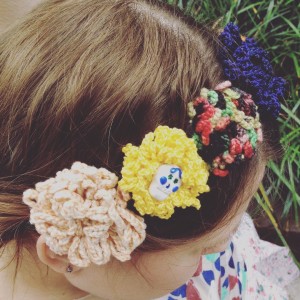 For more Coco inspiration, take a look at my Pinterest board.