This post contains affiliate links.
In the movie Trolls, Poppy does a lot of scrap booking.  The background of the story is told using felt and paper artwork. I used that as an inspiration for some Trolls crafts.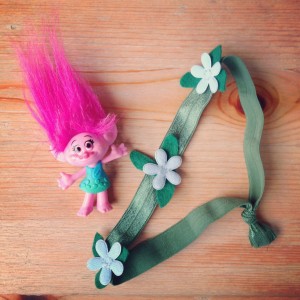 The first thing I made was Poppy's headband. I used fold over elastic for the band. I cut out little 3 leafed pieces of felt and used little flowers I got on Amazon to make the decorations on her headband.

In one scene King Gristle is about to eat a troll that is put in a taco. I made this little taco out of felt that you can hide a little troll in. I sewed the two edges of the taco so it is folded and it will stand up.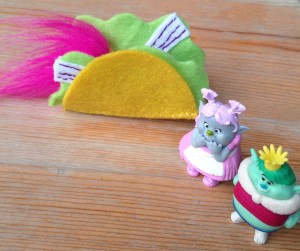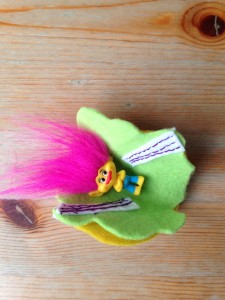 In the beginning of the movie, Poppy talks about a troll tree. There are lots of colorful pods hanging on the tree that the trolls live in. I made one of these little pods out of felt that kids can store their little trolls in.
For more scrap booking inspiration, take a look at my Pinterest board.