This post contains affiliate links.
It's almost time for Hanukkah! In 2017 it starts the night of December 12th. Quite a few years ago I made this blue banner out of felt. I based it on a similar one at Land of Nod. I made another, simpler one this year. Although that one took me quite a lot of time also because I sewed it by hand. To make the letters on this felt banner I used a very large font size of Courier. I put the letters in power point, printed them out and then used those as a pattern. The letters in that font are all the same width so I like to use it for things like this. I made the same sized pockets for both banners. They fit the big sister LOL Surprise doll balls and the plush Num Noms jars in them. The pockets are 6in x 6 in. All the little symbols on them are made out of felt. For the one that is the latke (as the candy cane in Lemony Snicket's The Latke Who Couldn't Stop Screaming said, "so you're basically hashbrowns."), I cut thin strip of different colors of felt and then sewed them down into the circle.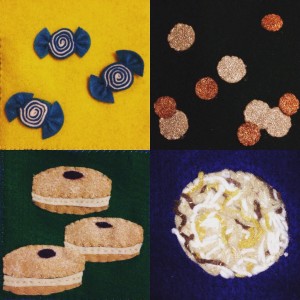 I added clear glitter to the sufganiyot (jelly donuts) to look like sugar. I also used glitter on the gelt (chocolate coins). The candy is made from two long strips of felt that are rolled up and then sewn into place. Then I sewed on the little end pieces after putting a running stitch in one end and pulling it closed to form the candy wrapper.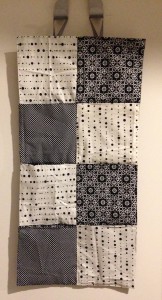 I used black and white fabric from Modes for you to make this banner. It's pretty simple, I just used a strip of fabric backed with felt and then cut out squares of felt and fabric and sewed them together. I was thinking you could also make one of these by using a fabric shoe holder and decorating the pockets with felt shapes or fabric, or sewing on little numbers for each pocket.
Happy Hanukkah!