Wow, the Fall Pusheen box is really great! Last year I was sad I missed it. It definitely had a Halloween theme last year. This year they went with a more general fall theme. Look at the cute box!!!! Unfortunately mine got a bit damaged in the shipping process. This is the first box that has happened to; sad that it is the one I like the best. It's still usable for storage though. I keep all my boxes because they are so cute!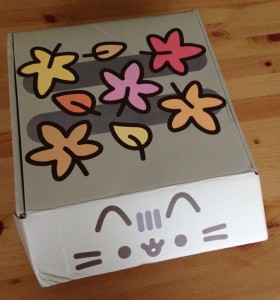 This box had a vinyl again. It seems like every box will have one included. Look at Pusheen with her little mushroom!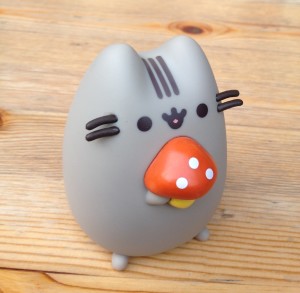 This box included a plush for the first  time. I've tried to stop buying plush toys because they tend to collect dust and are difficult to clean,….but it is a struggle. If one comes as a surprise there's nothing I can do about it, right? I just have to keep it.  😉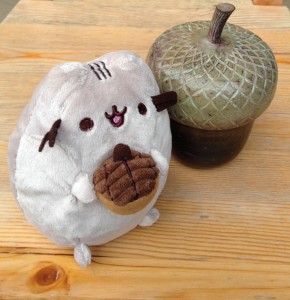 Which picture is better, big acorn or a bunch of small ones?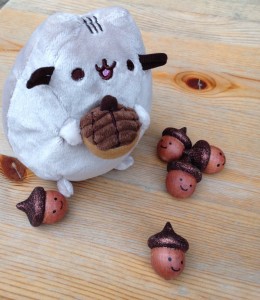 Even the tag is cute!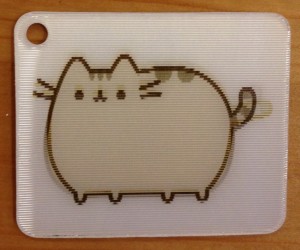 Now everything else in the box was practical. I really like that about this box. The way my bathroom is, I don't need a shower curtain or a bathmat. If only I needed them! They are adorable. I'm going to gift these since I'm trying not to hoard things I don't need right now. They are going to be great gifts!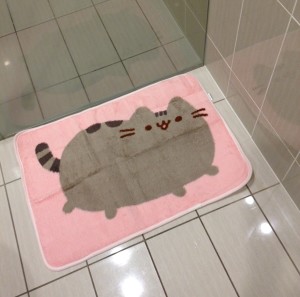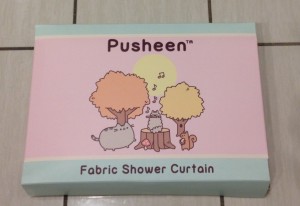 I was not expecting a pillow cover, but I love it. I put a square pillow insert from IKEA in it. It fits really well. The pom poms around the edge are great!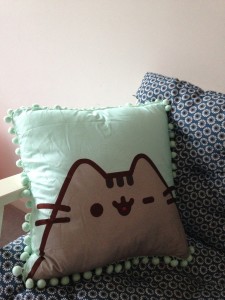 The shirt is long sleeved and is the kind of sweatshirt that isn't fuzzy on the inside. I love the pattern. I didn't realize that they added size XS as an option before this box was shipped. I changed it now because I find that the shirts to be quite big. They may have a unisex cut which is not flattering on me, so I usually have to alter them. I think this one should be OK after that. I noticed a very small hole in the arm, but I think it will be inside the seem once I alter it.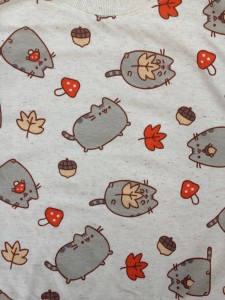 The pancake pan is another thing that I did not expect at all, but it is really cool.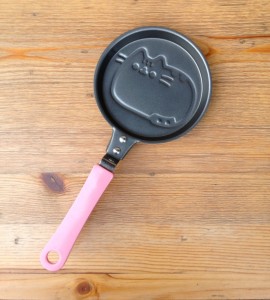 So I tried to use this. It does make amazing pancakes in the shape of a circle. As you can see below, I did not master the art of being able to see Pusheen in the pancakes. I tried cooking at different temperatures. I think cooking it slow on low heat may be the key. Trying to cook it fast on higher heat did not work. It burned too quickly. If I figure out the trick to it, I will update this post. On the plus side, I do find it easier to make pancakes in this instead of pouring them into a bigger pan. The only thing is that I popped them out and cooked for a bit on the flip side in another pan because they seemed to burn if I left them cooking only on one side.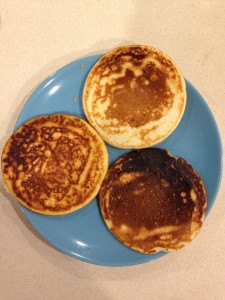 Below is my second attempt. This time I didn't use any oil or butter in the pan. I read somewhere else to use low heat. It worked better this time, but I think I needed to let the pan coll down between cakes. I think this might be easier with an electric stove that can go on low heat easier.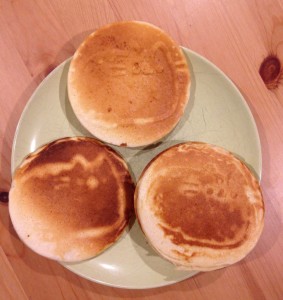 Now…my favorite things. The notepad and pen. I love a kawaii pen. It's a little ridiculous how much I like pens. I'm working on not buying any and just getting them in my monthly Kawaii box. Then here I find one in my Pusheen box also!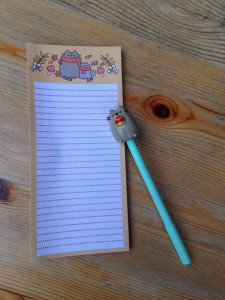 The notepad looks like it is set up to make lists. It is so cute!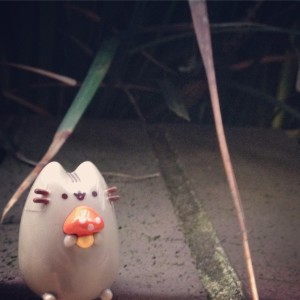 Here is a close up of the top of the pen. It is the same as the vinyl really, but it's tiny, so it's just that much cuter! The ordering time is open now for the winter box. These two boxes come really close together. Last time it had fairy lights and wrapping paper, but that could work for birthdays as well. It's almost time to see what's in the winter box!