This post contains affiliate links.
Now Coco is out almost everywhere, although I think Japan has to wait until March as usual. The Disney Channel/Family had an event in my city for the launch. It was pretty amazing! There was free food and arts and crafts. I need to find out if they do this for every Disney and Disne-Pixar release.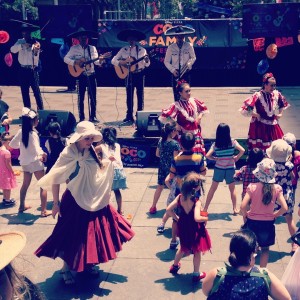 There was free music as well. Of course they encouraged the guests to dance!
There were free tacos, pictures, holiday cards, and a color in poster.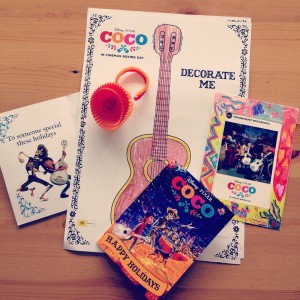 I love the paper flags they had as decorations. These weren't tissue paper like the ones in Mexico, but they are based on them. These were large and were made from a heavy duty poster paper. I took a few close up pictures because I think they are so cool. Disney should sell a smaller version of these for party decorations.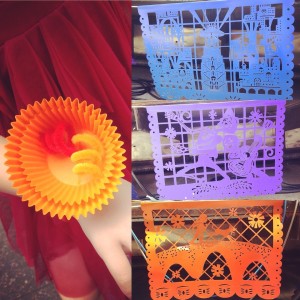 You can also see a close up of the craft project. It is a paper merigold. You just need two paper cupcake liners in two different sizes and some pipe cleaners. Make a hole in the center of the liners and then twirl the pipe cleaners on your finger so they don't go back through the hole. The you can use the rest of the pipe cleaners to attach it to your wrist.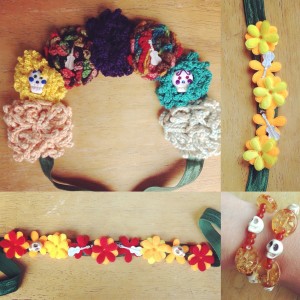 I made these headbands to wear at the party. I've already posted about the one in the upper left. I got the skull beads and little guitars from Fire Mountain Gems. The guitars are sold as a bronze color, but I painted these with white nail polish so they look like the guitar in the movie. To make the other head bands I used 5/8″ Fold Over Elastic Forest Green 3 Yard
for the band and 3 Carykon 3 Styles Craft Felt Flowers, Assorted Color, 160 Pcs
flowers that I stacked on top of each other and sewed to the band.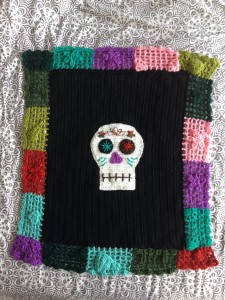 I used Brava Worsted yarn to make this blanket. I made the flags around the edge like a grid and then sewed shapes on to them. I stitched the details onto the skull. It's easier to do that when you use sc or hdc stitches. The dc stitches make it difficult to stitch details on a piece of work.
My last craft is an apple pie based on the movie. I shaped the top crust by hand like you would if it was clay. I drew lines in the skull as a guide before I baked the pie. After I took the pie out of the oven, I added the candy on top so it looked more like a sugar skull.
For more Coco party ideas, take a look at my Coco Pinterest board.