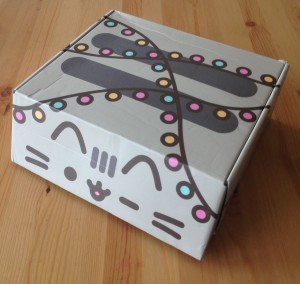 The Winter Pusheen box is here! The artwork on these boxes is different every quarter since the fall box from 2016. Look how cute this one is! They just keep getting cuter! Look at the bottom of the box.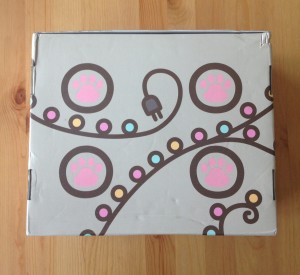 This month's box had a vinyl figure in it as always. I put this little Pusheen on the summer 2017 stand next to the winter 2016 figure. The one from this quarter is a little smaller than some of the others, but she is sitting down so there are no feet sticking out of the bottom.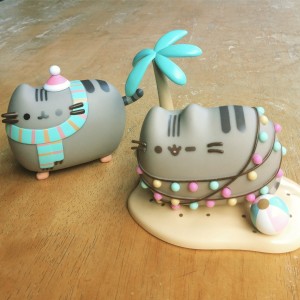 Christmas in the Northern Hemisphere vs. the Southern Hemisphere.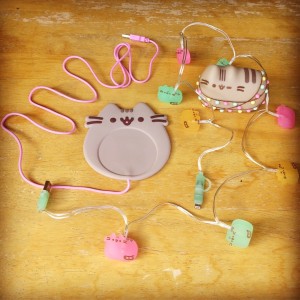 Pusheen being wrapped in lights is pretty appropriate for this box since there are a couple of  electric accessories in this box. The little Pusheen with a pink cord is a mug warmer. You put your mug on it so you're drink stays hot the whole time you are drinking it. I think people really like this idea. Personally, I don't like to drink my drinks that hot because I'm always burning my tongue, and I don't mind cool tea. I'm going to gift this to someone who loves to drink coffee though. The other item is a phone charger.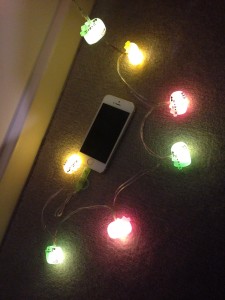 The plug has two different ends plugged together so it will charge an iPhone, an Android phone, or anything else with a micro USB port. This cord is my favorite thing in the box. It is functional and it is pretty!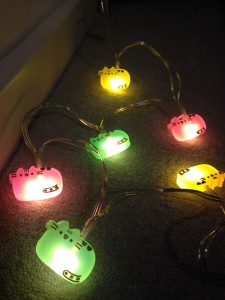 This cord lights up really brightly. It's so festive, but I am going to use it all year round. The lights stay lit as long as its plugged in, so I unplug the cord when it is not in use.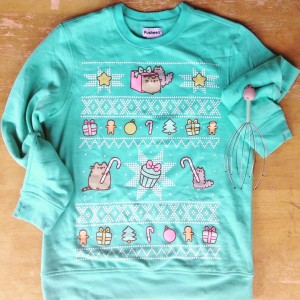 This year every Pusheen box came with a shirt. This shirt is a sweatshirt that is fuzzy on the inside. Now I have an "ugly sweater" for those types of Christmas parties. Although, Pusheen is so cute, it's hard to call this shirt ugly! I'm really glad they introduced size XS (you can change your size as long as the payment hasn't been taken for the next box yet). I found the sizes to run a little large, I'm guessing because they are unisex. The XS is nice if this box is for kids, but I think it would be great if they made a youth size that was maybe closer to a kid's 10-12 because XS is still more like a kids size 14-16.
You may be thinking, what is that other thing in the picture? I wondered that too when pictures of this winter's box started popping up on Instagram. At first I thought it was a whisk. It is actually a scalp massager.  I was thinking I'd be giving this away for sure, but you can also use it in your knees, shoulders, elbows etc. Since my knee was hurting me (old swing dancing injury….) I decided to try it. It is actually quite helpful. Thank you Pusheen box for sending me something I didn't know I needed.

This is the second Gund plush toy that has been included in the Pusheen box. People seem to really like this. This picture got a lot of likes on my Instagram account, I think because everyone liked the plush. The little hat and sweater really make this little toy!  I love this mug. It is huge. Don't let the size of the marshmallow fool you, I used one of the super large size American Marshmallows in the hot chocolate. I got the sprinkles to stay on by just rolling the marshmallow over so they would stick on the wet marshmallow.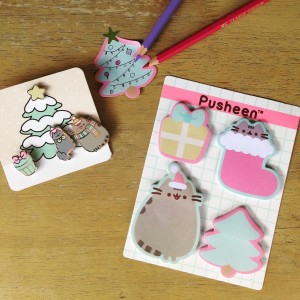 The last 2 items in the box were these cute little sticky note pads. They would make p"purrrfect" gift tags for presents. You can draw on the little tree to decorate it for Christmas.  My second favorite item in the box are these pins. I love little pins and these winter ones are so cute. The star and the present can be made any time of the year which is nice. I'd love to see some more of these in other boxes. Now we're going to have a bit of a break between boxes. I think the next one won't ship until about April 15th. That's going to be well after Easter this year, so I wonder what will be in the Spring box. What was your favorite item in this month's box?