This post contains affiliate links.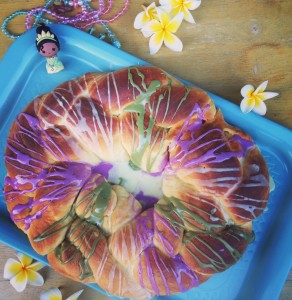 It's King Cake season time! King Cakes are eaten in France and New Orleans between January 6th (Three Kings Day/Epiphany) and Lent (a month before Easter). In the new Orleans version, there is a little baby figurine buried inside the cake. Whoever gets the piece with the baby (to represent baby Jesus) in it, is supposed to buy the next cake. Make sure you put the baby in after the bread has been cooked an cooled down a little!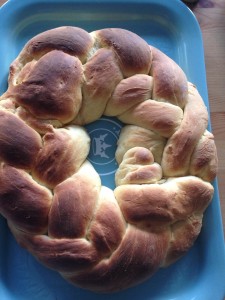 I used Martha Stewart's recipe for this cake, but I used different icing. I didn't want to use food dye, I decided to try to use something natural to color the icing in the three colors that decorate the cakes, gold, green, and purple. I made the icing with a little bit of milk and powdered sugar.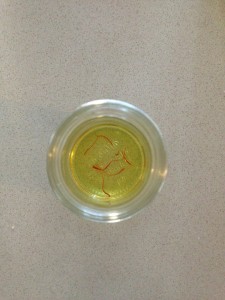 I put saffron in some water, and then used that to color the icing. You can see that the yellow didn't get as dark as I would have liked. I also added a little cinnamon to the yellow icing for flavor.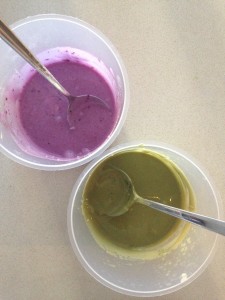 I had more luck with the purple and green colors. I mixed some matcha (green tea powder) into some icing to make the green color. I used blueberries to color the purple icing. If you just blend up raw blueberries, you'll get more of a grey color. When you heat them the color really comes out. I microwaved a few blueberries in a little glass jar. Then I squeezed the juice out of the blueberries and used that to color the frosting. You can see that that made a really nice, bright purple color. I'm going to try again with something else to try to make a brighter yellow color for the next cake. The nice thing about using food to dye the icing is that it added new flavors to the cake. The blueberry was my favorite!
I've got some links to little baby toys below. I think the Kewpie ones are so cute! They are squishy though and a bit large. I think those would be better for the top of the cake or for little kids. The other plastic ones are very tiny and hard plastic so they're easier to put into the cake.