This post contains affiliate links.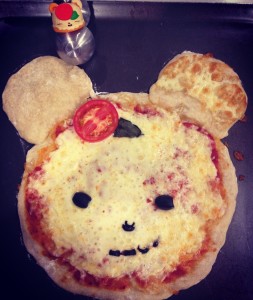 We're going back to series 2 for some of these edible Num Noms! Series 2 introduced dinner foods to the Num Noms line. There were breakfast foods, pizza, diner foods, popcorn, and sushi in series 2.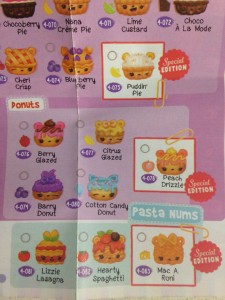 Series 4 brought back some Italian foods with 3 pasta Nums, and series 5 brought back breakfast with jelly rolls, croissants, and crepes.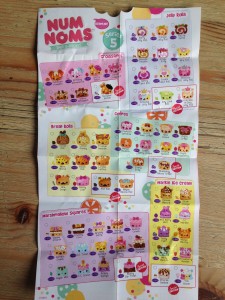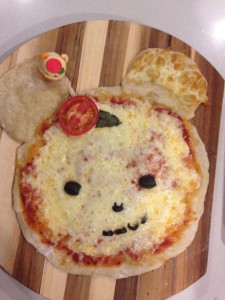 Back in season 2 there were a lot of pizza Num Noms. This is Margo Rita. I used a homemade crust for this pizza. I used Martha Stewart's recipe for the crust. I separated off two small pieces to make the ears of this bear. The leaf is a basil leaf. If you want you can put onions and basil leaves and more tomatoes under the cheese. The face is made with whole, pitted and sliced black olives.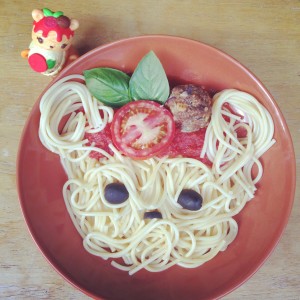 This Num is Hearty Spaghetti from series 4. This one was very simple to make, I just spread the noodles into the shape of the Num Nom and added black olives for the eyes and nose. I put the sauce, tomato slice, basil leaves, and meatball on top of her head.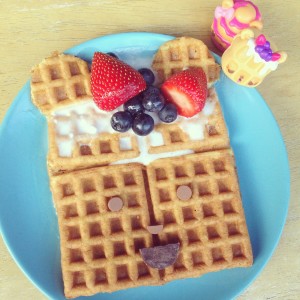 Now on to breakfast! This Num is Willy Waffles. This one was also very easy. The frozen Waffels in Australia are rectangles so that made this easy. I used a cookie cutter to cut the ears out. The eyes and nose are chocolate chips and the mouth is half of a chocolate melt.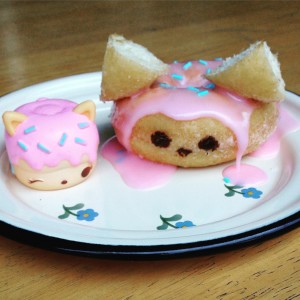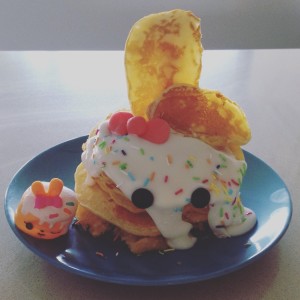 Here are the other breakfast Nums that I made for previous posts, Sugary Glaze and Flap Jackie.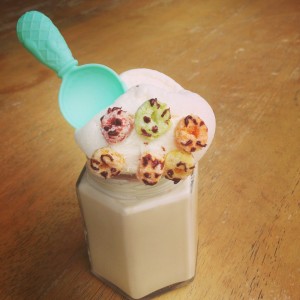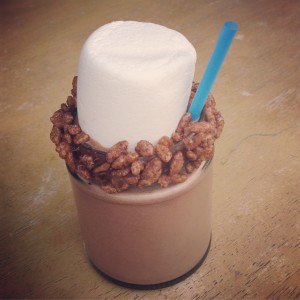 Num Noms now has something called Snackables which are meant to look like pieces of cereal in a bowl of "milk". They look really cute, but I haven't seen any of these in the store yet. In honor of them I made a couple of milkshakes with cereal. I put little faces on the fruit loops with chocolate. The Rice Krispies were too small to put faces on though! I microwaved the marshmallow before it put it on the vanilla shake so that the cereal would stick to it. I put melted chocolate around the rim of the chocolate shake so the cereal would stick to it.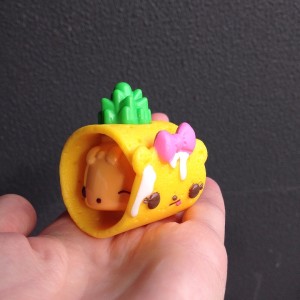 The crepes in series 5 are so cute! They are flat and wrap around the Noms. This one is Creamy Naners.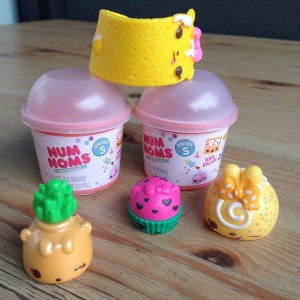 You can find fruit Nums and series 2 and series 3 Nums in some of my previous posts. You can see more Num Noms ideas on my Pinterest board.