This post contains affiliate links.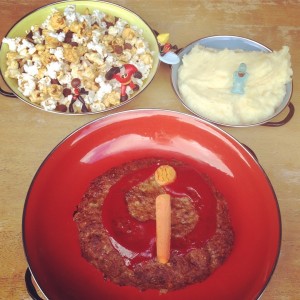 Pixar's movie this June is going to be a sequel to The Incredibles! Did you know that this movie takes place in 1962? The date is on the newspaper that Bob reads.
For some reason there aren't a lot of party ideas for this movie on Pinterest so here are some if you're going to have a "Supers" party, or just want an Incredible dinner! There are not a lot of toys available right now, but I have a link for these cute ones at the bottom of the post. The little Frozone is an Ooshie pencil topper.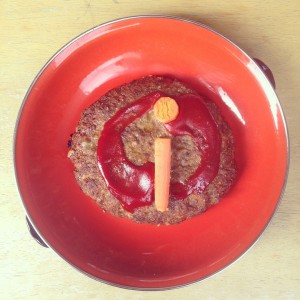 Incredibles Meat Loaf
The Parrs eat all kinds of foods for dinner on left over night, and one of the options is meatloaf. This recipe is based off my grandma's recipe.
1 lb ground beef
1 shredded carrot
1/2 tps salt
Half a sleeve of ground up Ritz crackers
Half of an onion, shredded or cut up
1/4 cup milk
1 egg
Mix all these together and form into a loaf. Cook at 350 F for 1 hour, then take out and put ketchup and a carrot on top and cook for another half hour.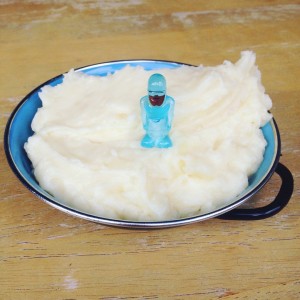 Frozone
Frozone makes an appearance here in mashed potato "snow".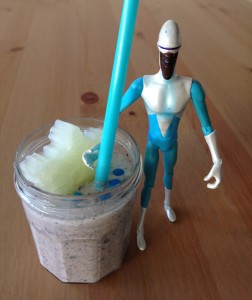 Here he is with a milkshake decorated with a milk snowflake ice cube. I made this with a silicone baking tray. I also used this with softened ice cream to make a snowflake shaped scoop of ice cream.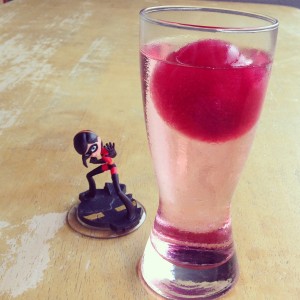 Violet's Force Field Drink
I made the "force field" with a sphere ice mold. I added heated blueberries (heating brings the purple color) to a sweetened, berry flavored water for this drink. As the ice melts, the drink turned more and more pink.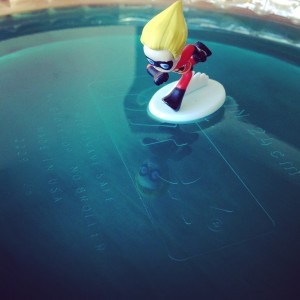 Dash's Running on Water Jelly
In one scene in the movie, Dash is very excited to learn that he runs so fast that he can run on water. I recreated that scene with blue Jell-O.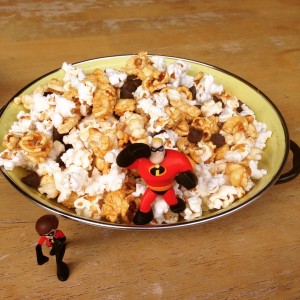 Is that rubble?
Helen finds out Bob has been doing hero work again when she finds some rubble on his clothes. I made this rubble out of regular popcorn, caramel corn, and chocolate chips.
For more Pixar party ideas, take a look at my Pinterest board.